Beauty in Colours: 10 Mind-Blowing Face Artworks by Talented Ghanaian Makeup Artist
When it comes to creativity, there are no limits to how impressive it gets and this Ghanaian talent is yet another reminder of how true this is.
Identified as Faruza Yakubu, the talented makeup artist is gradually gaining recognition as a face artist with her numerous impeccable makeup styles.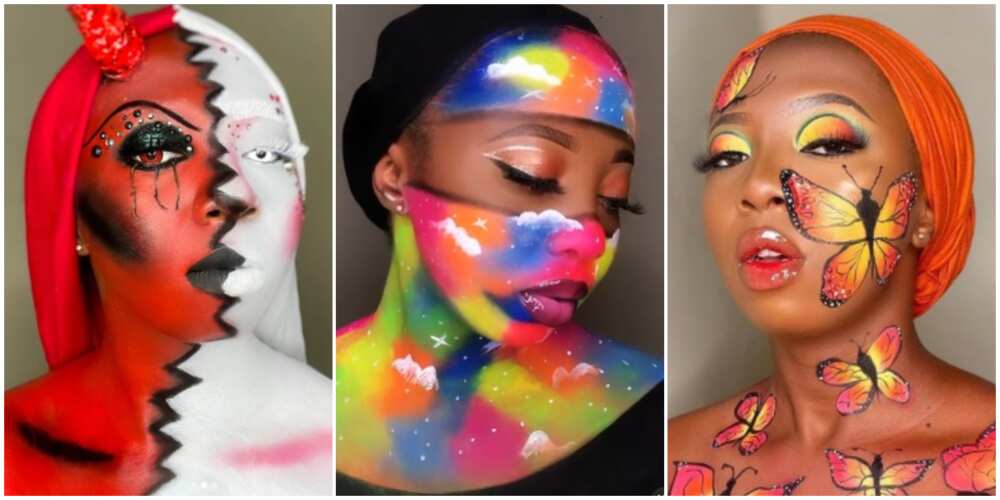 With a rainbow of makeup colours at her disposal, Faruza's creative imaginations come to life with every artwork she uploads.
Whether landscape, fruits, animals or even sky views, Faruza has proven that she is a queen when it comes to bringing them to life through colours.
In this article, Legit.ng has compiled a list of ten photos showing the talented makeup artist in her element.
Check them out below:
1. Butterfly beauty
2. An angel and a devil
3. Creating an anime look with the colour pink
4. Green butterfly eyes
5. A colourful world
6. When life gives you lemons!
7. Reindeers carrying Santa
8. Lightening face
9. If Spidergirl was a makeup artist
10. A tale of fire and ice
Lady with 'loud' makeup causes amusement on social media
Makeup has been around for the longest time but it has only picked up in recent years as many people have become more invested.
These days, hundreds of thousands of naira go into wearing the perfect makeup as this is one of the surest ways to take your look from 0 to 100.
Makeup fees vary, depending on the artist, as one can get a good makeup job for as low as N5,000 and as high as over N100k.
However, while makeup styles vary, not every makeup artist is as talented as they present themselves to be. Just recently, a video of a horribly done makeup job surfaced on the internet, and it is sending people off. Read more:
Crazy fashion trends
If you thought the "weird jean" trend couldn't get any crazier then we are here to tell you that you thought wrong.
Back in 2018, British online fashion and cosmetic retail company, ASOS, released a pair of jeans that has not one, not two, but three waistbands.
Now, while that trend didn't quite pick up, it appears there are some people who are going out of their way to create their own crazy fashion trend.
Facebook user, Satisfashion UG, recently shared photos of a man rocking not one, but three pairs of trousers at the same time.
Source: Legit.ng