BBNaija: Liquorose Opens Up on Love for Tomboyish Looks, Saturday Night Party Outfits
Big Brother Naija 2021 reality star, Roseline Omokhoa Afije, who is better known as Liquorose is one of the hottest Nigerian TV stars at the moment and it is not hard to see why.
The last woman standing, Liquorose emerged as the first runnerup of the Shine Ya Eyes season and has amassed for herself quite the following both off and online.
Asides from being a hot stepper on the dance floor, the 25-year-old Edo indigene is also pretty stylish - one of the things that made her stand out from the others.
The tomboy side to her
Although she is good with flirty and girly ensembles, even a blind man can see that Liquorose is a tomboy at heart.
And this, she spoke about in a recent interview with Legit TV. Not only did she admit to being a tomboy but the BBNaija star also added that she has an affinity for versatile fashion and cannot be put in a box.
In her words:
"I have a huge passion for fashion and I wear what I like. I'm very versatile with my style and my talent. I'm not the kind of person that you can label like 'oh she's this, she's that'. I'm a tomboy. It's just me being versatile. One moment you see me, I'm cosy and that homegirl. The next moment, I'm the guy's girl. I'm very eccentric and versatile and my personality is the same thing."
Her most uncomfortable Saturday Night party outfit
Saturday Night parties were definitely some of the best highlights of the show. BBNaija housemates boogied down, let loose and dance away the stress of the week - all the while rocking stylish looks.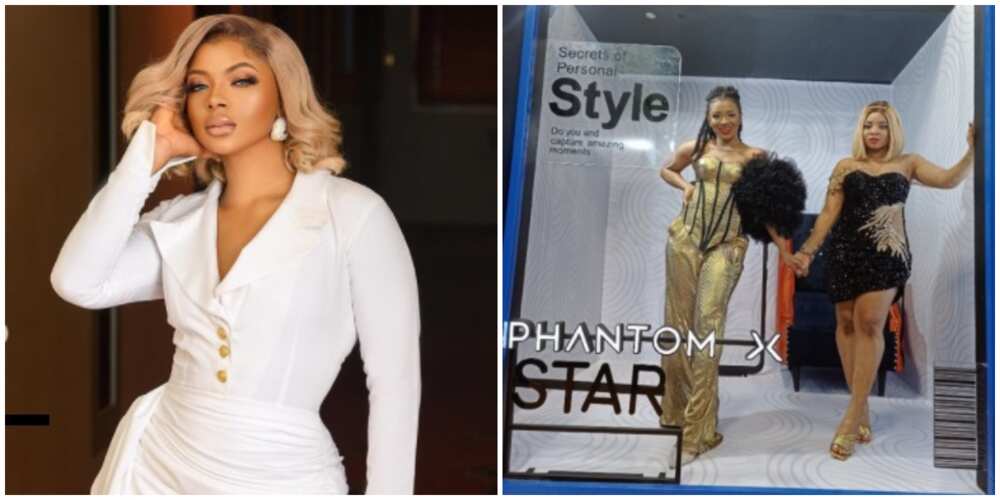 While some looks were major hits, there were others that left quite a number of people talking.
For Liquorose, the outfit which she donned for Week 8's Saturday Night party may have been one of her favourites but it was certainly the most uncomfortable.
The gold outfit which comprised of a corset top with a ruffle mono strap and a pair of wide-legged pants left her injured.
In her words:
"That was one of my favourite outfits but it was uncomfortable because I had a wardrobe malfunction. One of the pins (around the bust area) injured me."
But despite the pain she was going through, Liquorose wouldn't remove the outfit.
"I was having fun in pain. Even though I was injured and bleeding. I didn't want to take it off", she says.
Liquorose's style remains unchanged
For some people, with their new statuses as famous people often comes a change of looks. However, Liquorose has maintained nothing will change about her sense of style.
In her words:
"If anything, it's going to give me a free pass to explore and showcase more."
Watch the full interview below:
Emmanuel causes a stir with his outfit at an event
He may not have caught people's attention during the BBNaija show, Emmanuel is, however, making sure that his name doesn't leave the lips of Nigerians.
The reality star showed his fashion side when he stepped out for the ongoing Lagos Fashion Week show. Emmanuel rocked a teal and black outfit with black shoes to match to the event.
However, the BBNaija star got people's attention with his style. Emmanuel was covered from head to toe.
Source: Legit.ng