Pete Davidson Crashes Car While Leaving His Stand-Up Comedy Show After Reckless Driving Charge
Pete Davidson faced an unexpected car accident after hosting a comedy show in Los Angeles
The Saturday Night Live star was photographed in the driver's seat of his SUV, with noticeable scrape marks on one side of the vehicle
Eyewitnesses at the scene were initially unaware of Davidson's involvement until he exited the car
Saturday Night Live host Pete Davidson was involved in a car accident in Los Angeles.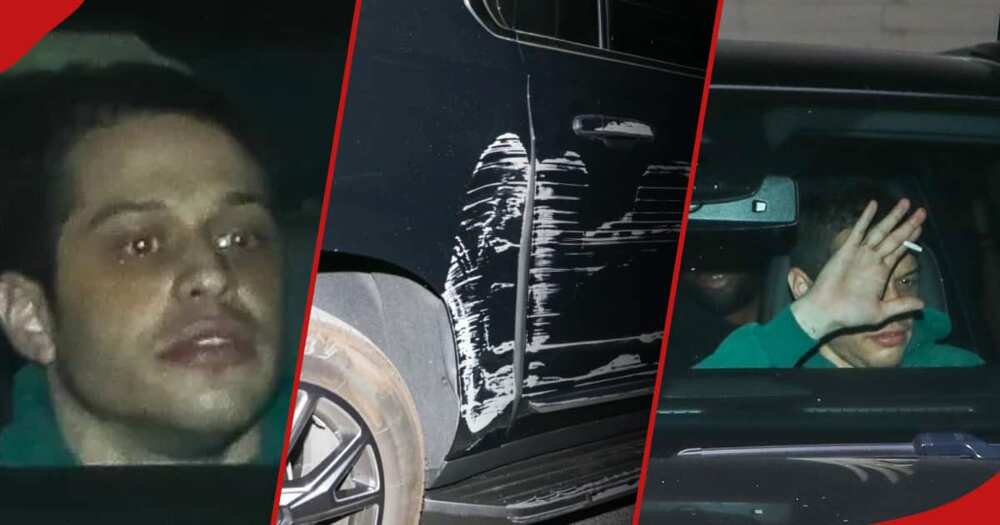 After hosting an afterparty following his stand-up comedy show at The Wiltern, the comedian had an unexpected mishap.
How was Pete Davidson involved in car collision?
As he left the venue around 10 pm, an eyewitness observed Davidson accidentally scraping his car against the side of a wall while exiting, Page Six reported.
Exclusive photos shared by the outlet captured the moment, showing Davidson in the driver's seat of a black GMC SUV with others in the vehicle.
The images also showcased noticeable scrape marks on one side of his car, which extended from the middle door to the rear wheel.
Why were eyewitnesses surprised?
Notably, onlookers at the scene were unaware of Davidson's involvement until he emerged from the car.
Surprised, they exclaimed, "Oh, that was Pete!" In one photo, Davidson, 29, appeared to hold an object resembling a cigarette in his hand while seated behind the wheel.
At a certain point during the incident, he raised his hand to shield his face from paparazzi flashes, indicating that the comedian was conscious of the attention his accident was attracting.
The incident followed Davidson's entry into an 18-month diversion program in July, stemming from a reckless driving charge.
Why did Pete Davidson remove ex-Kardashian's tattoo?
As we previously told you, Davidson had tattooed Kardashian's name and her children's names on his body while they were together.
According to Page Six, the star was photographed with a bandage above his left collarbone where his 'My girl is a lawyer' tattoo was, causing speculation that he had had laser treatments to remove the ink.
From the photographs in Hawaii, that could have been true that the SNL comedian indeed removed the Kardashian tribute.
Source: TUKO.co.ke