Sarkodie's Try Me Song To Yvonne Nelson Hits 0.5 Million Views On YouTube In 2 Days, Trends Number 1
Sarkodie's response song, Try Me, addressing allegations made by Yvonne Nelson in her book, has garnered 0.5 million views within two days of its release
The song has also been recognised on the platform as the number-one music video on YouTube, currently
The track showcases Sarkodie's lyrical prowess and ability to address controversy through his music
Sarkodie's latest release, Try Me, has taken the music scene by storm, garnering an impressive 0.5 million views within two days of its release.
The song, a direct response to allegations made against him by Yvonne Nelson in her book I Am Not Yvonne Nelson, has captivated fans and claimed the top spot in the music category on YouTube's trending chart.
Sarkodie's powerful lyrics and signature delivery in Try Me have resonated with listeners, sparking intense curiosity and generating significant buzz within the industry.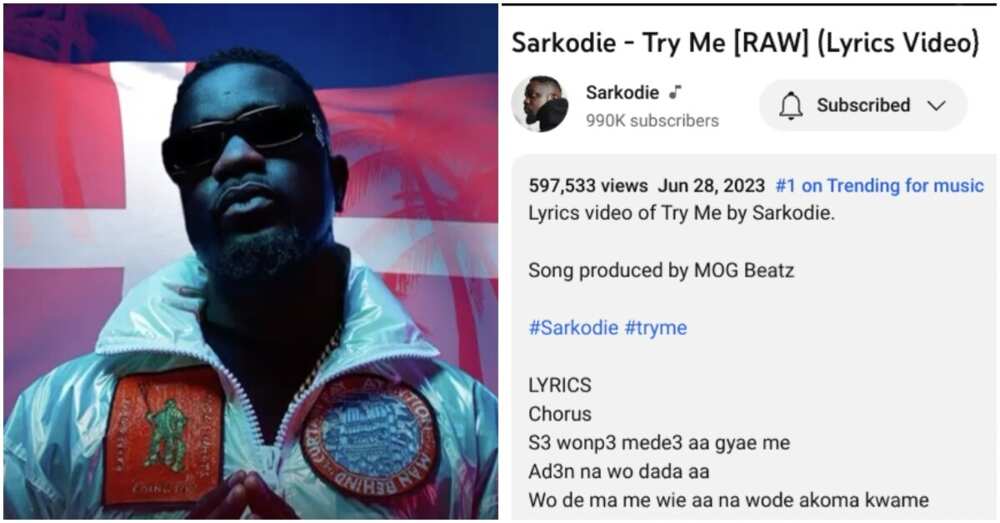 Sarkodie used the track to address and refute the allegations and showcased his ability to navigate controversy through his music.
PAY ATTENTION: Follow us on Instagram - get the most important news directly in your favourite app!
With its rapid rise in views and status as the number one trending music video on YouTube, Try Me demonstrates Sarkodie's enduring popularity and ability to connect with his audience.
Ghanaians react to the success of Sarkodie's Try Me
Below are some thoughts his fans have been sharing about the song's success, including the fact that it has gone farther than Yvonne's book.
@Slyzigi said:
There are more listeners to this track than readers to the book itself...Sarkodie
@gongahusein6440 commented:
She told her story through writing, Sark tells his through music. Very well elaborated. King Sark
@kwabenaemmanuelyeboah7665 stated:
Big ups to Yvonne Nelson for making King Sark drop a masterpiece. We all miss King Sark on the beat and his storytelling.
@edwardamansaray6152 indicated:
A whole 250 pages and 55,000 words in a story just summarized in 3:16 minutes song. Landlord has spoken (King Sakordie) maximum respect from Sierra Leone
Lady claims Sarkodie got her pregnant in 2016
Meanwhile, actress Yvonne Nelson has again attacked the rapper in an apparent effort to show that Sarkodie is careless regarding pregnancies.
According to the actress, who revealed the accusation in a recent Instagram post, the rapper is being accused of failing to accept responsibility for a pregnancy that occurred roughly seven years ago.
Sarkodie's wife Tracy shares Bible quote saying false witnesses and liars will be punished
In another report, the wife of Ghanaian artiste Sarkodie, Tracy Owusu Addo, released a biblical passage on her Instagram account that discusses the consequences of false witnesses and liars.
In a surprising post by Tracy Sarkcess, the wife of the award-winning rapper took to her Instagram story to share the biblical quotation, Proverbs 19:5, amidst a brewing controversy involving the successful actress Yvonne Nelson and her husband.
The timing of Tracy's cryptic post has caught the attention of fans and the media, fueling speculation about its potential connection to the ongoing dispute.
Source: YEN.com.gh