Tunde Ednut: Former Musician's Impressive Journey to Becoming Nigeria's Biggest Influencer
Although he kicked against the label at the start of his blogging career, these days, former Nigerian music star, Tunde Ednut, boldly identifies himself as 'The Shaderoom of Africa' and there's no denying that he has become a formidable force to reckon with…
Born Tunde Olaoluwa Adekunle, Tunde Ednut was of the class of hip-hop acts that rocked the Nigerian music scene during the late 2000s.
The singer's records, Catching Cold and Jingle Bell were instant hit tracks that enjoyed massive airplay in the country and made many pitch their tents in his base.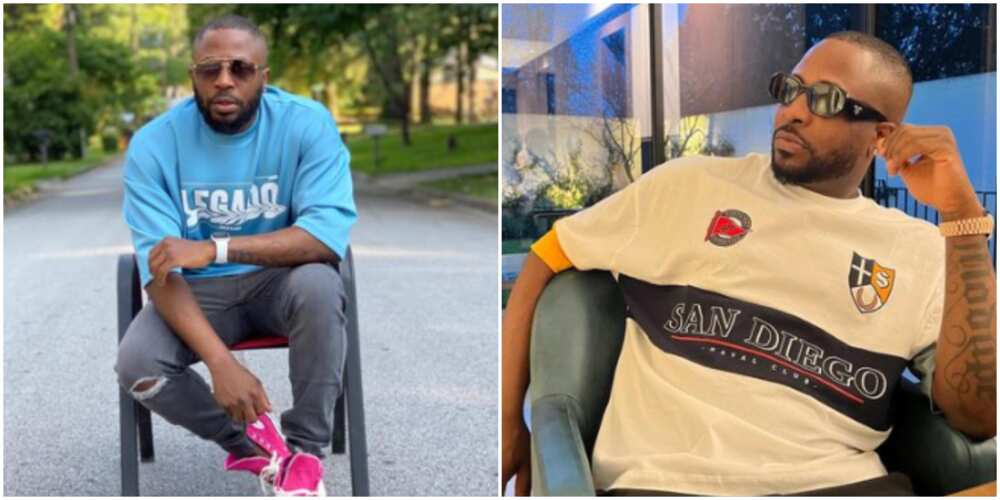 Catching Cold was a favourite for many and this was why he was able to get Dr Sid of the then Mavin Records to feature on a remix. Like the original release, the remix was an instant banger that spread like wildfire in the industry.
However, the months and years that would follow saw a rise of talents in the music industry that made it a scene where only the toughest would survive.
Ednut would eventually fizzle out of the industry and seek greener pastures out of Nigeria…
The blogging Era
Before October 2010, the bulk of Nigerians in the online community mostly socialized on two social media platforms: Facebook and Twitter. With Facebook, friends could keep up with each other and even exchange instant messages, while Twitter was an avenue for people to share their most random thoughts.
However, on October 6, 2010, a new platform, Instagram, went live and it would change the way Nigerians experienced social media in the years to follow. It was a photo-sharing platform where users—celebrities, businesses, and regular people—could give friends and followers an inside look into their world with photos. At the start, it was just celebrities and regular people, but it soon became an avenue for businesses to reach new users, or in the case of this report—an avenue for a new type of blogging and content-sharing experience.
For Ednut, his exit from the music industry and relocation drove fans to conclude that he already had his run in the industry, and would be remembered as one of the 'one-hit wonders' that never quite reached his full potential. This, however, wouldn't be the case for the Catching Cold crooner who already had different ideas for his official Instagram handle, King Tunde Ednut, since he wasn't promoting his music again.
Just as regular users shared pictures and videos from their daily lives, there were others on the platform who aggregated useful, and often times bizarre to hilarious content that instantly caught the attention of many—this was the new Tunde Ednut.
Tunde Ednut taking Instagram by storm
At the start, the entertainer heavily kicked against the 'celebrity blogger' tag, seeing as tabloids and media outlets started to describe him as such. It was, however, confusing for millions of Instagram users who followed his account and could tell that he was in the same category as bloggers.
Ednut's Instagram page quickly shifted from sharing content about music to shining more light on the efforts of colleagues in the industry. Apart from helping others promote their craft, the former music star would also come to share first-hand gist and gossip about what popular figures in the entertainment industry have been up to.
For instance, his close-knit relationship with singer Davido gave him firsthand information and inside scoop about the singer's activities, and this ultimately made him a trusted source for news concerning 30BG.
Interestingly, while the soft stories and gist drew the attention of users on the platform to his page, what really kept many people glued was the comedy videos. At the time, a new form of comedy, skit-making, was brewing on the internet and thousands of bored Instagram users were looking to forget their worries with these rib-cracking shorts.
Ednut would often curate comedy content from upcoming comedians, and this was in addition to high-tech gadget reviews, music video cuts, recipe videos, and interesting political clips, to mention a few. To put it directly, there was something for every random Instagram user that made it to his page.
Amid it all, Ednut's churn rate has been another factor that has left many puzzled over the years and asking questions about how he is able to put out so many videos, and pictures on a daily basis.
At the time of compiling this report, the celebrity blogger has shared over 31,000 posts on his page, MufasaTundeEdnut, and it's important to note that he has had to create several accounts over the years after being flagged by Instagram for copyright infringement issues.
The Shade Room of Africa
During his birthday celebration that went down some weeks ago, Ednut shared an interesting part of his journey and how it all started 14 years ago. The celebrity blogger admitted that he always had a thing for blogging but eventually stopped when things didn't go in his desired direction.
Luckily, Instagram came along and the tables turned in his favour.
"Some how, Instagram came. No one knew how to do use it. I quickly opened an account, cause I knew Instagram will blow up one day. We sha man through it. I started cracking jokes and it started growing like wild fire and BOOM here we are today."
These days, The Shaderoom of Africa proudly occupies a generous portion of Ednut's Instagram bio. (For those who don't know The Shade Room, it's an Instagram-based media company that focuses on celebrity gossip, and the founder, Angelica Nwandu, is of Nigerian descent.)
The Catching Cold crooner evidently likens himself to Shaderoom because of how influential he has become over the years, in fact, one could say he has become a cultural phenomenon.
Hundreds of content creators across the African continent are constantly seeking to snag features on Ednut's Instagram page, while established creators tag his official handle when sharing their content in a bid to get wider amplification on his page.
Talents like Kiriku, Sabinus, Ghana's Erkuah and Funnybros to mention a few all owe their rapid recognition to getting featured multiple times on Ednut's Instagram page.
Speed Darlington beefs Tunde Ednut, calls on FBI to investigate him
Meanwhile, Legit.ng previously reported that rapper Speed Darlington came under fire on social media over a video post made about celebrity blogger, Tunde Ednut
Darlington talked down on the blogger's lavish birthdays in different Nigerian states and countries all over the world
He accused Ednut of being a scammer, and many Nigerians were quick to set him straight on behalf of the blogger.
Source: Legit.ng