"God Abeg": Video Trends As Burna Boy 'Kicks' Fan Who Tried to Climb the Stage at His Lagos Concert
Top Nigerian singer, Burna Boy's New Year concert in Lagos has continued to remain a trending topic for different reasons
A video made the rounds of the singer using his leg to push back a fan who tried to climb the stage
The video went viral on social media and raised a series of different comments from Nigerians
Grammy winning Nigerian singer, Burna Boy, trended for controversial reasons over his January 1, 2023, concert in Lagos.
The music star made headlines for different reasons over the show and one of them was a video making the rounds of how he handled a fan who tried to climb the stage.
The Love, Damini, star has been known to warn fans not to climb the stage at his events but one excited fan decided to try his luck at the Lagos event.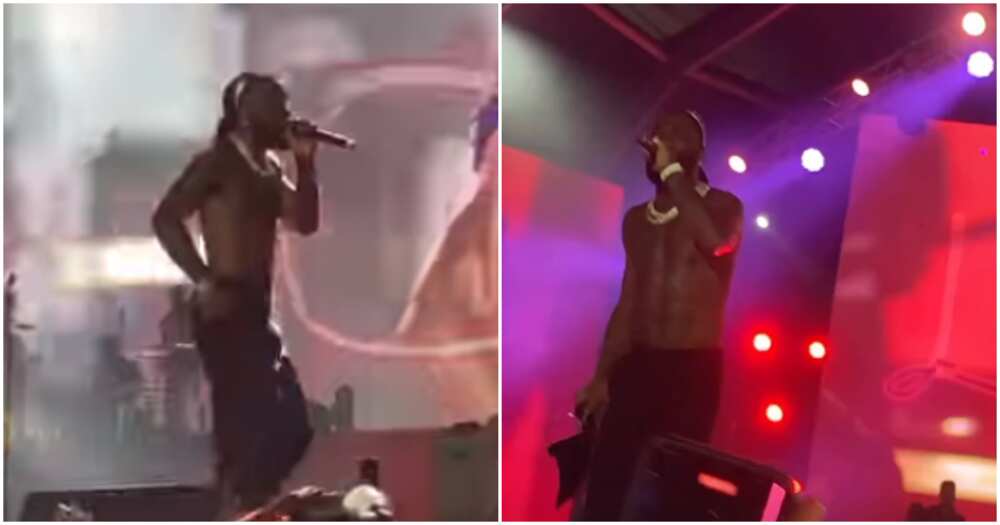 The music star was performing one of his songs, Kilometer, when he spotted the overzealous fan trying to mount the stage.
Without pausing his music, Burna walked back and used his leg to kick back the fan into the crowd.
See the video below:
Nigerians react to video of Burna Boy kicking fan who tried to climb stage
As expected, the moment which was captured on camera soon trended and raised a series of hot takes on social media.
Interestingly, a number of people defended Burna Boy while others condemned the action. Read some of their comments below:
Adeogo blamed the fan:
Teke described Burna as being two-faced:
Bollyphaze called Burna an oppressor:
Milla noted that what happened in the video was not a kick:
Pumpin noted that such would never have happened outside the country:
Cuby begged God:
Hammid described it as disgusting:
John noted that he still loves Burna:
This tweep said politicians are not as bad:
Muzino had this to say:
"If you like no love me, na God go punish una" - Burna Boy to fans after delaying them for hours
The Grammy-winning artiste was to headline the Lagos Loves Damini show on New Year's Day with the cheapest ticket going for N30,000.
Thousands of fans trooped to the venue with hopes of seeing the music star but ended up waiting for hours before his eventual emergence on stage.
According to reports, the concert was slated to start by 8pm but many music lovers who arrived at the venue could see the crew and technical crew still setting up and the show itself did not start till 3:30am.
The Grammy-winning Nigerian artiste eventually came on stage and he got some things off his chest. Burna Boy told his fans that he still loves them and admitted that he would have left the venue and gone home if not for another music star, Seyi Vibes.
Source: Legit.ng