"If You Like No Love Me, Na God Go Punish Una": Burna Boy Tells Fans After Delaying Them at Lagos Concert
A video has made the rounds on social media of top Nigerian singer, Burna Boy, at his Lagos concert on January 1, 2023
It was gathered that the show which was scheduled to start by 8pm did not kick off until many hours later
After Burna finally emerged on stage, he also got things off his chest and explained that he would have gone home if not for another artiste, Seyi Vibes
Much loved Nigerian singer, Burna Boy, is in the news over his January 1, 2023 concert in Lagos.
The Grammy-winning artiste was to headline the Lagos Loves Damini show on New Year's Day with the cheapest ticket going for N30,000.
Thousands of fans trooped to the venue with hopes of seeing the music star but ended up waiting for hours before his eventual emergence on stage.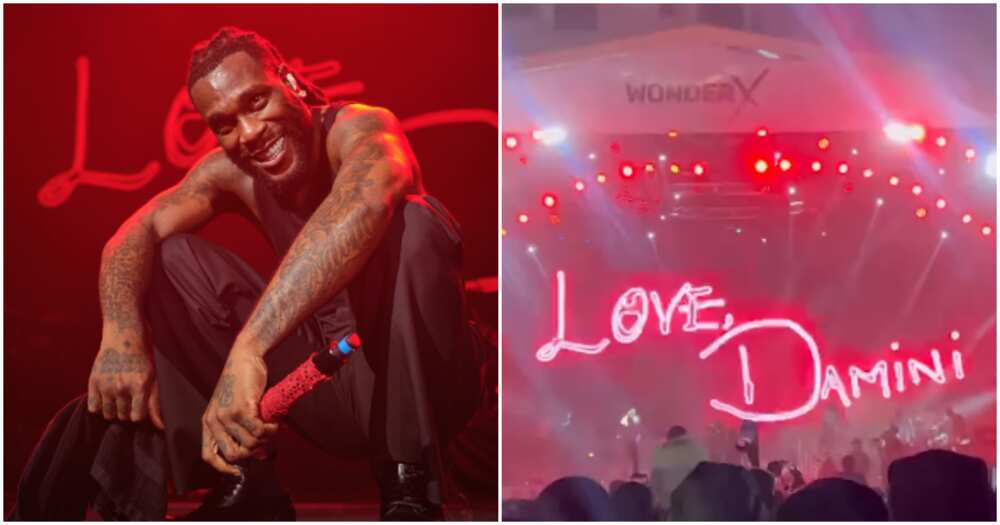 According to reports, the concert was slated to start by 8pm but many music lovers who arrived at the venue could see the crew and technical crew still setting up and the show itself did not start after several hours.
Burna Boy addresses fans at concert
The Grammy-winning Nigerian artiste eventually came on stage and he got some things off his chest.
Burna Boy told his fans that he still loves them and admitted that he would have left the venue and gone home if not for another music star, Seyi Vibes.
Not stopping there, he went ahead to list some of the ways Nigerians had offended him including claiming that he killed someone at a popular Lagos club and that his mother danced for Fela, among other things.
Burna then added that despite it all, he loves his fans and God will punish them if they don't also love him.
In his words:
"Just to show you say I still love una, I no go even lie for you, If no be Seyi Vibes sef I for don dey go house but I dey here with una after una don talk say I kill person for Cubana, after una don talk say my mama dance for Fela, no wahala I still love you na why I dey here, so if you like no love me, na God go punish you."
See the viral video below:
In another video posted online by a concert goer, the singer was heard speaking on the hurt his Nigerian fans had caused him with their tweets but however noted that he can't stop loving them.
See below:
Netizens react to video of Burna Boy addressing fans after delaying them at Lagos show
The video of Burna speaking to his fans soon went viral on social media and it raised a series of mixed reactions. While some people found it amusing, others were not impressed.
Read some comments below:
odpossible_:
"If na WizKid talk this one na another news we for the hear now oo. Issoryttt."
a_cupof_dee:
"ypu people must love my baby oh "
ifeomaonye:
"This show better be free Cos w*tf!!!!!!!"
etijae:
"Which kind toxic relationship be this "
therealellacious:
"I don't understand is the show free?? Which one be God punish u again for new year"
mokiagram:
"Trash talk. Who are those attending this dudes shows sef? Shiorrr."
_ose77:
"Just hear the nonsense wey he dey talk, abeg una no pay for the show ?"
stylefield_:
"Why talk like he did them a favour showing up ? ‍♂️"
chuks_ea:
"Your fans o. Your own home fans. You talk down at them like this. Even if the rumors and allegations emanated from here, were all the people who came to watch you among your accusers? Which one be "God go punish all of una" again? Let me believe he was inebriated while saying this."
mr_success_c2:
"Burna is too rude , someone paid to come and watch you just for you to tell him God punish you wow "
promisennadi:
"some of these high profile afro artists seems to see their African fans as 2nd class. go to Copenhagen and show all smiles and stuff,. come back to Lagos and act like you are doing the ppl a favour for showing up,. same people that made u. without African fans none of these guys will break into world stage."
Meek Mill's phone stolen in Ghana
Popular American rapper, Meek Mill's phone got stolen in Ghana as he visited the country for the Afro Nation show.
The music star who was in the West African country for the event appeared to be having a great time before his device was pickpocketed.
He had been sharing fun videos on his page from his Ghana experience and even noted in one of the posts that he will have to get a house in the country.
However, Meek's fun experience seemed to be tainted after he was pickpocketed and his phone was stolen from him.
Source: Legit.ng