Actor Lateef Adedimeji Shares Love Story, Marriage Plans with Bimpe Oyebade
Popular actor, Lateef Adedimeji, has opened up about his relationship with actress Adebimpe Oyebade and their plans to wed soon
The actor, in a recent interview with Nigerian Tribune, revealed they are getting married in December 2021 and are looking forward to it
Adedimeji also spoke about how their relationship started and how the news has affected his relationship with female colleagues
Yoruba movie stars, Bimpe Oyebade and Lateef Adedimeji, will become the latest couple in the Nigerian film industry in a matter of weeks.
In a recent interview with Nigerian Tribune, Adedimeji confirmed reports about their intention to settle down.
He said:
"It is true that Bimpe and I are getting married. It is happening. Whatever you might have heard before now, I am confirming it to you that it is happening."
He also spoke about their marriage plans which will take place in December, revealed that his bride-to-be is excited about them spending forever after together.
When asked about a statement he made regarding settling down with an actress, the actor admitted that he had a change of heart.
In his words:
"What I can tell you is that when certain things happen in your life, you may not find the right explanation for it because the truth of the matter is that both of us can't even explain it. It all started suddenly. I wish I could tell you more."
Adedimeji and Oyebade had been rumoured to have been in a relationship even before they went public with the news.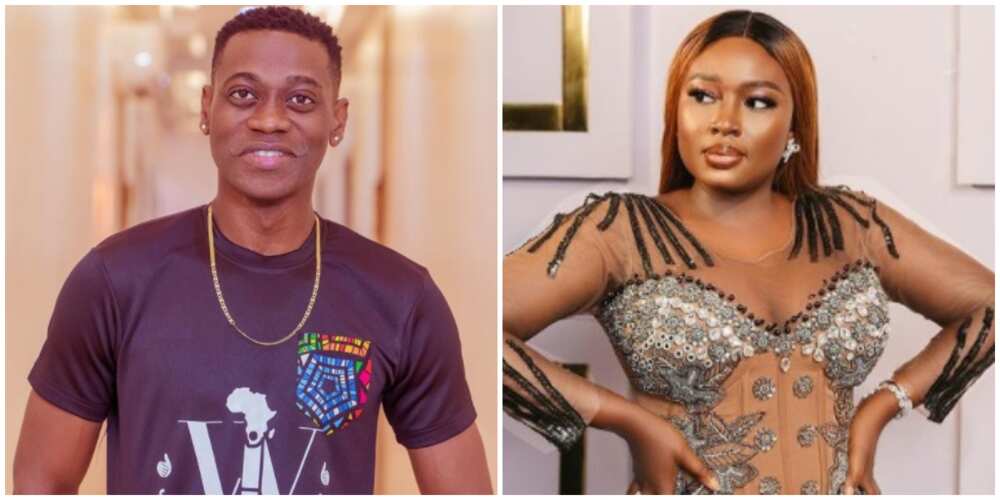 However, Adedimeji revealed that they only started dating in March of 2021.
He said:
"People only speculated because we became really close and did a number of jobs together and we became fond of each other. It was not something that we both saw coming. One day, after a lot of back and forth, we sat down and said to ourselves we could make this work if we put our hearts together and show more commitment and love to each other; then we realised that we could not even do away from each other. So, the journey started and we are here today."
On how his female colleagues are handling the news of his marriage plans, Adedimeji said:
"The fact is that when you decide to live your life the way it pleases you or you choose to take a new step, some people will begin to feel uncomfortable and it is normal. I am aware that since the day we decided to take our relationship to the next level, we have had more enemies than friends but you can't stop that from happening. You can, however, choose to allow it get to you or move on with your life. I have heard people say that 'why is he getting married now? What is wrong with them? Do they even know what they are getting themselves into?' Different questions and allegations have been raised, but we are focused. I don't have any grouse about anyone. I am just focusing on my life, career and future."
Bimpe Oyebade addresses pregnancy rumours
It appears Bimbe Oyebade is unbothered about people spreading pregnancy rumours about her and it shows in her recent comment.
The popular Yoruba actress had earlier taken to her Instagram page to share a video of herself dancing while dressed in a two-piece garb that showed off her midriff.
Reacting to the video in which the actress appeared without a baby bump, a fan questioned those who started the rumour. To this, the actress let out a few words.
Source: Legit.ng