Nigeria Students Win Big as Tech Academy Ends Challenge Career Expo
Winners have emerged in the 2023 Afrelib Academy Robotics and Artificial Intelligence GPT Tech Challenge
The event was held in Abuja on Wednesday, August 9, with the participation of over 100 schools across Nigeria
The Great Heights Academy students came first and bagged the grand prize of one million Naira
FCT, Abuja - To provide Nigerian students with a platform to improve their interest in science and technology and grant them the opportunities to become critical thinkers and solution providers, three winners have emerged from the Afrelib Academy Robotics and Artificial Intelligence GPT Tech Challenge.
By embracing rapid technological advancements, the academy ensures that students are not only prepared for the future but also poised to excel on a global scale.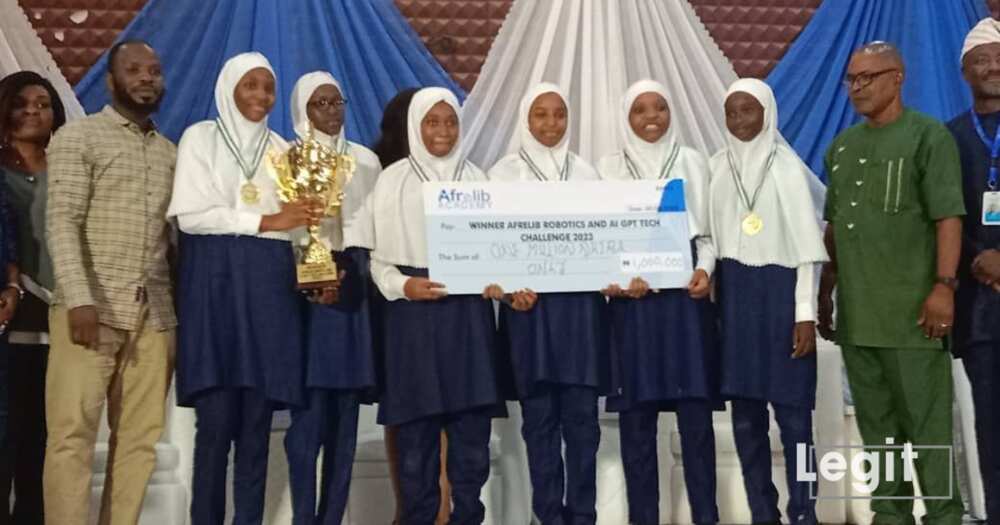 The Robotics and AI GPT Tech provided its platform for 150 students who worked in 16 different teams from different schools across Nigeria's Federal Capital Territory.
The unusual challenge was set up to empower young learners between ages 10 and 18 with the knowledge and skills to navigate the cutting-edge world of AI technology.
PAY ATTENTION: Follow us on Instagram - get the most important news directly in your favourite app!
Participants had the chance to work together in designing and constructing solutions for real-life issues across various sectors, including education, agriculture, healthcare, and more.
The event in Abuja on Wednesday, August 9, was attended by Legit.ng, with students from Great Heights Academy coming first and securing a cash prize of one million nairas with their project.
Similarly, students from Olumawu College (senior), Olumau (basic class) and TCN – a group of friends who came together for their project presentation came second, third and fourth. The team went home with N500,000, N300,000 and N200,000 respectively.
How students invented tech solution for farmers
One of the winners, Musa Yusuf of Great Heights Academy, which constructed a Farm Intruder Alert System, said
The FIAS is a security system that is designed to alert property owners of any form of intrusion that happens in their farmlands.
Yusuf told Legit.ng that:
"It works with alarm system that goes off immediately the device sense any intrusion in the farm. Then there is a camera that takes a picture of the farm intruder and sends an SMS to the owner of the farm.
"It also has a panic button which the owner of the farm presses, this is in case he is in the farm. This happens after the farm owner has registered with an emergency agency."
Speaking on the need for every farm owner to have such a device, Yusuf said:
"It has been reported in the Global Terrorism Index that over 2,000 farmers have been killed in their farms in Nigeria and this frequency increases each year."
He added that he and his team members thought about the menace and decided it was time to join in plans to reduce the number of farmers killed on their farms using the FIAS.
In his welcome address, the co-founder of Afrelib Academy, Joseph Ajuwon, said the journey for the career and tech hub started with a group of passionate educators who believed in the power of combining cutting-edge technology with the rich tapestry of African cultures, traditions, and languages.
His said:
"Our classrooms transformed into hubs of curiosity and exploration. We saw the fire in our students' eyes as they learned how to code, how to harness Al, how to build robots, and how to solve real-world problems that affect our communities.
"With each passing day, our little spark grew into a blazing fire of creativity and innovation. Students became inventors, teachers became mentors, and together, we embarked on a journey that forever can change the landscape of education in Africa."
Why I initiated GPT Tech Challenge - Ajuwon
Ajuwon added that the award-day conference celebrates the unity of students from different schools, backgrounds, and experiences coming together to showcase their dreams and ideas. It is also a celebration of teachers who have stood by the side of the student as they shatter the glass ceilings in their tech careers.
Partners and speakers at the Tech and Career Expo include Mandela Washington Fellowship, Education USA, Challenge Works, RBA Medical Services, Maybeach Technologies, Phoenix Renewables, Azure, and Outstanding Educonsult.
The judging panel for the challenge comprises international and local experts from various fields, all of whom were excited to witness the exceptional solutions these young participants developed.
Peter Obi hails 13-year-old Joshua Agboola, Africa's youngest certified Amazon web guru
Meanwhile, Labour Party presidential candidate Peter Obi gave 13-year-old Nigerian programmer and web guru Joshua Agboola his props following his recent milestone.
The young tech guru became Africa's youngest Certified Amazon Web Services (AWS) Developer Associate.
His achievement also got the recognition of Bukola Saraki, a former Senate President of the Federal Republic of Nigeria.
Source: Legit.ng