Things Getting Worse: Police Make New Revelation as Court Remands UNILORIN Student Who Beat Lecturer in Prison
Waliyullah Salaudeen, the University of Ilorin expelled for beating his lecturer, is now facing a jail term
The expelled student was remanded on Friday, November 19, following his arraignment by the police
At the hearing on Friday, the police shared more details about how Waliyullah beat the lecturer and attempted to stab her
Ilorin, Kwara state - Waliyullah Salaudeen, the expelled 400 level Microbiology Student of the University of Ilorin, who assaulted a female lecturer, Dr Rahmat Zakariya, has been remanded.
Daily Trust reported that the student was remanded on Friday, November 19, following his arraignment by the police in a magistrate court, Ilorin, over the incident.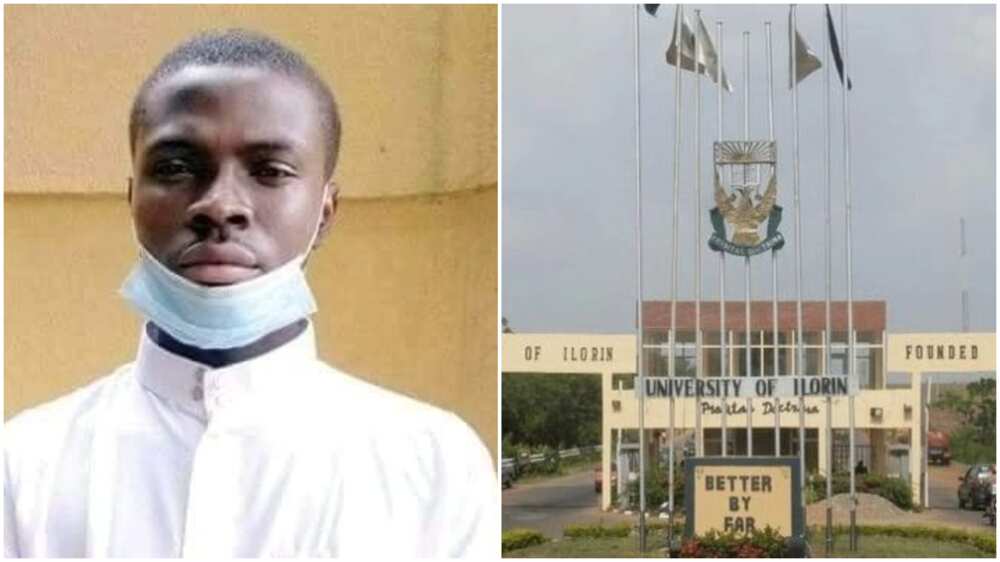 Legit.ng gathers that the Police First Information Report (FIR) indicates that Waliyullah had consumed some hard drugs before going to the lecturer's office who was the Students Industrial Training Work Experience Scheme (SIWES) coordinator in the department.
According to the charge sheet, the student reportedly banged her table, shouting that the lecturer should award him marks for the SIWES which he did not participate in.
Waliyullah was said to have punched the lecturer when she rejected her demand and beat her blue and black to the extent of breaking the window louvres with an attempt to stab her with the pieces.
The charge sheet added:
"The lecturer screaming for help attracted the attention of the security operatives who thronged to the scene and rescued her from Waliu's net."
Police ask court to remand suspect
Police prosecutor, Inspector Nasr Yusuf, urged the court to remand the accused. However, A.B Bakare, Waliyullah's lawyer, applied for the bail of his client who he said was innocent until proven guilty.
Rejecting the application, Magistrate Muhammed Ibrahim who presided over the matter ordered the suspect's remand in the Federal Correctional Centre, Ilorin, The Punch also stated.
Ibrahim also adjourned the matter to Friday, November 26 for further hearing.
Nigerians react on Facebook
Gashion Daniel Danna said:
"He may be good in learning, but lacking in character. Therefore not qualified for award of degree in any institution."
Saifullahi Sa'idu Gangara said:
"Effect of Drug Abuse!
"May Almighty Allah guide our generation to the right path."
Olanrewaju David said:
"Sometimes I look at this Country. Law is for the less privileged and poor. I am never justifying what this guy did, he should be punished for the act.
"But my point is the way they swiftly handle the case and remanded the guy behind bar as per court order. How many lecturers have been remanded on a student abuse case?"
Emmanuel Yebo Amlabu said:
"Expelled from the university and now being prosecuted? That's double jeopardy! I think the expulsion is enough punishment for the young man."
She ordered me out - UNILORIN student who beat his female lecturer explains
Earlier, Legit.ng reported that Waliyullah said he was in detention for two months before the ugly incident.
Upon his release, the expelled student said he had visited the female lecturer's office to help him wave his mandatory SIWES scheme.
He said the lecturer said there was nothing to be done and ordered him out of her office.
Source: Legit.ng