Bringing Joy to Underprivileged Children: LEGIT.NG and Tuntun & Friends Team Up to Make Christmas Special
In December 2022, Legit.ng entered into a partnership with independent event convener, Oluwaseuntuntun who has a soft spot for less privileged kids in her environ.
To ensure that the less privileged kids in Ikorodu weren't left out of the Christmas festivities, Legit.ng through its charity arm partnered with Tuntun and friends.
The leading digital news publisher continues to stay true to its commitment of leading the way in restoration through Legit.ng Charity.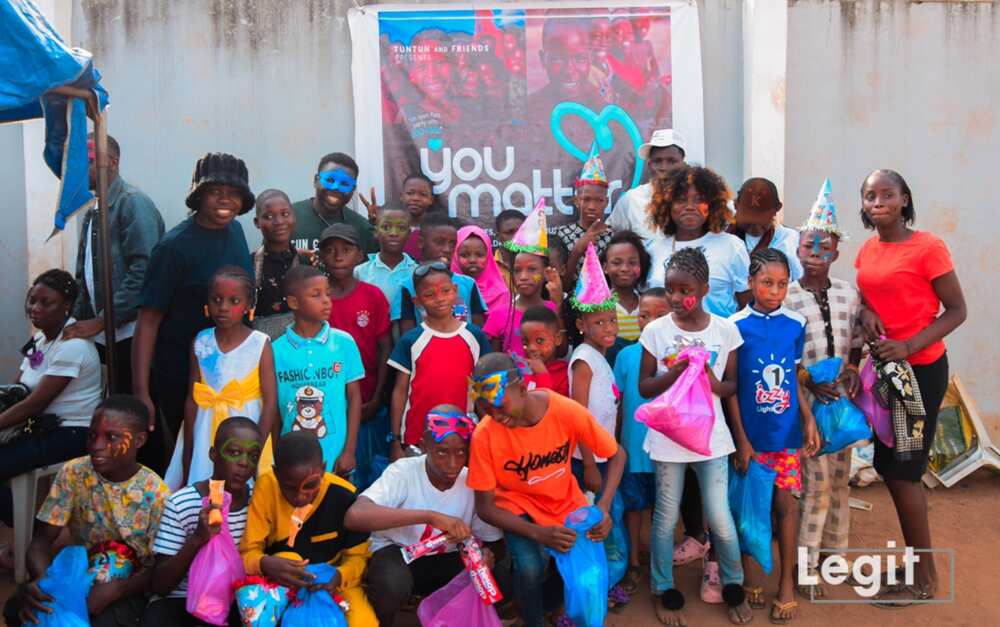 On December 27, 2022, Nigeria's leading digital media and news platform, Legit.ng partnered with a resident of Ikorodu, Tuntun who had earlier announced her intentions on Twitter to create a fun environment for 200 less privileged kids in her community.
Thrilled by her determination to carry out such a humanitarian act, and upon confirmation of her other selfless acts, Legit.ng reached out to Tuntun to be a part of her December project. The media and news company donated refreshment items like small chops, juice, biscuits, water, and candies for the kids to munch on during their Christmas party.
"We are thrilled to be able to bring a little bit of holiday cheer to these children and their families," said Catherine Tomosori, PR Manager at Legit.ng. "As a media company, we have a strong commitment to giving back to our community and we do this regularly through our charity arm, Legit.ng Charity. We believe that this is just one of the ways we can make a difference."
The party organized by Tuntun & Friends, provided a fun and festive celebration for children who didn't have the opportunity to experience the joys of the holiday season.
Speaking on the partnership and the impact on the kids who benefitted, Convener at Tuntun & Friends, Oluwaseuntuntun said, "We are so grateful to have had the support of Legit.ng at our party. The company's donation helped to make the event even more special for the children and their families."
Legit.ng via its charity arm continues to lead the way in restoration for many children and adults. The charity arm has helped improve the financial situations of many families in Nigeria, e.g Esohe, a mother of four, received over N500,000 in donations to start her own business and pay for rent, so her kids have shelter. Since Legit.ng kicked off its charity initiative in 2021, the leading digital media company has gone on to call attention of individual plights to key stakeholders, as far as the corridors of the Aso rock which resulted in great change.
In 2022, Legit.ng through its charity arm, partnered with Nigeria's leading non-government organization dedicated to ensuring that all young girls and women across Nigeria live in a society free of rape and sexual violence, - WARIF, to restore some women and young girls who come to the centre to good health through proper medical care support fund.
As a full digital media company, these are some of the various ways through which Legit.ng maximizes the full potential of technology and the digital world in impacting the lives of people through its large audience and readership base.
To join in the fight for stability, Legit.ng charity has simplified giving to its various causes through its Patreon platform where each donor can be a Patron for a survivor. Interested donors can click HERE to make a donation that restores a survivor to a better life.
Source: Legit.ng