This is not Image of "Repentant Bandit" Absolved as Customs Officer
Claim: Multiple social media users claimed that a Nigeria Customs Service officer in a recent viral video is one of the repentant bandits "recruited" into the security forces in the country.
Verdict: The claim that repentant bandits are being recruited into the Nigerian Army and other security forces is spurious and misleading. The people in the two photos are entirely different.
Full story:
Nwaiwu Chiukwuebuka, a Facebook user, in a post on Saturday, October 16, had shared pictures of a Nigeria Customs Service officer and that of a supposedly repentant bandit.
According to him, the officer is one of the repentant bandits recruited to a significant security force in the country.
He also raised an alarm that members of Boko Haram are "being recruited into the Nigeria Army, Nigeria Police and other Nigeria security bodies."
Chiukwuebuka, whose Facebook bio reads "Protest writer and a patriotic unapologetic Biafran," wrote:
PAY ATTENTION: Share your outstanding story with our editors! Please reach us through info@corp.legit.ng!
"From Bandit to Nigeria custom Officer, same way Boko Haram is being recruited into the Nigeria Army, Nigeria Police and other Nigeria security bodies."
The post, spurious as it appears, was widely shared, with 344 reshares and 24 reactions amassed as of Tuesday, October 19.
Using the Crowdtangle web extension, a further check showed that another Facebook user with over 22,000 followers, Chinasa, Nworu, shared the picture.
Nworu, whose Facebook profile showed that he works at "Radio Biafra," shared the post on October 16, and it amassed 2,100 shares, 126 comments and 294 reactions.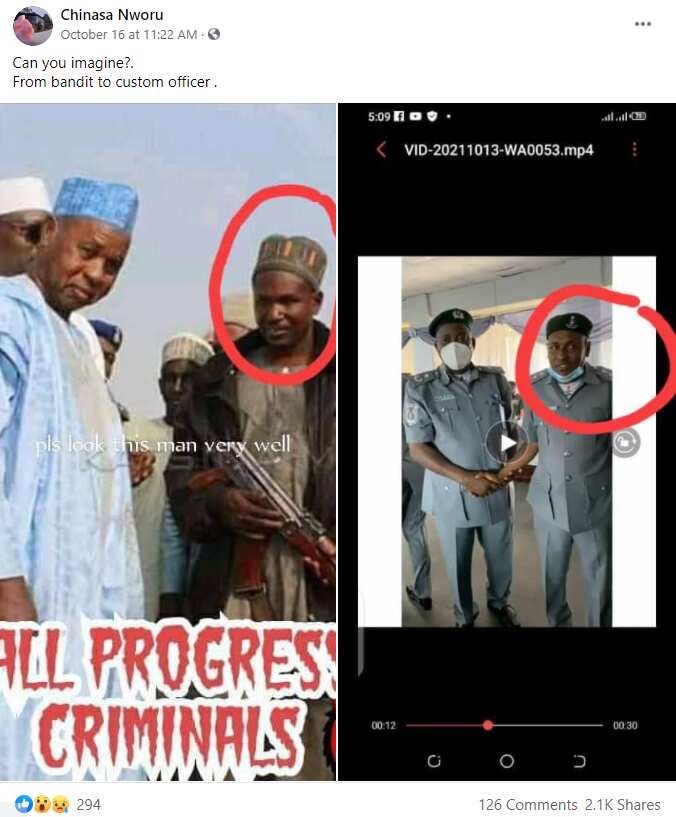 Banditry in Nigeria
Banditry, over recent times, has presented itself in forms of organised crimes including kidnapping, cattle rustling, mass abduction, arson, and armed robbery.
The security record in Nigeria showed that it began as a farmer-herder crisis in some states in northeast Nigeria like Zamfara, Katsina and Kaduna, where it was first treated as a local affair.
Triggered by poverty and a break of leadership trust, banditry in Nigeria has festered into what appears like full-blown terrorism, with its activities climaxed by the recent shooting of a military fighter jet.
According to ACAPS, a non-profit, non-governmental project providing international, independent humanitarian analysis, between March 2020 and June 2021, over 1,400 students and staff have been kidnapped in several school abductions reported in northwest Nigeria.
These abductions took place in Kankara and Mahuta (Katsina state), Kagara and Tegina (Niger state), Jangebe and Maradun (Zamfara state), Mando, Afaka, and Kasarami (Kaduna state), and Birnin Yauri (Kebbi state).
State and federal governments have been taking some bold steps to eradicate banditry, including a special package for repentant bandits.
Like Operation Safe Corridor (OSC), Nigeria's de-radicalisation, rehabilitation and reintegration programme for repentant Boko Haram members and bandits are promised a huge reward if they surrender their arms.
In February 2021, Auwalu Daudawa, a bandit leader who masterminded the kidnapping of schoolboys in Kankara, Katsina, surrendered over 22 weapons, including sophisticated AK-47 rifles.
Daudawa dropped his arms for the operative from the Zamfara police command alongside other bandits. However, he later returned to the forest to continue banditry, having been allegedly dissatisfied by the promise made to him by the government.
He was tragically killed during a gun duel with a rival gang at Dumburum forest located between Zurmi local government in Zamfara and Batsari local government in Katsina.
Before that, in January 2021, seven notorious bandits said they had repented and surrendered their weapons to the Zamfara state government. They offered 14 weapons including AK 47 rifles.
In April 2021, the Katsina police command said four bandits "voluntarily surrendered" their weapons including AK-47 rifles.
The conspiracy theory
Although the suspicious surrender of bandits has been described as a leap forward in the battle against banditry, many people believe that these blood-craving criminals including Boko haram terrorists are being given a soft landing despite their documented numerous atrocities.
The government officials' colourful media parade of repentant bandits, coupled with the privileges they enjoy after dropping their weapons have since created a conspiracy theory that often lead to a whirlpool of debates on whether these criminals are being recruited into the major security forces in the country.
On Thursday, September 2, the Nigerian Army announced that almost 6,000 ex-terrorists had surrendered to the government.
But before the announcement, specifically in 2019, General Abdulmalik Biu, the General Officer Commanding (GOC) of the 7 Division, urged terrorists to lay down their arms.
Biu said a repentant terrorist "stands to be a president of this country; he stands to aspire to any position in this country."
This statement created a fuss and fuelled the conspiracy theory about repentant terrorists being recruited into the Nigerian Army.
In several defences in the past, the military force had debunked the recruitment claim and described it as false and misleading, "laced with mediocrity emanating from a poorly researched and uninformed position."
Verification
Claim 1: Are Boko Haram and bandits being recruited into the Nigerian Army?
Although there are unintelligible claims that repentant bandits and Boko Haram terrorists are getting recruited into the security forces in the country, findings by Legit.ng showed that they are just products of febrile imaginations of some people and mere conspiracy theories. There is no record to back it up!
In December 2019, the Defence Headquarters (DHQ) dismissed the alleged recruitment of deradicalised Boko Haram ex-fighters into the Nigerian military.
Onyema Nwachukwu, the acting director of defence information emphasized in a statement that "contrary to claims, no Boko Haram ex-fighter has been recruited into the Nigerian military and no such plan is in the offing.
"The de-radicalisation, rehabilitation and reintegration programme is a Federal Government programme conducted under the auspices of Operation Safe Corridor as a non-kinetic operation," he added.
Similarly in August 2021, the Nigerian Army also denied that it was recruiting ex-Boko Haram fighters and bandits into the force.
"For the avoidance of doubt, the NA does not have any repentant terrorists joining its ranks and does not have any plan for that. There are teaming able-bodied Nigerians that are willing to join the NA and genuinely help in the fight against terrorism and other violent crimes," Brig-Gen Onyema Nwachukwu, director, Army public relations, said.
Meanwhile, there are records that some repentant ex-terrorists are being reintegrated back into society.
In May 2021, Nigerian Military announced that 603 repentant Boko Haram terrorists who have been rehabilitated would be reintegrated into the society in June.
Claim 2: Is the Nigerian Customs Service officer in a recent viral video a repentant bandit?
Verifying this claim, Legit.ng ran a Yandex reverse image separately for the two collaged photos.
The first Yandex search showed Governor Aminu Masari of Katsina state 'posing' with some bandits who surrendered their arms.
The second picture, a screenshot, was taken from a recent viral video of the Nigeria Customs Service (NCS) officer hilariously saluting his superior.
The original video is found on The Punch newspaper's Instagram page, and Nollywood actor Victor Osuagwu's IG handle.
A further search by Legit.ng in respect to the first image showed that between 2019 and 2020, Governor Masari of Katsina, in a bid to lure errant youths out of banditry, met with some leaders of banditry who came to surrender their weapons.
In a report contained in Leadership newspaper, the Katsina governor was reported to have "presided over the state's security council meeting with repentant bandits and others specifically dedicated to the contentious issues of banditry and kidnapping."
In November 2020, Masari was reported to have received two repentant bandit leaders named Sale Turwa and Muhammed Sani Maidaji at the Government House in Katsina.
Are the two the same person?
Legit.ng used an InVID's Keyframe tool to analyse the video where the second image was taken. The result broke the footage into six frames, showing each image clearly.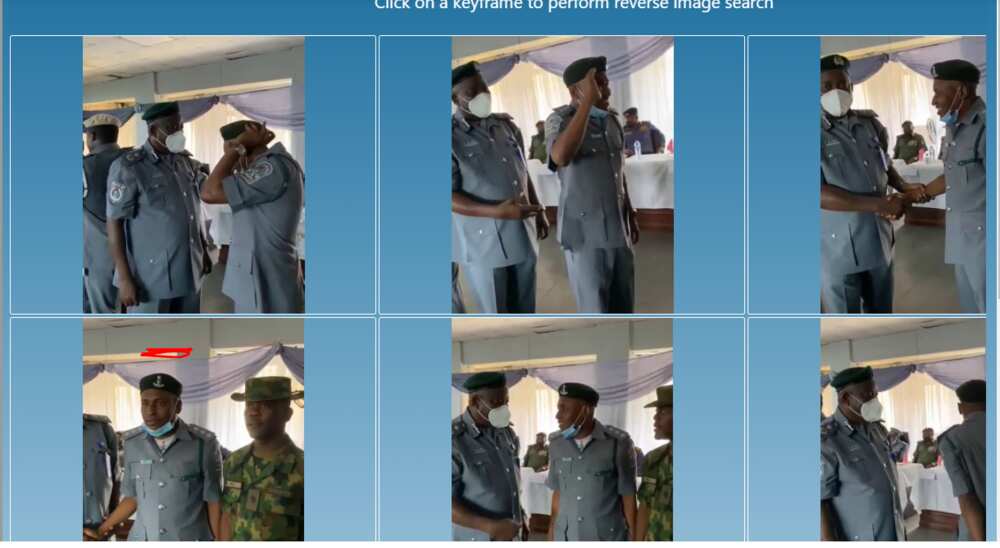 The fourth frame from the result above, which looks like the one being shared in the claim, was subjected to Magnifier image analysis. Again, results showed no facial resemblance (nose, mouth and eye) between the "repentant" bandit and Customs operative mischievously shared as the same person.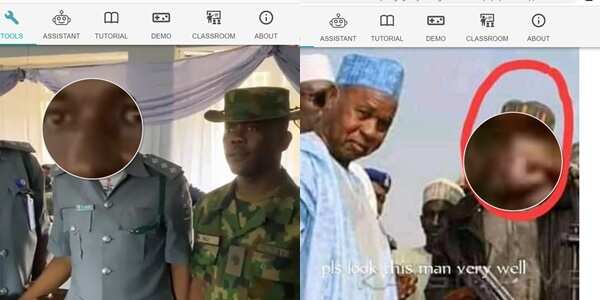 Conclusion
The two pictures being shared are different and the claim surrounding them is false and highly misleading. Besides, no record showed that ex-Boko Haram fighters and bandits are being recruited into the Nigerian Army.
Source: Legit.ng