Nigerians and Other Bitcoin Investors Share Over N68tn in One Week as Expert Offers Insights on the Rise
Nigerians and other cryptocurrency investors earned over N68 trillion in one week of investing
Expert has suggested that US banks failures has fueled the rise in cryptocurrency prices
Despite the high returns, cryptocurrency investments carry a high level of risk and volatility and investors
Cryptocurrency investors in Nigeria and other countries recorded massive gains of N148.9 billion(N68.59trn) between March 12 and March 19, 2023.
This happened as the value of Bitcoin jumped from $20,507.69 to $28,197.25 between March 12 and March 19, data from Marketcap shows.
The increase in Bitcoin's value helped push the market capitalization from $395,849,009,604 to $592,142,194,343, resulting in massive profits for investors.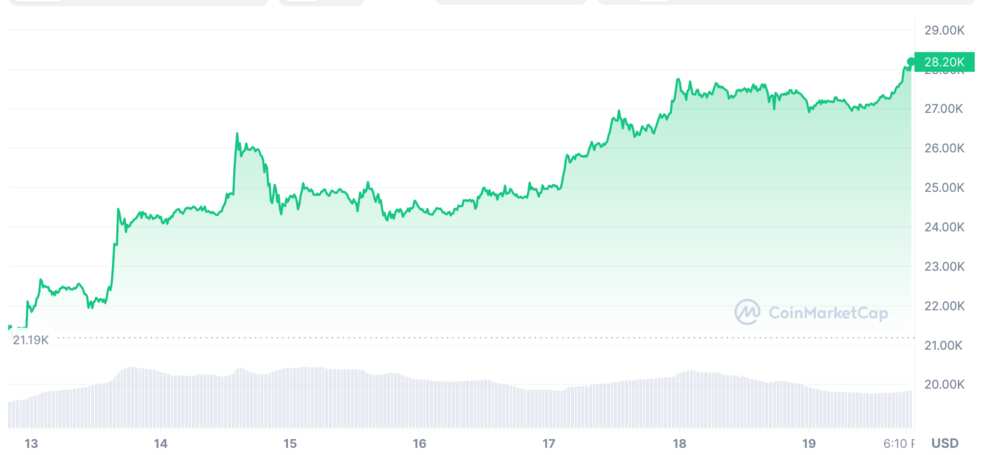 This surge was especially important for Nigerian investors, who have been actively participating in the cryptocurrency market, given the country's economic uncertainties.
Nigerians still trading cryptocurrency
Despite recent controversies surrounding Bitcoin, many Nigerians continue to turn to the digital asset as a potential hedge against inflation and currency devaluation.
Platforms such as Paxful and Binance have made it easier to buy and sell Bitcoin for Nigerians.
Why is Bitcoin on the rise?
Since the start of 2023, CNBC reports that Bitcoin price has surged by 50 percent also major digital currencies, Ether have also rallied 42% this year, while Solana is up more than 100%.
in a note, Vijay Ayyar, Vice President of Corporate Development and International at crypto exchange Luno, stated:
"This past week's events around the failure of SVB and other banks have also shone a spotlight on the power of decentralised currencies that people can fully custody and own,"
"Decentralised finance is beginning to hit home in terms of a concept to many more people now."
Two banks in the US have collapsed since March 10 2023 - Silicon Valley Bank (SVB) and Signature Bank - the biggest bank failures since 2008.
Another reason highlighted is that the challenges in the financial sector could mean that there will be slow down in the pace of rate hikes, which could help risk assets, such as stocks and bitcoin.
US arrests ex-crypto billionaire gives him Hushpuppi treatment
Meanwhile, in another report, the FTX founder Sam Bankman-Fried accused of being responsible for the collapse of the cryptocurrency market, has been arrested in the Bahamas.
The United States government has already demanded his arrest after filing criminal charges.
When you consider that Sam Bankman-Fried was formerly wealthier than Aliko Dangote, his arrest sums up his fall from grace
Source: Legit.ng