Meet Oluwayemisi Olorunshola, Wema Bank's New Chairman Who Conquered 2 Worlds, Boasts Impressive CV
Wema Bank has appointed Oluwayemisi Olorunshola as the new board chairman
This follows the retirement of Babatunde Kasali as stipulated in the bank's Articles of Association
Olorunshola will resume her new role with a wealth of experience and an impressive Curriculum Vitae
Wema Bank Plc, one of Nigeria's leading financial institutions, has announced the appointment of Oluwayemisi Olorunshola as its new Board Chairman.
Olorunshola will replace Babatunde Kasali, who has reached the retirement age stipulated by the bank.
The announcement was made in a statement released by the company to the Nigerian Exchange Limited (NGX).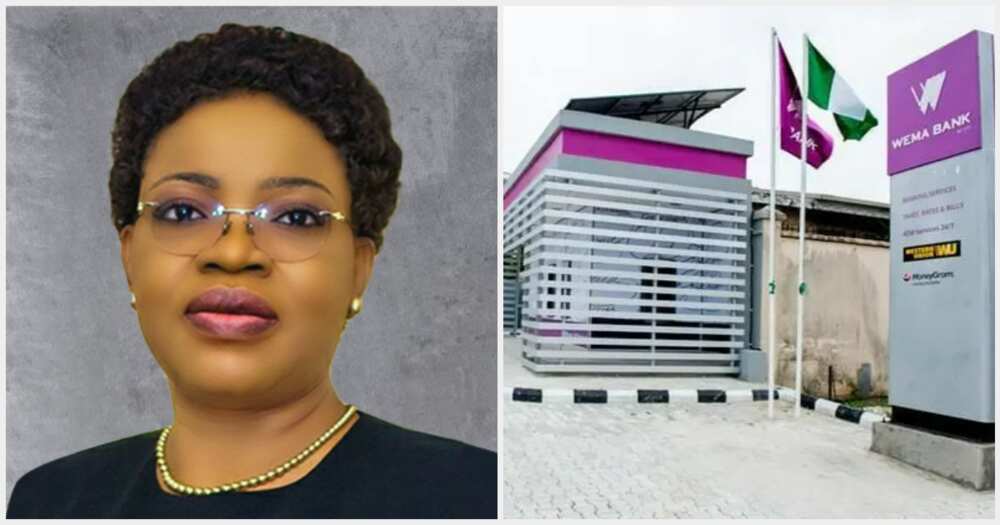 A new beginning for Wema Bank
Olorunshola's appointment takes effect immediately and marks an important transition for the bank as it seeks to strengthen its leadership team.
It will, however, not be a new setup for Olorunshola, having joined the institution as a Non-Executive Director in 2022.
Before her new appointment, she served as the Chairman of the Board's Nomination and Governance Committee of the bank.
Wema Bank CEO CV impressive
With over 10 years of boardroom experience and business management, Olorunshola brings a wealth of knowledge and expertise to her new role.
Before joining Wema Bank, Dr Olorunshola had an illustrious career at Unilever Nigeria Plc, where she worked for 15 years.
Her experience spans various aspects of business, including supply chain management, business re-engineering, and process management.
She holds a B.Sc. in Education & Economics from Obafemi Awolowo University, Ile Ife, a Master of Business Administration degree from the University of Liverpool, UK, and a Doctorate in Business Administration from Walden University, USA.
Olorunshola's professional training includes programs at renowned institutions such as Four Acres Training Facility, Unilever UK, FITC, Leighton Academy, and H Pierson.
Her supply chain management expertise covers business and production planning, procurement, distribution, import and export, and logistics services.
As a dedicated advocate for education, Olorunshola has published widely on small business sustainability strategies in esteemed journals such as the Journal of Functional Education (JFEAcademia), Proquest.com, and Academia.edu.
Numerous scholars have referenced her publications, showcasing her influence in the academic community.
With her extensive experience and expertise, she is poised to lead the bank into a new era of growth and success.
Expert speak
Gibert Ayoola a capital market expert explains that the board of directors is responsible for overseeing and guiding the company's management team, setting the company's strategic direction, and ensuring that the company is operating in the best interests of its shareholders.
He added:
"Therefore, it is essential that the board is composed of individuals with the necessary skills, knowledge, and experience to carry out these responsibilities effectively."
Zenith Bank chairman Jim Ovia makes over N13bn in 5 hours, buys more shares
Meanwhile, in another report, Legit.ng revealed that Jim Ovia, the owner of Zenith Bank, has purchased additional shares in his bank
The new shares come after he made over N13 billion from President Tinubu's inaugural speech.
He made money between 9:30 a.m. and 14:30, the trading hours of the Nigerian stock market.
Source: Legit.ng