Dangote's Wealth Skyrockets to $21.2 Billion, Now Ranked Among First 75 Richest Men Globally
Aliko Dangote has jumped nine places in the billionaire ranking to the 75th position
The jump follows the billionaire's $769 million earnings on Tuesday, May 30, 2023
Also, his wealth soared from $20.5 billion to $21.2 billion in 24 hours as investors rallied Dangote Cement
Africa's richest man, Aliko Dangote, jumped nine places to rank 75th richest person in the world from the 84th position he occupied On Tuesday, May 30, 2023.
Africa's richest man had remained in the 80s zone for over a year before a massive leap on Wednesday, May 31, 2023.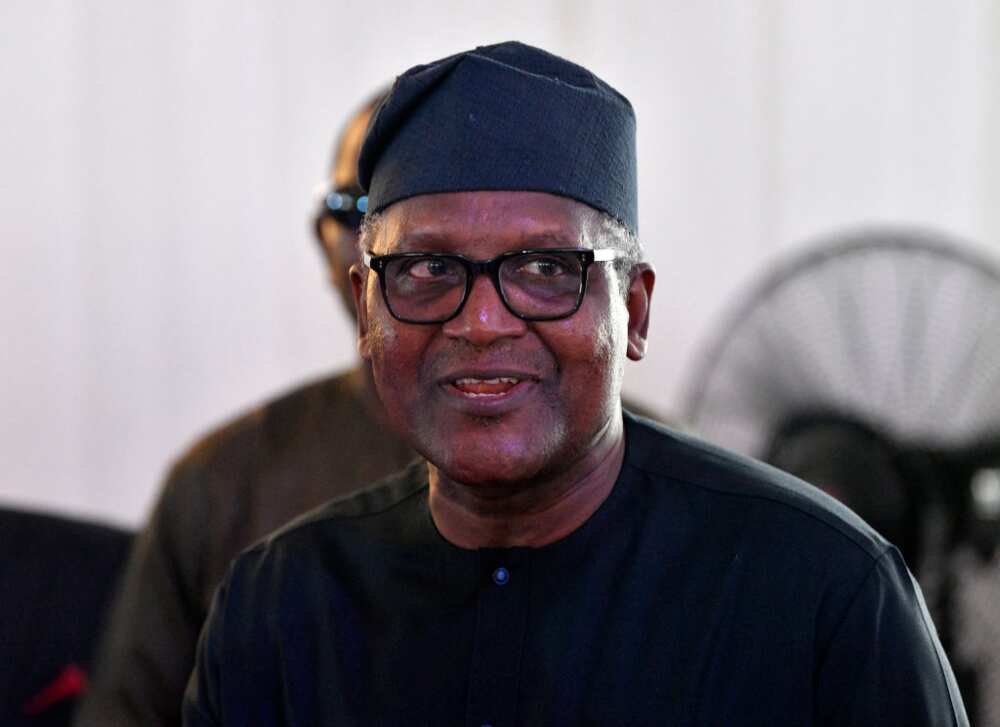 Dangote's wealth surges by $769 million
According to Bloomberg Billionaire Index, the billionaire's wealth surged by $769 million in one day, at $21.2 billion from the $20.5 billion it occupied for the past four months.
Dangote, whose 650,000bpd capacity refinery was commissioned on May 22, 2023, made the massive jump, thanks to the strong showing of Dangote Cement, his primary source of wealth.
The development follows the bullish trend of the Nigeria Stock Exchange, which saw significant quoted shares jump on the news of Nigeria's new President, Bola Tinubu, being successfully sworn in on Monday, May 29, 2023.
The shares of Dangote Cement traded at N290 on Tuesday, May 30, 2023, following investors' positive sentiments.
The billionaire industrialist has said his refinery will be ready to release the first batch of refined petroleum products into the markets by July ending.
Dangote to rank among top 20 wealthiest men in the world, analysts predict
Analysts believe Dangote will rank among the first 20 wealthiest men in the world when his refinery finally comes on stream.
Uche Madubuogu, a financial analyst and banker, told Legit.ng that the Dangote Refinery could catapult him among the top 20 wealthiest men on earth.
Madubuogu said:
"We will not be shocked to see his wealth surge when the refinery begins to ship products by August."
According to him, the refinery holds an enormous promise to revitalise the Nigerian energy industry, especially the petrol import problem Nigeria has faced.
"It will help Nigeria reduce dependence on imported petroleum drops. It might help eliminate petrol import," he said.
Also, Dangote, the chairman of the Dangote Group, revealed that the newly commissioned Dangote Refinery targets 100,000 jobs when it becomes fully operational.
The billionaire businessman said the refinery currently employs 33,000 Nigerians.
He revealed that the 650,000bpd capacity refinery targets the population in its employment drive.
Rabiu joins Dangote on Bloomberg Billionaire list as wealth skyrockets past 213 richest men globally
Legit.ng reported that Abdulsamad Rabiu, the founder and chairman of BUA Group, is now in the ranks of billionaire Aliko Dangote as he is currently featured in the highly regarded Bloomberg Billionaire Index.
For years, Dangote has been the only Nigerian featured in the Bloomberg index of the 500 wealthiest men in the world, but Rabiu's recent surge in wealth has become too significant to overlook.
According to Bloomberg's calculations, Rabiu's net worth stands at $7.63 billion as of Friday, May 26, 2023, making him the 287th richest man in the world on their 500-strong list.
Source: Legit.ng