Dangote Makes $103m on Day of Refinery Opening, Reveals When Product Lifting Will Commence
Aliko Dangote has seen his net worth grow to $20.5 billion, gaining $103 million in one day
He moved one step up from 82nd position to 81st on Bloomberg Billionaire Index
The development follows his promise that his refinery will begin to lift petrol from June this year
Aliko Dangote's net worth soared by $103 million on Monday, May 22, 2023, when he commissioned the biggest refinery in Africa.
Dangote gained about $103 million, the equivalent of N37.3 billion, as Africans gathered to commission the Dangote Refinery, considered the largest single-train refinery in the world.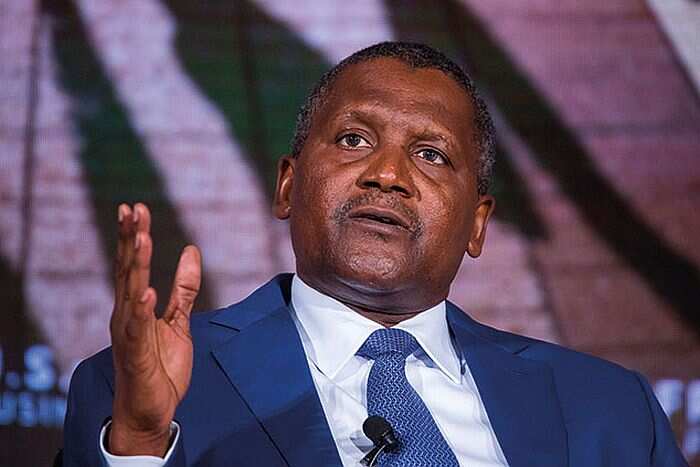 Dangote moves a step up as the refinery opens
The Nigerian billionaire moved one step up to the 81st position from the 82nd position he occupied on Friday, May 19, 2023, on Bloomberg Billionaire Index.
Bloomberg reports that his new position sees him with a net worth of $20.5 billion, having gained over $1 billion from year to date.
He has remained Africa's richest man for 12 years, and analysts believe his net worth will balloon further as his refinery begins operations soon.
However, the Dangote Group has promised that the first fuel products from the Dangote Refinery will be ready by June 2023.
Dangote reveals new date for product lifting
The billionaire businessman, also the Dangote Group's Chairman, disclosed the information during the refinery commissioning in Lagos.
According to him, the Nigeria National Petroleum Company Limited (NNPCL) promised to support the refinery operations with crude oil supplies. He is targeting $40% of its products' output for exports.
Dangote said:
"The benefits will be accurate and tangible for consumers, the economy, and the country. This remarkable achievement is not taking place in a vacuum, this extraordinary facility that we see here today is not standing alone but with the enabling environment that our government continues to provide, and we are most grateful for this.
Aliko Dangote repays 70% of bank loan taken for refinery construction, CBN announces remaining balance
Legit.ng reported that the Central Bank of Nigeria (CBN) announced that Aliko Dangote, the President of the Dangote Group, has successfully repaid 70% of the commercial loans obtained for constructing the Dangote Refinery.
The revelation was made by Godwin Emefiele, the Governor of the CBN, during the grand launch of the refinery in Lagos, on Monday, May 22, 2023.
Emefiele, in his speech, disclosed that the CBN had collaborated with Dangote Group by providing a loan facility of N125 billion in domestic currency.
Source: Legit.ng