Buhari Hands Over $35bn Foreign Reserves to Tinubu, Lowest in 20 Months
Nigeria's foreign reserves reached their lowest in 20 months as Muhammadu Buhari concluded his tenure
The decline in foreign reserves could pose a concern as it is essential in determining the stability of the naira's value
Several external factors might have contributed to the decline in the volume of Nigeria's foreign reserves
Nigeria's new president, Bola Ahmed Tinubu, has kicked off his tenure with the country's reserves at its lowest in 20 months.
According to data from the Central Bank of Nigeria (CBN), as of Thursday, 25 May 2023, Nigeria's foreign reserves stood at $35.15 billion.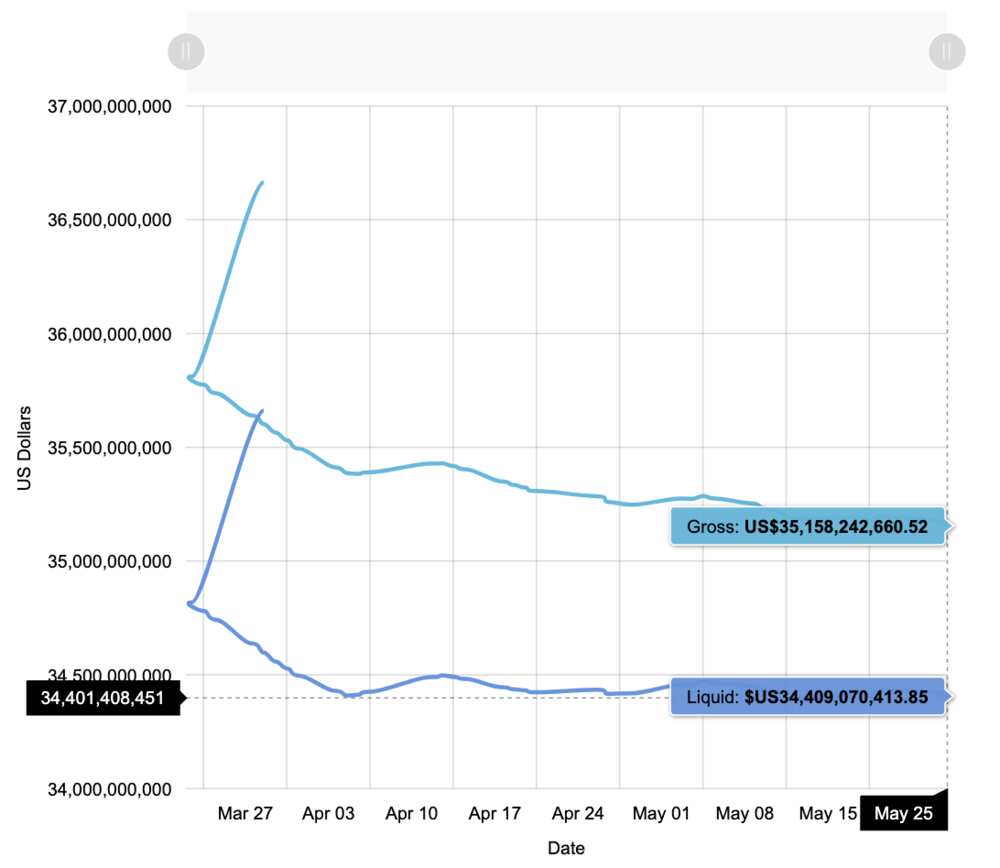 The last time Nigeria's foreign reserves were at this level was on the 13th of September 2021, 20 months and a week ago, when the funds were at $35.10 billion.
However, it is important to note that among the various key economic metrics used to measure the Buhari administration's performance, foreign reserves performed well.
PAY ATTENTION: Share your outstanding story with our editors! Please reach us through info@corp.legit.ng!
When Buhari assumed office in 2015, Nigeria's foreign reserves were at $29.59 billion on May 28.
This indicates that during his 8-year tenure, Nigeria's foreign reserves grew by 18.79%.
Monthly breakdown of Nigeria's foreign reserves in 2023
Legit.ng's further analysis of CBN's foreign reserves data showed that from January 1, 2023, to May 25, 2023, $1.9 billion has been taken from the foreign reserves.
April 28: $35.25 billion
March 31: $35.49 billion
February 27: $36.67 billion
January 31: $36.99 billion
What are foreign exchange reserves, and why are they important?
Foreign exchange reserves are assets denominated in other currencies, like dollars. The reserves are utilised to back up liabilities and influence monetary policy.
Foreign reserves serve as a buffer to support the stability of the Nigerian currency in the international foreign exchange market.
When the CBN intervenes in the foreign exchange market, it uses its foreign reserves to influence the supply and demand of the naira.
The foreign reserves also serve as a means to protect against external shocks and ensure the country's ability to meet its international obligations.
Nigerian banks send messages to customers on tax clearance for FX transactions
In another report, Nigerian banks now require customers to present a valid Tax Clearance Certificate for purchasing dollars and other foreign currencies.
The regulation covers a wide range of transactions, including Personal Travel Allowance and Business Travel Allowance.
Banks have started informing customers who want foreign currencies at the official rate compared to the easy buy more expensive black market rate.
Source: Legit.ng