CBN Vows to Punish Shipping Lines for Illegal Cargo Export From Nigeria
The CBN has sounded a note of warning to undocumented cargo exporters in Nigeria
The move is aimed at curbing the illegal exportation of goods and services from the country
The apex bank said it would be monitoring the sector to fish out those guilty of engaging in undocumented exports
The Central Bank of Nigeria (CBN) has declared that it will strictly act against shipping lines exporting undocumented cargo from the country.
According to The SUN, the move aims to protect the economy of Nigeria, which the illegal export of goods and services has hit.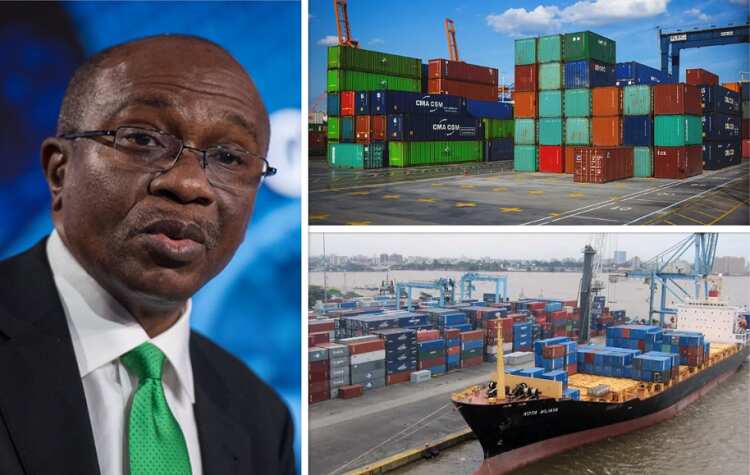 The CBN Governor Godwin Emefiele, while speaking at an event in Abuja, said it was important to develop the non-oil sector as it could generate a significant amount of foreign exchange for Nigeria.
Emefiele sounds a note of warning to shippers
Recently, some shipping companies have been found guilty of shipping goods out of Nigeria without proper documentation.
PAY ATTENTION: Follow us on Instagram - get the most important news directly in your favourite app!
This has led to a significant loss of revenue for the Nigerian government and contributed to the weakening of Nigeria's economy.
The CBN has now warned shipping companies, stating they will be heavily sanctioned if they continue to engage in this illegal activity.
The apex bank has also urged other regulatory bodies to work with them in ensuring that the shipping companies comply with the regulations governing the export of goods and services from Nigeria.
The CBN's move has been welcomed by stakeholders in the Nigerian economy, who believe it will go a long way in curbing the illegal export of goods and services.
The stakeholders have also urged the CBN to work closely with other regulatory bodies to ensure the sanctions are enforced, and the culprits are brought to justice.
CBN permits foreign banks to give loans in dollars to Nigerians
In a related piece of news, the Central Bank of Nigeria (CBN) has authorised foreign banks with offices in the country to give loans in dollars to Nigerian companies.
According to Legit.ng report, the CBN's decision was made public in a new guideline signed by Muhammad Musa, the Director of the Financial Policy and Regulation Department.
According to the guideline, the apex bank authorised the foreign bank representatives to work with their parent companies in availing and syndicating foreign currency-denominated loans (dollar loans) to Nigerian companies.
The Nation reports that the move by CBN will improve dollar liquidity and ease foreign exchange pressure.
Source: Legit.ng