NDIC Lists 20 Failed Banks, Asks Depositors to Come For Their Money as CBN Restores One Licence
The Nigeria Deposit Insurance Corporation (NDIC) has listed the names of 20 failed banks and said it will pay their depositors
The NDIC said contrary to recent reports, there are no new failed banks in Nigeria
The Corporation revealed in a statement that depositors, creditors, and shareholders will get an additional N16.16 billion in payment
Pascal Oparada has over a decade of experience covering Tech, Energy, Stocks, Investments, and Economy.
Depositors, creditors, and shareholders of 20 failed banks in Nigeria will get an additional N16.18 billion in liquidation dividends, the Nigeria Deposit Insurance Corporation (NDIC) said.
The latest payment will increase dividends paid to the depositors to N61,63 billion after making cumulative payments of liquidation dividends totaling N45,45 billion as of July 2023, representing amounts exceeding the insured sums to depositors of the 20 banks.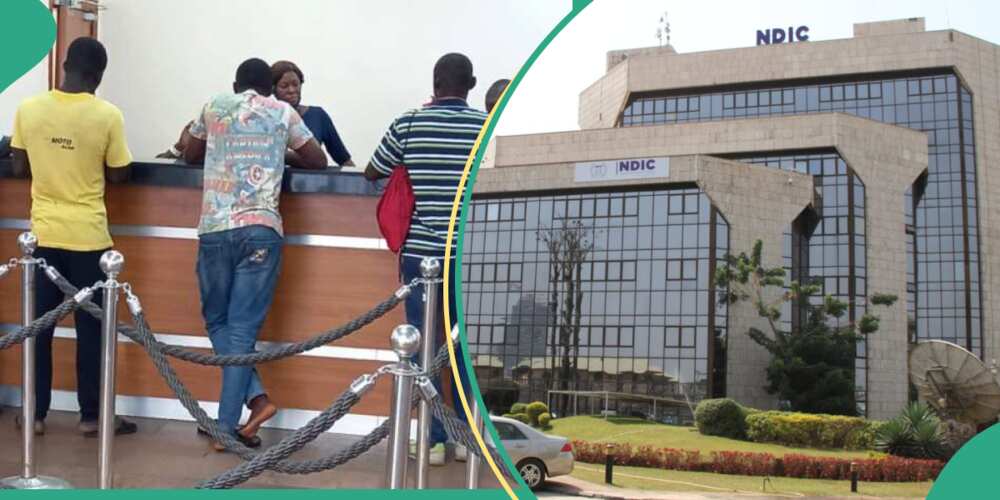 NDIC debunks reports of new failed banks
According to NDIC Director of Communications and Public Affairs, Bashir Nuhu, the 20 failed banks were among the banks that had shut down previously due to the revocation of their operating licences by the Central Bank of Nigeria (CBN) between 1994 and 2018.
Daily Trust report said Nuhu disclosed the information in Abuja on Monday, November 13, 2023.
He said the statement followed a trending report that 20 new banks had shut down.
The statement said:
"In light of further recoveries from debtors of the liquidated banks, the Corporation has announced an additional N16.18 billion in liquidation dividends to be paid to depositors, creditors, and shareholders of the 20 banks in liquidation."
Names of failed banks
Liberty Bank
City Express Bank
Assurance Bank
Century Bank
Allied Bank
Financial Merchant Bank
Icon Merchant Bank
Progress Bank
Merchant Bank of Africa (MBA)
Premier Commercial Bank
North-South Bank
Prime Merchant Bank.
Commercial Trust Bank
Cooperative and Commerce Bank
Rims Merchant Bank
Pan African Bank
Fortune Bank
All States Trust Bank
Nigeria Merchant Bank
and Amicable Bank in liquidation.
NDIC begins verification of bank customers
In April this year, the NDIC started verifying the insured depositors of Peak Merchant Bank in liquidation, Legit.ng earlier reported.
This was in line with its duty of deposit guarantee and reimbursement of depositors in case of bank failure.
Peak Merchant Bank Limited's operating license was revoked on Friday, February 28, 2003.
According to a statement by the Director of Communication and Public Affairs, Bashir Nuhu, the verification process will help depositors verify their account information and balances with the bank at its closure.
It further noted that the verification exercise is a precursor to paying insured sums to the depositors, the Nation reports.
NIDC lays out the payment process
NDIC further advised depositors to visit the bank's old premises or the nearest NDIC office with proof of account ownership and identification documents for the exercise.
The NDIC also explained that the insured sum is the first payment made to depositors if a bank fails up to a specified limit, and amounts above insured sums are subsequently paid as liquidation dividends from the proceeds of the closed bank's assets realized by NDIC as liquidator.
"We Apologise": Bank begs customers over failure to resume service after CBN approval
Legit.ng reported earlier that Eyowo, a popular digital bank, apologied to its customers for failing to fulfill its commitment to resume operations.
The digital bank had assured its customers that it would resume operations by Sunday, November 10, 2023, after the revocation of its license by the Central Bank of Nigeria (CBN) stopped its services.
The CBN had, on March 23, 2023, withdrawn the microfinance license of Eyowo and 46 other companies.
Source: Legit.ng