NAFDAC Speaks on Erisco's Nagiko Tomato Mix Registration Status, Sugar Content
Nigeria's food and drug regulatory agency has confirmed the registration status of Erisco Food's tomato mix
The tomato mix had been a subject of controversy in the past week after a reviewer claimed it had excessive sugar
In a press statement, NAFDAC stated that sugar contained in the tomato mix was safe for human consumption.
The registration status of Eriscofoods' Nagiko Tomato Mix has been officially verified by the National Agency for Food and Drug Administration and Control (NAFDAC).
This confirmation arrives amidst an ongoing disagreement between the company and a customer, Chioma Egodi, who recently posted a product review alleging excessive sugar in Erisco Food's Nagiko Tomato Mix.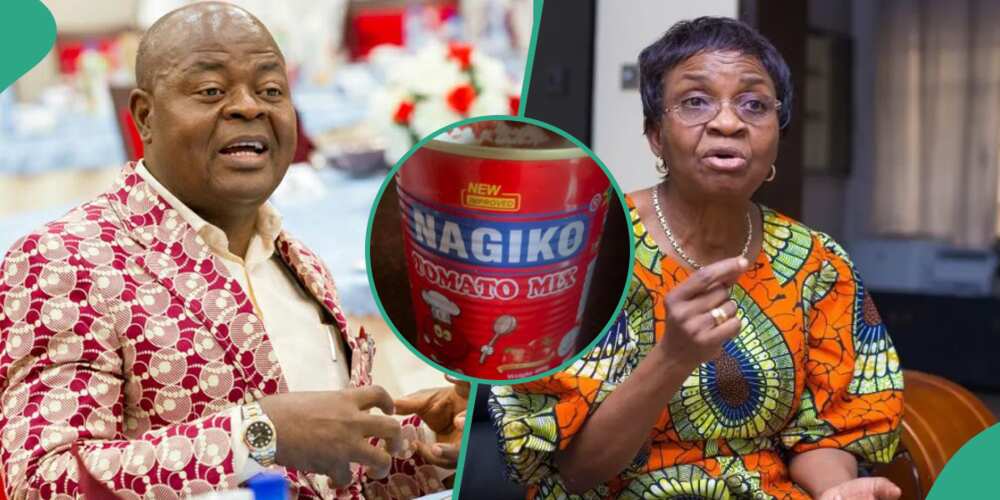 Miss Egodi's review caused the product manufacturer to petition the Police for her arrest, demanding a public apology or face a N5 billion suit.
The situation escalated when it was revealed that the product's approval was unavailable on the regulatory agency's website.
NAFDAC confirms registration of Nagiko Tomato mix
While looking into the matter, NAFDAC clarified on its social media page that the product was registered in 2021.
It clarified that an accessibility database backlog issue has delayed the update.
It stated:
Update on the Registration Status of Nagiko Tomato Mix. The product in question, Nagiko Tomato Mix by Erisco Foods Limited, bears NAFDAC Registration Number A8-7430 and is indeed a registered product.
Sugar content safe for human consumption
Furthermore, NAFDAC provided insights into the safety considerations related to the inclusion of sugar in tomato paste and ketchup items.
They elucidated that sugar plays multiple roles, including mitigating bitterness, enhancing colour and flavour, improving texture and taste consistency, and functioning as a preservative.
NAFDAC underscored its role in setting safety thresholds for sugar content in food products, emphasizing that only products conforming to these established limits are granted NAFDAC's approval
It would be recalled that the arrest of Miss Egodi sparked reactions on social media, leading to the Federal Competition and Consumer Protection Commission (FCCPC) intervention.
Erisco Foods owner Eric Umeofia says banks refused to sell him dollars
In related news, Legit.ng reported that Eric Umeofia, the founder of Erisco Foods Limited, disclosed that certain bank officials had requested illicit payments in exchange for selling dollars to manufacturers and importers during the tenure of a former CBN governor.
During an interview on AriseTV, he made this revelation while discussing his decision to file a N5 billion lawsuit against Chioma Egodi due to a negative product review, which he alleges has resulted in a $15 million loss for his company.
Umeofia further revealed that these bank officials had sought an additional N50 or N70 in exchange for selling him a dollar.
The entrepreneur emphasized that his steadfast refusal to engage in such practices is the reason he has no association with the embattled Godwin Emefeiele.
Source: Legit.ng