Over $100k Salary: 10 High-demand Jobs to Target Before You "Japa"
Over the past few years, a significant number of Nigerians have chosen to emigrate from their homeland in pursuit of more promising opportunities in Europe and America, a phenomenon often referred to as the "Japa syndrome."
While migration out of the country offers the prospect of a brighter future and increased earnings, it is crucial to pinpoint some of the high-paying careers and professions available.
What's intriguing is that one doesn't necessarily require extensive work experience or an advanced degree to secure some of these sought-after positions.
According to a report by CNBC, there are the top 10 occupations boasting the highest number of job openings, all offering annual salaries of at least $100,000.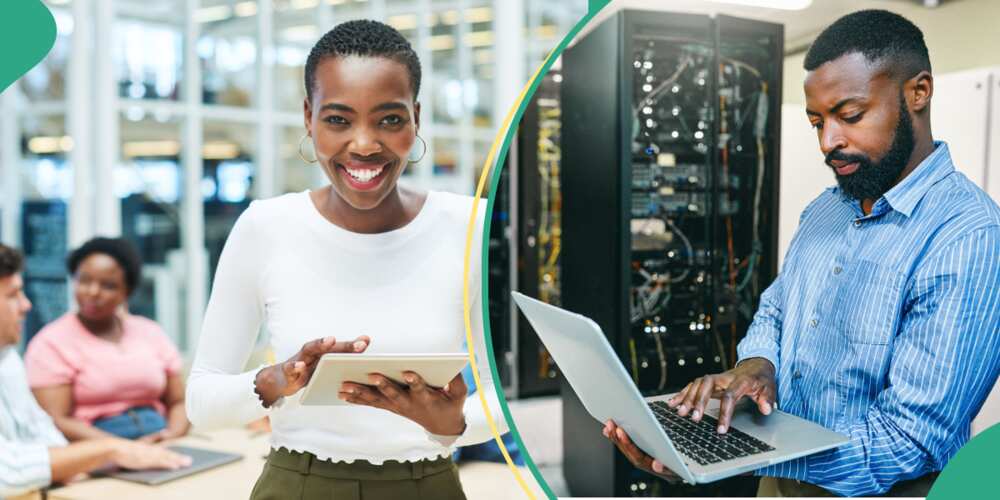 Software engineer
Computer software engineers are responsible for crafting programs and operating systems tailored for computers. They collaborate closely with system programmers, analysts, and fellow engineers to conceptualize systems, define functionalities, and establish performance interfaces.
PAY ATTENTION: Follow us on Instagram - get the most important news directly in your favourite app!
The demand for proficient computer software engineers is on a persistent rise, and their expertise remains highly sought after across diverse industries, as nearly every company relies on software solutions in their operations.
Senior software engineer
A Senior Software Engineer assumes a crucial role in overseeing software development initiatives, generating well-structured code, and guiding a team of fellow engineers.
This role requires a wealth of expertise in software development, adept project management skills, and a profound understanding of programming languages and databases.
Senior Software Engineers specialize in creating top-tier software, adeptly manage tasks throughout the software development life cycle, undertake code reviews and debugging, foster collaboration within internal teams, and ensure that the software remains aligned with the most current technological advancements.
Project Manager
In essence, project managers play a pivotal role in the comprehensive management of projects, from their initiation to their successful conclusion.
They exercise oversight over tasks, maintain effective communication with stakeholders, and diligently monitor every facet of the project to ensure timely completion.
The project manager bears the responsibility of the day-to-day administration of the project and must demonstrate competence in efficiently managing the six fundamental dimensions of a project: scope, schedule, finances, risk, quality, and resources.
Clinical psychologists
Clinical psychologists offer essential clinical services aimed at diagnosing, evaluating, and addressing a wide spectrum of mental and behavioral disorders.
Furthermore, clinical psychologists occupy diverse sectors, ranging from law enforcement to educational systems.
Corporations enlist their expertise to provide employee training and offer support as wellness counselors. Opportunities for their contributions extend into public health and social work as well.
Systems engineers
Systems engineers play a vital role in designing and supervising every facet of intricate systems with the aim of resolving complex problems.
Their responsibilities span from the system's inception to its production and maintenance, culminating in the delivery of the final product or solution.
The domain of systems engineering spans across a wide array of major industries, encompassing healthcare, transportation, manufacturing, and software development.
Clinical social worker
Clinical social workers commonly offer comprehensive bio-psychosocial services, encompassing activities such as diagnosis and clinical interventions like psychotherapy. These services are eligible for reimbursement through health insurance programs and are accepted by the majority of major self-insured companies across the United States.
Moreover, in the public sector, numerous agencies, departments, and programs explicitly acknowledge clinical social workers as autonomous providers of mental healthcare and associated services, granting them the authority to deliver these services without direct supervision.
Dentist
Dentists are responsible for the identification and management of dental conditions, as well as assisting patients in establishing improved oral hygiene routines.
Their duties encompass tasks such as teeth cleaning, addressing bite irregularities, conducting surgical procedures and extractions, and various other responsibilities aimed at ensuring the overall health of the teeth and oral cavity.
In addition to clinical procedures, dentists also play a pivotal role in offering guidance and instructions on proper dental and gum care, along with advice on dietary choices that can impact oral health positively.
Program managers
Program managers are entrusted with the responsibility of ensuring the realization of broader organizational objectives.
Their role revolves around orchestrating activities across various projects, although they do not assume direct management of these projects themselves.
Rather, their focus is primarily on the effective management of the overarching program, encompassing strategic program planning, the delegation of project responsibilities, and the seamless execution of the program's objectives.
Primary Care Physician
A primary care physician, often referred to as a PCP, is a medical professional dedicated to overseeing every facet of your well-being.
Their role is multifaceted, encompassing both the preservation of your health and the facilitation of your recovery when illness strikes.
PCPs bear a diverse set of responsibilities, extending from routine checkups to the identification and management of various health issues, injuries, and medical conditions.
They serve as your initial point of contact when confronted with non-emergency health concerns or medical problems, offering guidance and care to address your needs effectively.
Adult Psychiatrist
Adult psychiatrists are certified medical practitioners who employ pharmacological approaches to address mental and behavioral health disorders.
The realm of adult psychiatry is dedicated to the comprehensive examination, treatment, and proactive measures against mental afflictions in individuals aged 18 years and beyond.
Psychiatrists are equipped to evaluate the amalgamation of mental and physical facets in the context of psychological issues.
People turn to psychiatric assistance for a myriad of motives and concerns that span a wide spectrum.
UK govt lists companies approved to sponsor skilled Nigerians ready to relocate
In related news, Legit.ng reported that the United Kingdom published a roster of authorized entities eligible to support skilled immigrants under the temporary worker immigration scheme.
These UK-approved enterprises present an opportunity for resourceful Nigerians, who may not possess substantial financial means, to realize their aspirations of relocating abroad—a trend commonly referred to as achieving their 'Japa' dream, especially among Nigerian youth.
As per the data retrieved by Legit.ng, the list encompasses a staggering 68,630 companies with licenses to sponsor and facilitate the employment of international workers in the UK.
These companies span a wide range of sectors, including technology, commerce, education, media and advertising, as well as engineering, among various others.
Source: Legit.ng