Flour Mills Acquisition of Honeywell; N220bn Hanging Debt, Oba Otudeko Happy Ending as Share Price Jump
Flour Mills of Nigeria (FMN) has reached an agreement to buy its rival Honeywell Group Limited (HGL)
Oba Otudeko, chairman, Honeywell Flour Mills Plc (HFMP) is key to the deal as he agreed to sell his indirect stake of 71.69% FMN
Flour Mills of Nigeria is also looking at buying out 5.06 % First Bank of Nigeria Holdings equity in Honeywell Flour Mills
Flour Mills of Nigeria (FMN) and Honeywell Group Limited (HGL) have struck a deal today, Monday 22 November 2021 to become one company.
FMN said in a press statement that it has signed a deal to buy a 71.69 % in Honeywell Flour Mills Plc (HFMP), a portfolio company of HGL, giving it control of the company.
The statement also said they signed both agreements simultaneously to "create a strong National Champion in Nigeria to further enhance food security."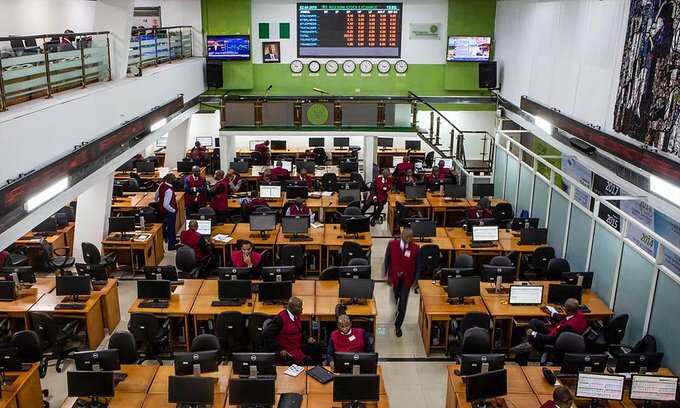 Part of the statement reads:
PAY ATTENTION: Install our latest app for Android, read best news on Nigeria's #1 news app
"For the proposed combination of FMN through its affiliates and Honeywell Flour Mills Plc ("HFMP"), a portfolio company of HGL. At a total enterprise value of NGN80 billion, HGL will dispose of a 71.69% stake in HFMP to FMN"
Enterprise Value includes the debt of Honeywell Flour which a check by legit.ng shows is in the tune of N78.5 billion and a cash balance of N27.3 billion bast on its latest financials.
Interestingly Flour Mills of Nigeria (FMN) is also debt-laden with about N142.8 billion in debt and N52.6 billion in cash.
The loans include commercial papers, bonds, and several intervention loans taken from the Bank of Industry and the Central Bank of Nigeria.
Kunle Ademola a stockbroker explains that there are chances Flour Mills is funding the acquisition from debt but asks for caution until the full details of the deal are made public.
The backstory
The majority of Honeywell shares is owned by billionaire Oba Otudeko, who was removed recently as the chair of First Bank of Nigeria Holdings.
The total cost of the 71.69% Otudeko is selling is valued at N80 billion but when HFMP's share is pegged to the current market price, it cost around N20.04 billion, which means he could be making a gain of N60 billion.
From the press release, FMN will also buy out HFMP First Bank Nigeria Holdings shares of about 5 percent.
While it is unclear if Honeywell will change its name as a result of the acquisition, what is certain is that FMN 5.06 percent equity purchase of FBN Holdings Group in Honeywell Flour Mills Plc will now liquidate the indebtedness of Obafemi Otudeko, the chairman of Honeywell Group to the FBN Holdings.
Oba Otudeko, who is the majority shareholder of Honeywell Flour Mills Plc had used his influence as chairman of the bank to take a loan from First Bank.
Honeywell shares price jumps
Meanwhile, the news of acquisition saw Honeywell Flour Mills Plc shares appreciate by 9.73 on Monday.
Investors reacted positively towards the announcement as buy interests saw shares jump from N3.39 per share it closed on Friday to N3.72 per share at the end of Monday, 22 November 2021 trade.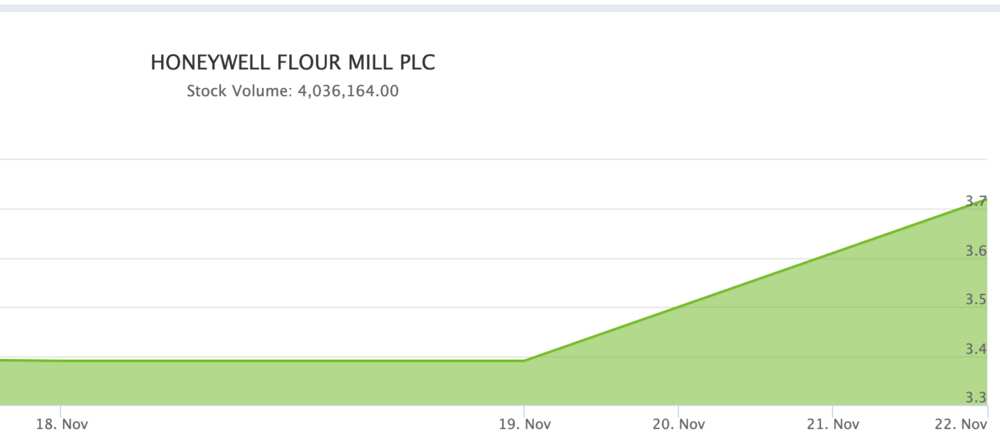 Pencom sets records straight on who is the majority shareholder of First Bank
Meanwhile, Legit.ng had earlier reported that in a fresh twist on the First Bank leadership saga, the National Pension Commission (PenCom) has questioned an earlier declaration from First Bank Holdings management about who is the largest shareholder.
First Bank had in a statement signed by Company Secretary, Seye Kosoko ascribed to Tunde Hassan-Odukale as the single majority shareholder with 5.36% while Femi Otedola owns 5.07%.
However, the manner Hassan-Odukale acquired his shares has been in contention given his firm is a pension fund. PENCOM clarification means Hassan-Odukale will no longer be the chairman of one of Nigeria's oldest financial institutions.
Source: Legit