N700/Litre: Fears of Petrol Price Increase Looms as Crude Oil Hits $92.79 Per Barrel
Crude oil price is currently hovering around $91.79 per barrel in the international market
The price of crude oil recorded an increase last weekend as OPEC members maintained oil output
The development has caused panic in Nigeria among consumers who fear a petrol price increase
The price of Nigeria's Bonny Light rose to $92.79 per barrel over the weekend from $90.88 recorded last Tuesday, September 5, 2023, as the Organization of the Petroleum Exporting Countries (OPEC) members extended output cuts in the market.
Russia continued its voluntary crude oil export drop by 300,000 barrels per day until December 2023, while Saudi Arabia extended its one million daily supply cut to October 2023 to enhance stability.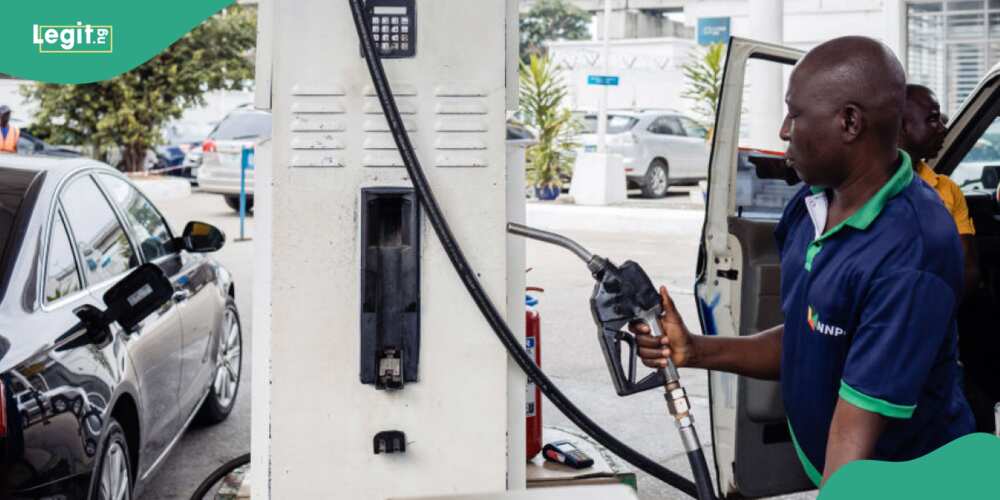 Top crude oil producers continue output cuts
Vanguard reports that the increase is the highest in 2023, showing an excess of $17.79 per barrel against the 2023 budgeted benchmark price of $75.
Reports say Goldman Sachs Commodity Research predicted on Saturday, September 9, 2023, that crude oil supply cuts could lead to prices hitting $107 per Barrel next year.
Energy policy analysts said Nigerians and other oil-producing countries should expect further price increases as oil inventories have shrunk drastically in the US.
OPEC identified Nigeria as the most minor refining member, with an average equivalent of 10,600 barrels per day in five years.
Nigeria emerges least crude oil refining country
OPEC disclosed in its Annual Statistical Bulletin that Nigeria refined an equivalent of 33,000 bpd, 8,000 bpd, 1,000 bpd, 5,000 bpd, and 6,000 bpd between 2018 and 2022, respectively.
Meanwhile, Saudi Arabia became the highest refining OPEC member, with an average equivalent of 2.6 million barrels daily during the period under review.
The leading oil-producing country refined 2.8 mbpd, 2.6 mbpd, 2.3 mbpd, 2.5 mbpd, and 2.9 mbpd in 2018, 2019, 2020, 2021 and 2022, respectively.
Analysis shows that many oil marketers in Nigeria have halted petrol imports due to exchange rate volatility.
Reports show that the marketers have continued to lift petrol at the depots in Ijegun and Satelite Town.
Nigerians fear petrol price increase following crude price hike
Fears are mounting that there may be increases in the price of petroleum products, especially petrol, following the increase in crude oil prices.
The move is despite promises by the Nigerian government that there won't be further increases in petrol prices due to Forex volatility and, more recently, increases in crude oil prices in the international market.
Oil marketers in Nigeria have also hinged petrol price increases to exchange rate fluctuations as uncertainties persist in the international market.
Chairman of the Independent Petroleum Marketers Association of Nigeria (IPMAN), Chinedu Okoronkwo, told Legit.ng two weeks ago that the association is not considering further price increases.
He pointed at the recently procured $3 billion crude oil swap deal between the NNPC and AfreximBank as the palliative against petrol price increases.
"The money will go a long way to cushion the price of petrol in the market," Okorokwo noted.
"N200 Per Litre": Marketers speak on new petrol price after repair of refineries in December
Legit.ng reported that the Major Oil Marketers Association of Nigeria (MOMAN) said petrol prices can't come down to as low as N200 per litre even if the refineries are working.
The association disclosed this following a recently published report, where the Independent Petroleum Marketers Association of Nigeria (IPMAN) revealed that petrol prices could crash to below N200 per litre if the refineries become functional.
The Chairman of the Rivers State chapter of IPMAN, Joseph Obele, advised the Nigerian government to fix the refineries as planned to reduce the price of petroleum products in the country.
Source: Legit.ng