"Ticking Time Bomb": Experts Warn Against Use of Expired, Refurbished and Substandard Gas Cylinders
Experts have raised the alarm over the influx of substandard cooking gas cylinders in Nigeria
They cautioned against the continued use of faulty gas cylinders that could have catastrophic consequences
The professionals, therefore, called on stakeholders to adhere strictly to standards to prevent avoidable destruction of lives and property
Many Nigerians are predicted to be living in imminent danger due to the continued use of cooking gas cylinders that have served past their expiration dates.
In pursuing economic efficiency, some individuals also use refurbished old gas cylinders instead of investing in new ones.
In addition to the growing concerns, some dealers are flooding the market with substandard gas cylinders, according to an alarm raised by the Liquefied Petroleum Gas Retailers Branch of the National Union of Petroleum and Natural Gas Workers.
These practices have been said to pose a grave risk to unsuspecting consumers who are unaware of the dangers lurking within the seemingly harmless containers.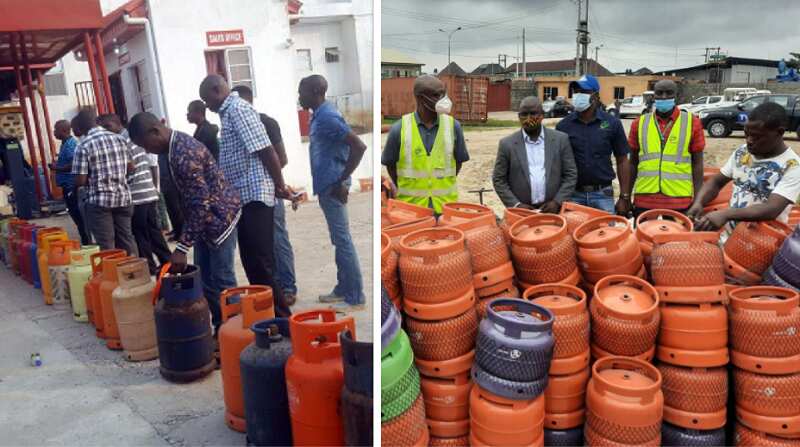 Use of faulty gas cylinders, ticking time bombs
Underneath their deceptive appearance, refurbished gas cylinders conceal a terrifying truth.
The refurbished gas cylinders, given a fresh coat of paint and a shiny façade, may appear as harmless as their brand-new counterparts, but a hidden menace is waiting to unleash its destructive power.
According to the Standards Organisation of Nigeria, some gas cylinders are fabricated locally without requisite quality control checks.
With time, the cylinders deteriorate, developing cracks and weak points that render these containers highly unstable and flammable.
Joseph Usoro, manager at Lukas gas plant in Oshodi, Lagos, told Legit.ng that using such faulty gas cylinders could be catastrophic.
He said:
The consequences of such failures are nothing short of catastrophic and can range from injurious leaks to devastating explosions, leaving lives and properties in ruins. It's a ticking time bomb situation that demands immediate attention and action.
Checking faulty cylinders with stringent regulations
According to reports, cylinders that have been in use for more than 10 years are most at risk of developing cracks and other problems.
Tunde Jimoh, a Lagos-based gas cylinder dealer, tells Legit.ng that even though the high cost of cylinders may be responsible for consumers using expired and refurbished ones, it doesn't remove the dangers involved.
He said:
Understandably, the prices of gas cylinders are on the high side, but the dangers ahead are too grave for one to ignore. An explosion from a faulty gas can cause an inferno of immense proportion, leading to loss of properties and lives.
Chike Osakwe, an Energy analyst, added to the awareness campaign saying the severity of the situation is escalated by the absence of stringent regulations and oversight surrounding the hazardous practices.
He said:
With little to no quality control measures in place, substandard and potentially lethal cylinders flood the market, putting countless lives at risk. What's even more concerning is the lack of stringent regulations and oversight surrounding this hazardous practice. The absence of proper quality control measures allows substandard and potentially lethal cylinders to enter the market, putting innocent lives at risk.
The public must be aware of the dangers of refurbished, expired or substandard cylinders. These cylinders are potential bombs waiting to explode, and the risks involved are too great to ignore.
States with best and worst gas prices in Nigeria
The National Bureau of Statistics (NBS) revealed that the average price of 5kg of cooking gas increased year-on-year by 22.03% to N4,610.48 in February 2023 from N3,778.30 in the same period the year before.
According to Legit.ng, the development came as the price of a litre of petrol spiked year-on-year by 43.63% to N264.29 this year from N185.30 in March 2022.
In the NBS Cooking Gas Price Watch for March, the data revealed that on a month-on-month basis, the price of 5 kg of cooking gas spiked by 0.22% to N4,610.48 in March from N4,600.57 in February 2023.
The NBS data revealed that Kwara State saw the highest average price of refilling a 5kg cylinder of LPG with N4,962.87, followed by Abuja with N4,940 and Adamawa with N4,915.
However, Rivers recorded the lowest price of cooking gas with N4,204.45, followed by Abia and Anambra with N4,220.15 and N4,232.75, respectively.
Source: Legit.ng