Fuel Subsidy: Businesses Suffer as Transportation and Food Costs Skyrocket in Nigeria
The removal of fuel subsidy has sparked an increase in the price of petrol across Nigeria
This subsequent increase in the price of petrol has caused a hike in transportation fares and foodstuffs
As a result of the current situation, businesses in Nigeria are struggling to survive as the cost of operations increases
Businesses across Nigeria have been hit hard by the removal of fuel subsidy as declared by President Bola Tinubu during his inaugural speech on Monday, May 29, 2003, in Abuja.
That single declaration by the President has sent many Nigerians running helter-skelter as fuel stations immediately jacked up pump prices of petrol to as much as N700 per litre from N195 per litre.
Consequently, fuel queues built up at filling stations and transport fares automatically increased by as much as 200% in major cities in the country.
To make matters worse, since then, prices of food items have shot up, further heightening the cost of doing business in Nigeria.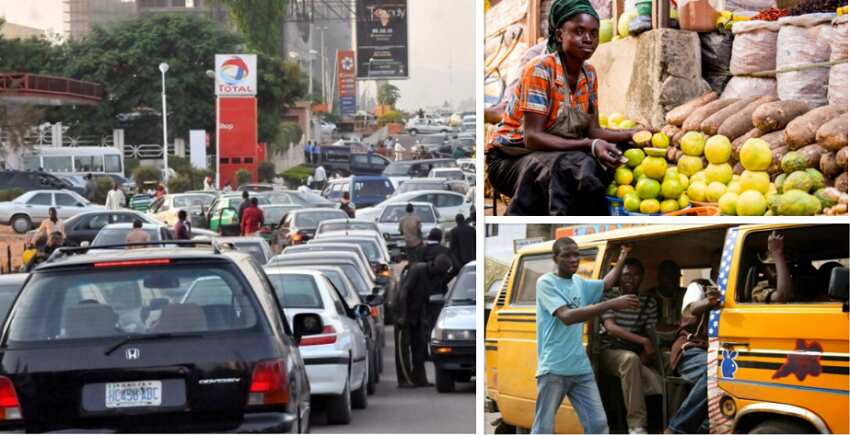 PAY ATTENTION: Share your outstanding story with our editors! Please reach us through info@corp.legit.ng!
The fuel subsidy dilemma in Nigeria
For many decades Nigerian governments have paid huge amounts of monies to subsidise petrol in the country as Nigeria's over 200 million population reportedly consumes an average of 70 million litres of petrol daily.
Because the refineries in Nigeria are not working, crude oil is exported to Europe and imported back as refined petrol at high cost shouldered by the government and sold at subsidised rates to consumers.
As time passed, the government found itself increasingly burdened by the escalating costs associated with sustaining the subsidy. Various administrations have made several attempts to eliminate the subsidy, but their efforts were unsuccessful due to its extensive popularity among citizens.
An incident of note is former President Goodluck Jonathan's attempt to remove fuel subsidy in January 2012, a decision that resulted in a notable surge in fuel prices.
As a consequence, widespread protests erupted for a duration of two weeks, orchestrated by labor unions, civil society groups, and leaders from opposition parties.
These protests effectively brought the entire country to a halt, compelling the government to revise its stance, ultimately leading to the reintroduction of the subsidy.
For many individuals, this subsidy represents their primary, if not sole, advantage derived from the federal government.
The disbursement of subsidy payments has consistently encountered controversies due to concerns regarding corruption and a lack of financial transparency.
Governors and National Assembly members have frequently demanded investigations into the Nigerian National Petrol Company (NNPC) Limited and a thorough reassessment of subsidy payments provided to oil marketers.
Motorists faced with the choice of paying triple price for petrol
On Monday and Tuesday, fuel queues had mounted at many filling stations across Nigeria regardless of whether they were selling or not.
By Wednesday when the NNPC released new pump prices of petrol, the queues disappeared as motorists and other petrol buyers realised that the hiked prices were here to stay and going nowhere anytime soon. It was now a matter of whether to buy or not to buy.
One motorist, John Udoh, who spoke with Legit.ng lamented that he had no choice but to buy at N550 per litre because he needed to go to work the following day.
He said:
I'm amazed by the sudden removal of fuel subsidy and the increased price of petrol. This morning (Thursday) I had to buy at N550 per litre at NIPCO filling station. It doesn't seem like I have a choice because I have to go to work regardless.
Another petrol consumer, Judith Nwankwo, told Legit.ng that she depends greatly on using her fuel generator because of the epileptic power supply in an area.
She said:
In my area in Abule Egba (Lagos), we hardly have light and I often have to depend on fueling my generator so I can use it to cool food items in the refrigerator. Getting to the fuel station and finding out that it is now selling for N465 per litre is quite saddening.
Commuters groan over hike in fares
As a consequence of the petrol price surge, transporters have been compelled to increase their fares, with some instances witnessing hikes of more than 200%. The extent of the fare adjustments varies based on the specific routes and travel distances.
For instance, the journey from Mile 2 to Oshodi which was previously priced at N400 has now escalated to N800. Similarly, the route from Mile 2 to CMS has experienced an increase from N600 to a range of N1000 to N1300.
Furthermore, the fare for traveling between Oshodi and Ikeja has risen from N400 to N800, while the journey from Mile 2 to Okokomaiko has surged from N500 to N1000. Moreover, the trip from Okokomaiko to Badagry has seen an increase to N1000, deviating from the previous rate of N500.
Checks by Legit.ng also showed that ride-hailing platforms like Uber, Bolt and LagRide have also increased their fares. A Bolt customer told Legit.ng that a distance which he usually spends an average of N5000 for went for about N12,000 on Thursday.
Legit.ng correspondent who was on the street on Friday reports of some commuters who could not affford the hike infares, having to trek long distances.
Uwem Nsikan said:
For two days now, I've been doing the most trekking I've done in a long time. I trekked from Ikeja to Oshodi. Even though it was unpleasant, but it saved me N800 that I would spend on something else.
Tosin Adejumo, another commuter who spoke to Legit.ng pleaded for transporters to be more reasonable in the hiking of their fares.
She said:
We understand that fuel prices have gone up, but I would like to plead with the bus drivers to be a little bit considerate in the way they hike their fares. Imagine having to pay over N700 more than the previous price. It's really not fair.
Businesses suffering impact of fuel subsidy removal
The recent removal of fuel subsidy is expected to be felt in different sectors, including small businesses, especially those heavily dependent on transportation and fuel consumption, as they will encounter amplified operational expenses.
The Nigerian economy heavily relies on small businesses, which play a crucial role in providing employment and income for millions of individuals.
Unfortunately, these businesses already encounter various obstacles such as multiple taxes, insecurity, and inadequate infrastructure. The removal of fuel subsidies further exacerbates the burdens they face, placing additional strain on their already challenging operations.
Fuel serves as a crucial input for numerous small-scale businesses and they heavily depend on fuel to sustain their operations and fulfill their diverse needs.
The surge in fuel prices will directly impact the costs associated with delivering goods, commuting, and provision of alternative power to run operations.
Bayo Ojikutu who runs a small printing press in the Oshodi area of Lagos told Legit.ng that most of the time, his equipment are run by petrol generators since power is unstable.
As it is today, I would have to spend more on petrol as a result of the hike in prices. We have unstable power in this area and for each workday, I have to budget about N3000 to fuel my generator.
At the current price, I now have to spend up to N7000 daily on fuel. Of course, I have to factor this increased expense into the cost of production and whatever I would be charging my clients going forward and may even after to lay off some staff.
Also agreeing with Ojikutu, Chibuzor Mbah, who runs a barbing salon around Amuwo-Odofin, Lagos says he definitely has to increase the cost of his services, given the current reality.
He said:
In the last three days I have spent a lot more on buying petrol than I usually do. I cut each of my customers' hair at N500, but from Monday morning I would be forced to increase the price to N700 or N800. If I don't do that, I would run at a loss.
Market women and other roadside traders are now compelled to pay double the amount for transporting their goods to open markets due to the removal of fuel subsidies.
Buky Adeyemo, a Lagos-based trader told Legit.ng that she is faced with a predicament where they need to increase the prices of her goods to compensate for the elevated transportation costs.
She said:
The fuel subsidy removal and increased fuel prices came as a shock to most of us. Now we are paying more to transport our goods even as we deal with the issue of multiple taxations in the markets. We can not escape from increased prices of foodstuffs.
Small enterprises encounter the necessity to allocate additional funds towards fuel expenses, thereby diminishing their profit margins and impairing their ability to compete effectively.
In light of this situation, certain small businesses might be compelled to curtail their production, lay off employees, or potentially face closure if they are unable to withstand the escalated burden of fuel costs.
NNPC adjusts petrol prices across major cities in Nigeria
In related news, Legit.ng reported that the Nigeria National Petroleum Company (NPPC) Limited implemented petrol price adjustments in three major Nigerian cities in response to the removal of the petrol subsidy.
This move aims to bring transparency to the situation following the elimination of the contentious subsidy program, which previously consumed approximately $10 billion annually.
As per reports, the impact of this change is evident in Lagos, where the NNPC's retail outlets now sell a litre of petrol for N488, while in Port Harcourt, the capital of Rivers State, the price stands at N511 per litre.
Being the exclusive provider of petrol in Nigeria, the NNPC's adjustment is expected to prompt other marketers to follow suit and revise their prices accordingly.
Source: Legit.ng