Naira, Fuel Scarcity: Gov Sanwo-Olu Announces 50% Reduction in Fares for BRT, LAGRIDE in Lagos
Governor Babajide Sanwo-Olu has announced some measures to relieve the hardship caused by the fuel scarcity and naira swap policy
A 50% reduction in fares has been approved for all public transport systems in Lagos State for seven days
Food banks have also been set up to distribute foodstuffs to the vulnerable in various communities in Lagos
Lagos State Governor Babajide Sanwo-Olu has announced a 50% reduction on all Lagos state public transport systems from Thursday, February 9, 2023.
This is part of the government's effort to cushion the effect that the fuel scarcity and naira shortage have had on Nigerians in recent weeks.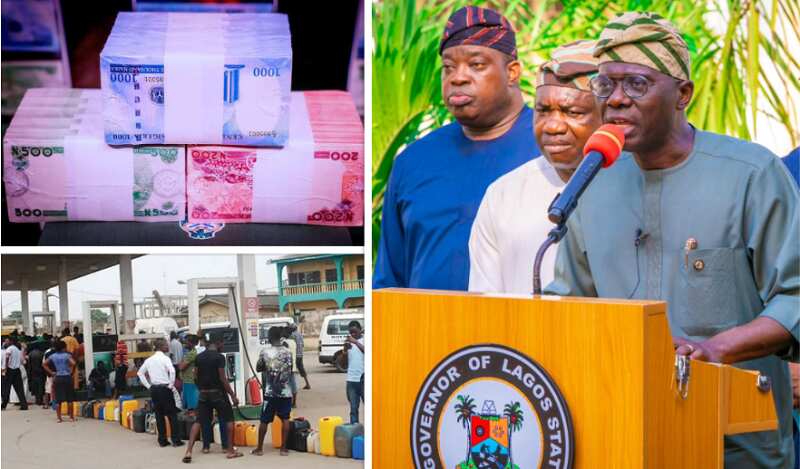 According to the announcement contained in a series of tweets on the governor's official Twitter page, Lagosians will enjoy a slash in fares on all BRT buses, the LAGRIDE taxi scheme, First Mile and Last Mile buses, and the Lagos Ferry Services (LAGFERRY) through the Cowry Card system for seven days.
Sanwo-Olu added that even though 3 million Cowry cards are currently in use in Lagos, more will be made available in the coming days so that all passenger routes on buses, taxis and ferries will enjoy the 50% discount for the period.
The governor disclosed that the state government is in talks with the Nigerian National Petroleum Corporation Limited (NNPCL) on ways to end the lingering fuel crisis. Insisting that there is now an improvement in the supply of petroleum products, the governor stated that the government has approved 24-hour work at petrol stations around the state.
Most importantly, he added that food banks have been set up to distribute foodstuffs to the vulnerable in various communities in Lagos.
Nigerians lament fuel and naira scarcity
Fuel scarcity and naira shortage across the country have continued for weeks, resulting in extreme hardship for Nigerians.
The skyrocketed price of petrol has forced transporters also to hike transport fares, thereby heightening the frustration of commuters who need to get to their offices and places of business from their homes daily.
Banking halls and ATM points in Nigeria have been flooded by customers hoping to make withdrawals of the new naira notes. Unfortunately, cash has been inaccessible in many banks, ATM terminals and PoS points, causing chaos in the few ATMs where it is available.
This is all happening barely one month before the general elections, which are to hold in February and March.
Source: Legit.ng