Fuel Scarcity: Bus Drivers Hike Transport Fares in Lagos, Passengers Frustrated
Fuel scarcity has continued to bite hard across major cities in Nigeria
Motorists, tricycles riders and commuter bus drivers are having to spend long hours in fuel queues trying to get petrol at high prices
Passengers are now lamenting as transport fares have hit the rooftop in the heat of the scarcity.
Fuel scarcity across the country has continued for more than two months, resulting in an unfathomable hike in the pump price of petrol and unimaginable long queues at filling stations across Nigeria.
As reported in an earlier article by Legit.ng, the pump price of petrol has been hiked to about N350 per litre in some filling stations in Lagos and up to N500 per litre in many cities across the country.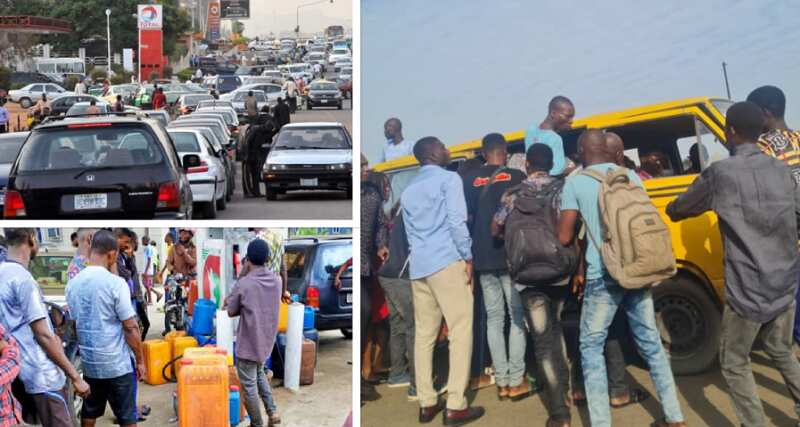 The skyrocketed price of petrol has forced transporters to also hike transport fares, thereby heightening the frustrations of commuters who need to get to their offices and place of businesses from their homes daily.
This is all happening barely one month to the general elections which are to hold in February and March. While the government, petroleum markets and other stakeholders claim to be finding lasting solutions to the fuel scarcity, Nigerians are frustrated by the unending situation.
PAY ATTENTION: Сheck out news that is picked exactly for YOU ➡️ find the "Recommended for you" block on the home page and enjoy!
Transport fares hiked for most trips in Lagos
The rise in the price of petrol has subsequently forced transporters to hike their fares, in some cases, by over 200%, depending on the routes and distance of the trip.
For instance, the bus fare for a distance between Iyana-Iba to Iyana-Ipaja which used to cost N400, now costs N700, while Iyana-Ipaja to Oshodi which used to be N500 now costs between N800-N1000.
Also, the trip from Oshodi to Mile 2 which used to cost N400 hiked to N700, just as Mile 2 to Okomaiko which used to cost 500 jumped to N1000. Okokomaiko to Badagry now costs N700 instead of the usual N400.
Checks by Legit.ng revealed that commuters moving from Berger to CMS paid N800 as against the former cost of N500. Similarly, commuters were charged N1200 for a trip from CMS to Ajah as against the initial N700.
Phone calls to residents in many other parts of Lagos also confirmed the hike in transport fares by no less than an additional N150.
Lagos drivers and commuters react to hike in fares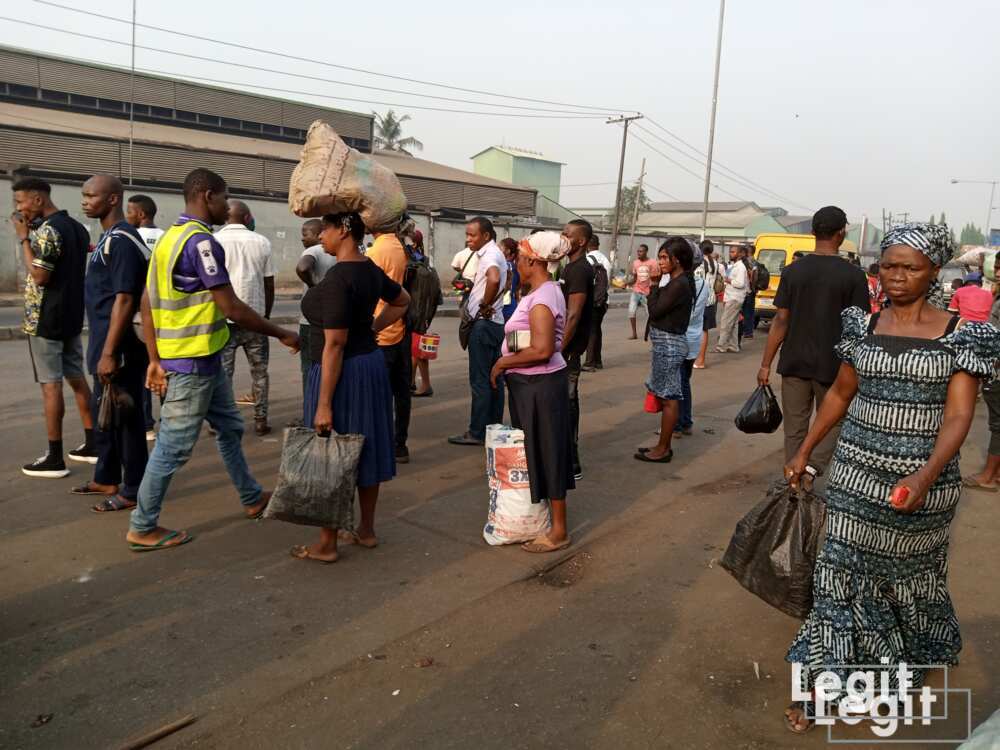 Commuters who spoke to Legit.ng expressed their frustration with the development. Many of them lamented spending hours at the bus stop waiting for buses or the popular Keke Marwa to get to their various destinations.
Speaking with Legit.ng, Chukwudi Uzoka, a trader at Alaba International Market, Ojo, said that getting to the market every day has now become very frustrating and expensive for him. He said:
I used to pay N400 from Mile 2 to Alaba, but in the last month, the fare has increased. In early January, it climbed up to N600 and this week it is between N800 to N1000, depending on the time of the day.
Toyin Ogunjimi, a primary school teacher lamented the hardship caused by the scarcity of petrol and the effect the hike in transport fares will have on her salary at the end of the month. She said;
Yesterday, I left my house earlier than normal, hoping to find a bus that would charge a cheaper fare, but I didn't find. They (transporters) have all hiked their fares. This will, unfortunately, affect workers' salaries because it will take out more than what we have already budgeted for transportation for the month.
Sunny, a bus driver at Agege justified the hike in fares, saying that he is only trying to make up for the time spent getting the fuel from the filling station. He said:
This bus is not mine. I have to make daily deliveries to the owner. We have an agreement of how much I'm supposed to deliver every day and it's not his business if, for whatever reason, I'm not able to raise the agreed amount. So, increasing the fare is the only way I can make up for the hours I spent queuing for fuel.
Another bus driver, Tunji Aderinbingbe who plies the Apapa-Oshodi Expressway route, tried to absolve transporters from the current hike in fares. He said that finding fuel to keep his bus going has been hellish in the past month. He said:
We are not the ones hoarding fuel or selling at high prices. We are just going by what we encounter at the filling stations. If only you know what I go through every day to make sure that my bus is on the road. I'm frustrated by the struggles to get fuel, but I can not go back home and sleep because I have to work to feed my family.
The situation left many passengers stranded at bus stops, while others who could not wait for long or can not afford the new fares resorted to trekking to their destinations.
Unbearable queues and traffic gridlocks in some locations in Lagos
It was observed that many filling stations that had fuel were flooded by long queues of motorists and people buying in jerry cans for home use. At Oando filling station on the Lagos-Abeokuta expressway, the queue extended to the main road causing traffic congestion.
Legit.ng found out that the reason for the long queue was because of the moderate price of about N200 per litre which the station was selling petrol. This attracted a lot of buyers who were ready to queue for hours to get the product. To them, this made more sense than going to other stations with lesser queues but were selling for as much as N350 per litre.
Mustapha Anunu, a motorist, told us that he has been in the queue for close to 4 hours and plans to patiently wait till it gets to his turn. He said:
When I heard that Oando was selling for N200 per litre, I got here as early as 8am so that I can fill up my car and the jerry can that I use for my generator. I'd rather queue and buy at that amount than go to the others selling at N350 or even more. If I do that, I would not get a sufficient amount of fuel and will still have to pay more.
Fuel queues were also observed on Ikorodu road and around Berger bus stop side of the Oshodi-Apapa expressway, disrupting the smooth flow of traffic. Conoil at Tollgate also had long queues as motorists struggled to buy petrol. Vehicle influx could not be managed at MRS station in Agege, and as a result, this caused fuel queues which stretched into the main highway.
President Buhari steps in for a lasting solution to fuel scarcity in Nigeria
Meanwhile, Legit.ng recently reported that in an effort to put an end to the biting fuel scarcity across Nigeria, President Buhari has approved a 14-man steering committee. The Committee will oversee the fluid supply of petroleum products and ensure compliance with official prices.
As the nation's minister of petroleum, President Buhari will chair the committee while the minister of state for Petroleum, Timipre Sylva will function as the alternate chairman.
Other members of the committee include the permanent secretary of the Ministry of Petroleum Resources; the director general of the Department of State Services (DSS); the chairman of the Economic and Financial Crimes Commission (EFCC).
Also included in the committee are the minister of Finance, Budget and National Planning; the national economic adviser to the president; the commandant-general, Nigerian Security and Civil Defence Corps (NSCDC); and the comptroller-general, Nigeria Customs Service (NCS).
Source: Legit.ng