CBN Deploys National Domestic Card Nationwide, Lists Features And Benefits to Nigerians
The Central Bank of Nigeria (CBN) has deployed the much-awaited National Domestic Card scheme
The CBN deployed the card nationwide on Monday, January 16, 2023, and listed its benefits and features
The bank said the deployment of the card is important due to the significant progress Nigeria has made digitally in the last 10 years
PAY ATTENTION: Сheck out news that is picked exactly for YOU ➡️ click on "Recommended for you" and enjoy!
The Central Bank of Nigeria officially deployed the National Domestic Card on Monday, January 16, 2023, which is meant to serve as both a credit card and debit card, among other functions.
Legit.ng reported that the apex bank, in partnership with Nigeria Inter-bank Settlement System (NIBBS), would launch the card this January.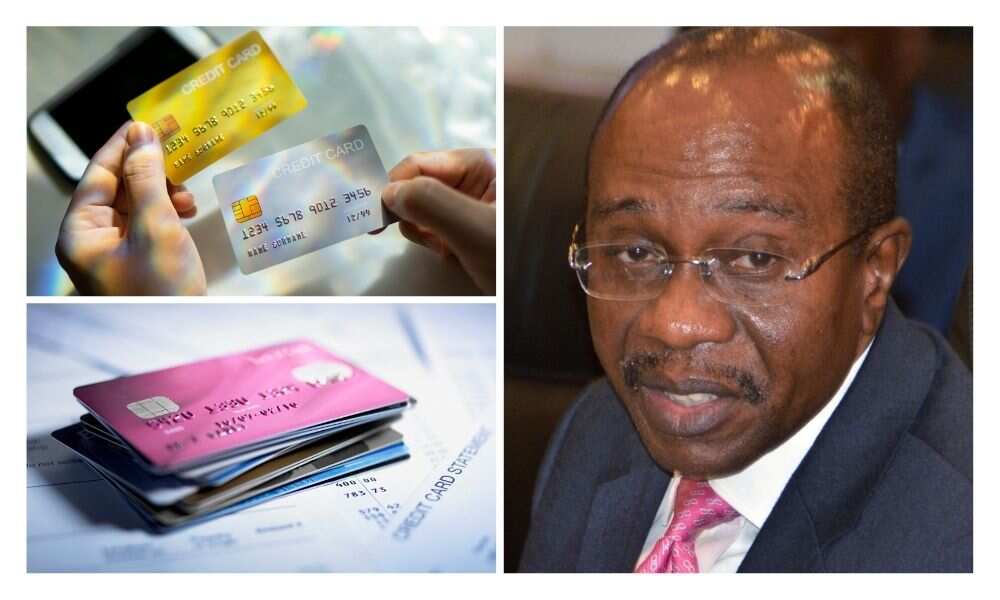 To compete in same space with Mastercard, Visa, others
The National Domestic Card is expected to compete with other industry players like Mastercard, Discovery and Visa cards.
PAY ATTENTION: Follow us on Instagram - get the most important news directly in your favourite app!
Local banks and other financial institutions will offer payment solutions like credit, debit, virtual, loyalty, tokenised cards, non-interest and identity card.
CBN said it introduced the card due to its belief that Nigeria is mature and has achieved substantial digital transformation in its payments system in the last 10 years.
The project has been driven by rapid digital and tech innovation, increasing mobile access and the policies of the CBN which have boosted unrivalled adoption of digital financial services in the country, the bank stated.
Benefits and features of National Domestic Card
Reduction of cost and foreign exchange use
Protection of data sovereignty
Making cards and payments more accessible and affordable for Nigerians.
According to reports, CBN said that the National Domestic Card would ensure improved sovereignty and security of data of Nigerians and its operations since Mastercard and other major industry players control such cards from overseas.
Per the CBN statement, the card will improve and boost financial inclusion in the country.
It will also serve as a platform to leverage the seamless dissemination of government-to-person payments and other social impact initiatives thereby enhancing financial inclusion and supporting the growth of a robust digital economy.
It will be provided via Nigeria's central switch system, the Nigeria Inter-Bank Settlement System (NIBBS) in partnership with the Bankers Committee and other stakeholders in the financial ecosystem.
Other countries with National Domestic Card
Monday's deployment enlisted Nigeria among top countries such as Brazil, India, Turkey, China and Singapore with similar schemes.
Those countries have reportedly harnessed the benefits of the National Domestic Card schemes in their respective countries to drive their payments and financial ecosystems.
The countries have harnessed the transformative benefits of the schemes to drive their payments and financial systems, particularly for the underbanked.
The CBN said:
"The domestic card scheme will be an important game changer for financial inclusion in Nigeria.
"The plan is to deliver Africa's first central bank-driven, domestic card scheme that combines a fully domestic infrastructure with international interoperability.
"Our plans will enable us to pivot into the largest card scheme in Africa, and amongst the biggest globally."
Card may be used for international payment
It is not clear if the card would be used for international transactions since most banks in Nigeria have stopped the use of naira cards for such purposes.
NIBBS Managing Director, Premier Oiwoh stated at the Bankers Committee meeting that the card is being deployed to help improve the payments ecosystem in the country.
He said:
"This card will be configured to address the unique ecosystem issues that we have to help improve payment system issues that we have across the nation."
"We also expect the card to provide affordable pricing, adding that the charges will certainly be lower because it is expected to be charged in Naira as against foreign currency.
"NIBSS is a sharing infrastructure and the card central management system will be shared and each integrating entity will integrate via the APR platform we expect that other value addition will be mined and created around this scheme."
CBN begins implementation of National Domestic scheme January 16, to unify payments in Nigeria
Legit.ng reported that the much-touted National Domestic Card Scheme by the Central Bank of Nigeria (CBN) is billed to commence on January 16, 2023.
The CBN, in partnership with the Nigeria Inter-Bank Settlement System (NIBBS), said the scheme will unify payments in Nigeria and bring in the unbanked population.
The card is also expected to rival big industry players such as Mastercard and Visa.
Source: Legit.ng