Nigeria's Population Growth Rate Exceeds the Capacity of the Economy to Produce Sufficient Jobs, Osinbajo
Vice President Yemi Osinbajo has made a grim observation regarding job creation and the state of the economy
Osinbajo maintained that the population ratio of the country is way higher than the capacity of the economy to produce adequate jobs
The VP however noted that the drop in the standard of living, high rate of poverty and more, occasioned by the COVID-19 pandemic can only be addressed through impact investing
Lagos- The present state of the economy has continued to affect not only business growth, the standard of living of the people but also job creation, as the rise in the unemployment rate becomes worrisome.
The Vice President, Professor Yemi Osinbajo (SAN), recently disclosed that the country's economy may not be able to create as many jobs as the country needs due to its high population growth rate.
The Punch reports that he made the statement during his keynote address at the fourth annual Impact Investors Foundation Conference held in Lagos.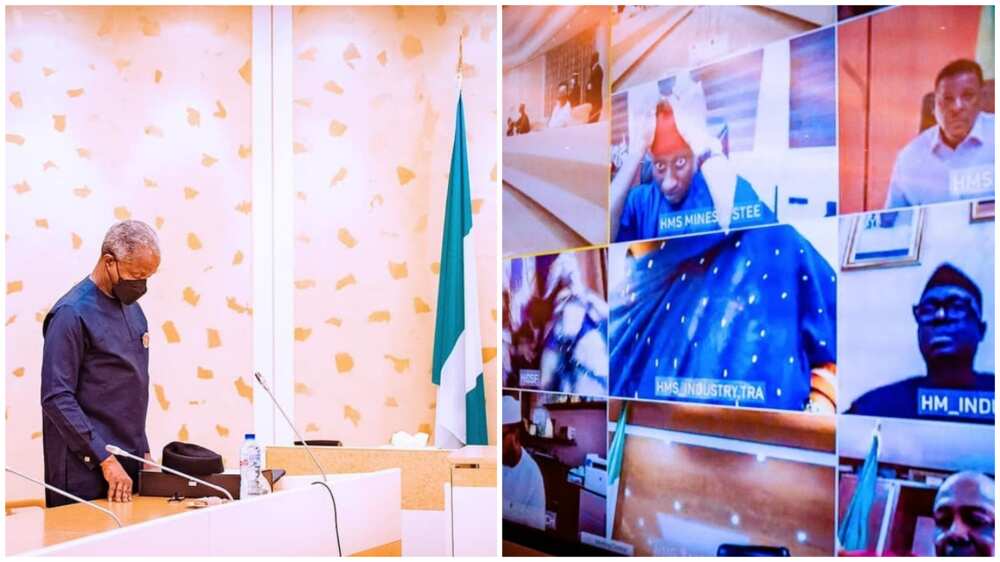 Osinbajo said:
"The population growth rate consistently exceeds the capacity of the economy to produce sufficient jobs. It is also quite evident that some of the most lucrative businesses in the economy and with the profits they make, only a few people relative to the population benefit from the huge dividends that are declared."
Osinbajo added that impact investing was a sound approach to addressing the issues.
He said the current models of impact investing that are seen in the country currently were not only inspiring but also pointed in the general direction policy and regulation should go.
He added:
"The sharp drop in the standard of living caused by the COVID-19 pandemic-induced shocks on our economy and of course, our economy's well being, not only further deepened the existing inequalities but pushed many people into extreme poverty."
The founder and Chief Executive Officer of the IIF, Mrs Ibukun Awosika, during her opening remarks, said that Nigeria needs to collaborate with in-country resources.
She said:
"This is why the focus of this conference is to show the opportunities for investing within Nigeria."
Notice of N80K MSMEs survival fund for beneficiaries not from Us, FG warns
Meanwhile, Legit.ng had earlier reported that the Nigerian government has issued a warning to citizens over a notice of payment of N80,000 claimed to be a survival fund for individuals under the payroll of the Micro, Small and Medium Enterprises support scheme.
The steering committee of the MSMEs survival fund warned that messages currently circulating on the WhatApp platform urging beneficiaries to drop their account details to gain access to N80,000 stipends under the scheme's payroll are scams.
In a statement released and sent to Legit.ng, the committee headed by the minister of state for trade and investment, Maryam Katagum, said the notice requesting the public or individuals to disclose their account details on a WhatsApp platform is fraudulent.
Top 8 states that can't survive without support from Federal Allocation
Earlier, Legit.ng reported that state governments in Nigeria get the revenues to fund their recurrent and capital expenditures from federal allocations and Internally Generated Revenue (IGR).
While some are viable enough to survive without the federal allocation, there are others who can't do with the handouts from the central government.
The Annual State Viability Index (ASVI) by Economic Confidential has shown some states that can't do with federal allocation.
Source: Legit.ng