African International Conference: Kano's 14th Emir Sanusi Throws Jab at Nigerian Media
Abuja- The immediate past Emir of Kano, Muhammad Sanusi II on Tuesday, November 9, said he is being careful to avoid any form of controversy these days.
Sanusi said this at the 5th African International Conference on Islamic Finance themed; Infrastructure financing, sustainability and the future of African market 2.0, Legit.ng correspondent reported.
Jokingly noting that the media has fallen into the habit of sensationalising his comments, Sanusi said he carefully selected the words used in his speech for the conference.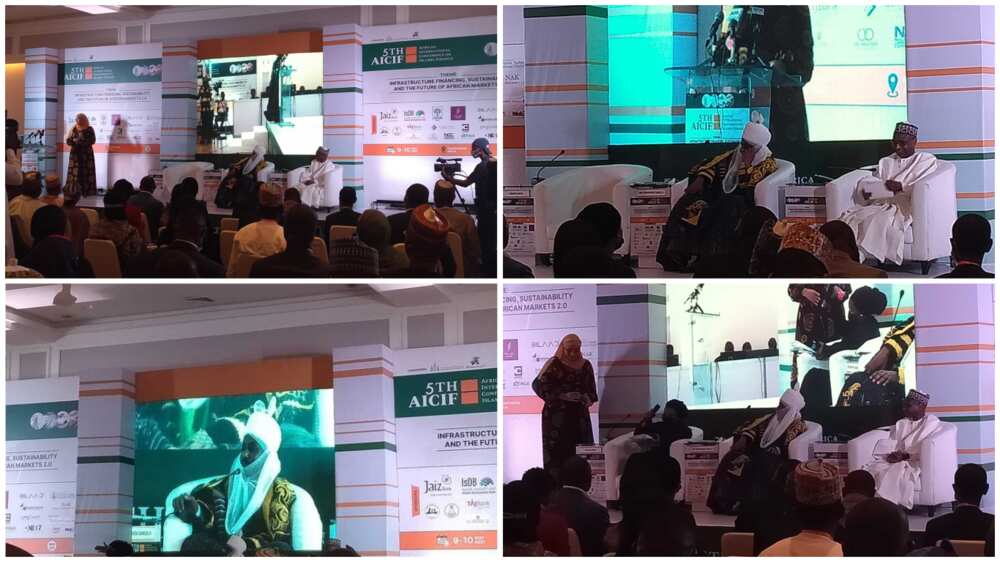 Sanusi while giving an intro to his keynote address said:
"I'm reading a speech, I usually don't read speeches but I'm just being careful because I don't want any controversy."
"The press are here and I don't know what the headlines would be tomorrow but I edited this speech so well so they won't find any sensational headline."
In her welcome address, the chairman of the conference planning committee, Ummahani Amin said she believes this particular edition is symbolic in many ways.
Amin noted that the conference represents a strong and enduring commitment by Islamic finance industry stakeholders to discuss strategies and financial reforms geared towards the development of the industry.
For Amin, the 5th edition of the conference represents advocacy for infrastructural development amid an ailing global economy and humanitarian crisis which is the basis of the reprise of the last edition's theme for this year.
Amin said:
"While I thank God for the loves of everyone present, I recognize the losses of lives and livelihood from the onset of the COVID-19 pandemic.
The health crisis unveiled the widening health infrastructure gap in Africa as seen in the shortage of medical equipment and supply, poor access to quality healthcare services among other health inadequacies in Africa."
She further called on African governments and cooperates to collaborate for a rethink in exploiting opportunities for scale-up production, continental market access and better relocation of resources.
Amin noted these resources can have a great impact on improved and consequential economic growth in the African growth and development of the continent.
Muhammadu Sanusi offered fellowship programme at Oxford University
Meanwhile, Legit.ng had earlier reported that Sanusi went back to school after he was offered a fellowship programme at Oxford University.
The development was announced by the varsity's management committee of the African studies after the former emir's request was granted.
Sanusi resumed in the centre back in October 2020, for the 2020-2021 academic year and also made use of the period to write a book based on his experience as a banker, public analyst, economy expert and former Central Bank of Nigeria (CBN) governor.
Source: Legit.ng