Top 5 Stock Trading Apps to Own Shares in Dangote, BUA, Apple, Zenith Bank, Access Bank , Others
The recent impressive performance of the Nigerian stock market is making investment more attractive
Nigerian companies have built stock trading platforms that allow investors to navigate investment opportunities.
Such tech companies like Trove and Chaka, among others, give investors the opportunity to trade in both local and international stocks
Recently, the Nigerian Exchange Limited (NGX) has seen a bullish rally that has attracted more people to trade on the exchange floor.
With the rise of technology, stock investment is simplified and easily accessible.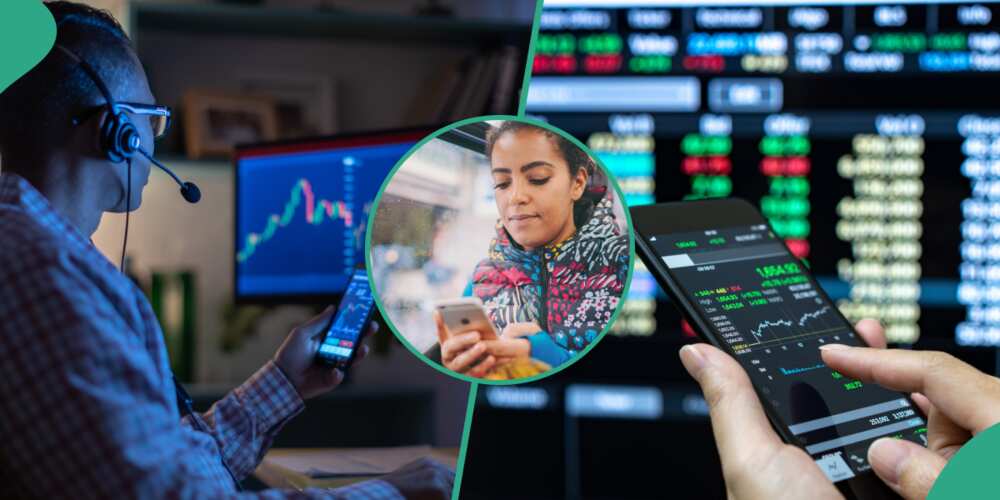 The All Share Index of the NSE hit a record high, with investors gaining trillions of naira in investment.
Nigerians are searching for easy and convenient ways to invest their funds as Nigeria's stock market remains vibrant, offering many investment opportunities.
Top stock-trading apps
Trove
The investment platform allows traders to access local and international stocks.
The user-friendly app allows users to trade in the Nigerian stock exchange.
In November 2023, the CEO of Trove Finance, Olwatomi Solanke, told Legit.ng that the company built mobile and web platforms that allow over 200,0000 Nigerians to trade stocks of companies that they know and love like Amazon, Facebook, and Google.
Trove Finance, a Nigerian micro-investing platform, democratises wealth and allows individuals with so little to own stocks in big companies.
Solanke said what Trove did was to build technology that allows individuals and financial institutions to access and trade in global securities.
Chaka
This Nigerian stock trading platform offers a comprehensive range of investment choices, granting investors access to top stocks with valuable features.
It provides investors with information that allows them to make intelligent decisions.
Meritrade by Meristem
BusinessDay reports that the brokerage trading company, Meristem Securities Limited, designs Meritrade by Meristem.
It offers online stock trading and provides various investment products and options.
It gives users investment opportunities in both stocks and bonds.
Afrinvestor 2.0
An online trading platform, Afrinvestor, is owned by another brokerage firm, Afrinvest Securities Limited, and offers advisory on stocks and bonds investment in Africa.
Wealth.ng
This platform caters to local and international investors, granting access to foreign stocks and facilitating Nigerian Stock Exchange trading.
WealthTech Limited, an affiliate of Sankore Securities Limited, owns wealth.ng.
The company processes payments via Flutterwave, a Nigerian fintech payment platform.
Nigeria to list dollar assets on Stock Market to ease forex problems
Legit.ng earlier reported that Nigeria's stock exchange has proposed permitting dollar-denominated bond listings and possibly expanding this to equities.
Temi Pooola, the Chief Executive Officer of the Nigerian Exchange Ltd., said the company targets businesses that are based in the nation's special economic free trade zones and those that generate foreign cash.
This comes amid report that the Nigerian economy is facing a severe shortage of foreign exchange as dollar inflows have dropped notably in recent months.
Source: Legit.ng