Cossy Orjiakor reveals the dog scene made her
- Nollywood actress Cossy Orjiakor is back making movie
- Her playing a sex role with a dog in Itohan 7 years ago almost ruin her career
- The actress reveals the dog scene helped her other side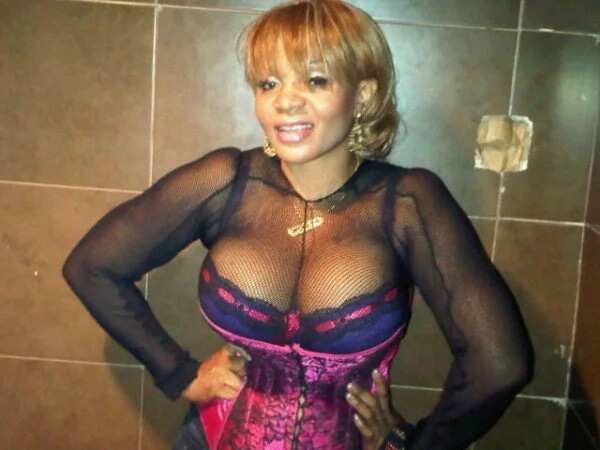 Nollywood actress turn soft porn artist Cossy Orjiakor is back to doing what she was known for in the entertainment industry, acting.  While appreciating being called back to acting, the tiny-voiced actress spoke of the controversial dog scene which she claimed almost ruined her image and acting career.
She announced her comeback to movies on a Zeb Ejiro movie set, in which she is playing a house maid Bukky Wright which is a huge deviation from her regular roles. Cossy shared photo of a scene from the movie on her Instagram page and went down memory lane to her role in Itohan in 2009, the movie with the dog scene which almost ruined her acting career. She wrote:
"Finally… Am working with the Mr Zeb Ejiro… The REFORMER. Hmmmmm am super excited… Hmmm the last time I worked with Chico Ejiro was the Itohan.. Where my imagine and my career almost got ruined. Cuz of the dog scene in that movie…it actually made me who I am today. Cuz this cossy don't give a 2fk…. Dts me… Chioma house girl with my madam.@bukkywright."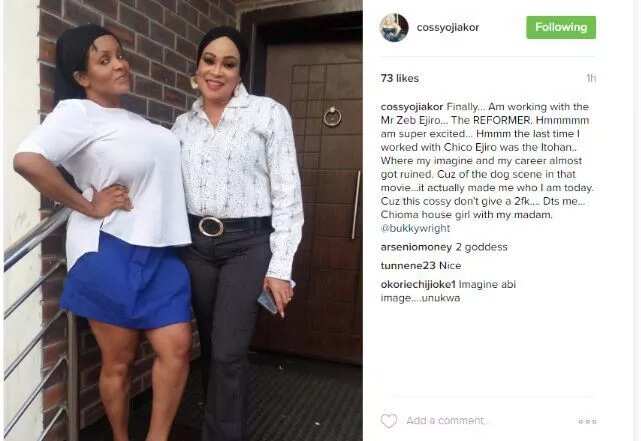 She had since deleted the post, see screenshot.
After her acting career nose dived, Orjiakor ventured into music and real estate only her  musical career did not fly.
Source: Legit.ng