Avengers claim responsibility for pipeline explosions in Bayelsa
- Niger Delta Avengers claimed responsibility for blowing up the Ogboinbiri-Tebidaba and Clough Creek-Tebidaba pipelines in Bayelsa state
- The group did not say which oil company is operating the pipelines
- The Avengers said that the latest attack was "in line with our promise to all international oil companies and indigenous oil companies that Nigeria oil production will be zero"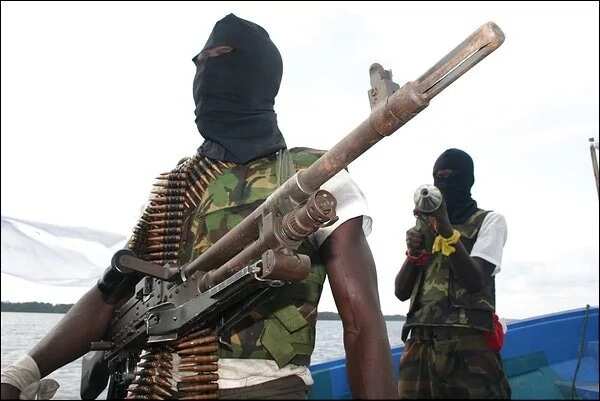 A new militant group Niger Delta Avengers, which has attacked oil and gas installations in the region, has claimed responsibility for blowing up the Ogboinbiri-Tebidaba and Clough Creek-Tebidaba pipelines in Bayelsa state.
The group announced the latest attack via its official Twitter handle on Thursday, June 2.
READ ALSO: Niger Delta Avengers threaten to kill Buhari this week
However, the Avengers did not say which oil company is operating the pipelines.
Last week, the group claimed responsibility for an attack on a gas pipeline belonging to Chevron in Delta state.
"We warned Chevron, but they didn't listen. NDA just blew up the Escravos tank farm main electricity feed pipeline," it said.
The militants said the oil facilities were sabotaged following attempts by Chevron to carry out repairs of main Escravos crude oil pipeline it blew up earlier.
Following the continued bombing and sabotage of economic assets, particularly oil platforms, the Defence headquarters has declared a massive war against the Niger Delta Avengers.
The Defence headquarters also denied allegations that the military was harassing and arresting innocent inhabitants of the Niger Delta saying: "It is the same group of people that are wreaking havoc on the critical national assets that are blackmailing the armed forces and other security agencies to divert attention".
Source: Legit.ng