Ukparasia accused Tompolo of planning to make Nigeria hell
- General Ukparasia  claimed Tompolo is carrying out his threat to make Nigeria ungovernable
- He said Tompolo promised to make Nigeria hell
- He said he was ready to work with the federal government to eradicate Niger Delta Avengers
General Africa Ukparasia who is a former Niger Delta militant has claimed that General Government Ekpemupolo popularly known as Tompolo is planning to make Nigeria ungovernable for President Muhammadu Buhari.
Tompolo who has been arraigned in absentia by the Economic and Financial Crimes Commission (EFCC) on corruption related charges has been in hiding since he was declared wanted.
READ ALSO: Tompolo denies involvement in pipeline vandalism
Tompolo has been fingered in the recent bombing of pipelines although a group, Niger Delta Avengers has claimed responsibility for the attack.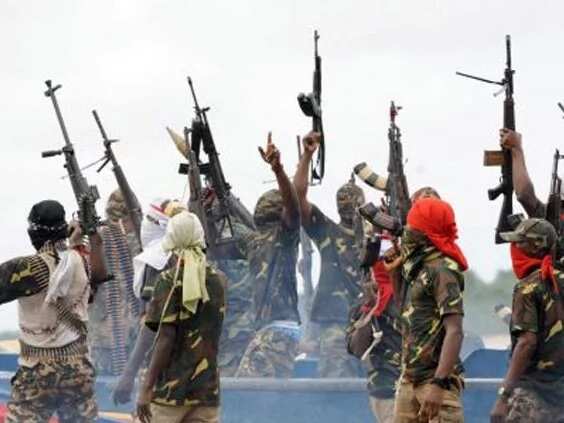 Tompolo wrote an open letter to President Buhari denying his involvement in the bombing of petrol and gas facilities in the region but according to Leadership, Ukparasia insisted that Tompolo was the architect of the violent attacks.
Ukparasia warned Tompolo to desist from his plans to make Nigeria a terrible place to live as he had vowed during the run up to the presidential election that he would make Nigeria hell if Goodluck Jonathan did not win the election.
Ukparasia said he was ready to work with the government to stop the activities of Niger Delta Avengers.
"I want to state categorically that the Niger Delta Avenger is not a new group. It is Tompolo that is behind the group and what they are out to do is to carry out their threat to make the government ungovernable for the APC. We will not allow that to happen.
"Tompolo is the person behind the attacks in the Niger Delta and so, Nigerians and people of the Niger Delta should not think that there is a new militant group. I am confirming that it is Tompolo that is behind the group. It is not a new militant group.
READ ALSO: Niger Delta Liberation Force challenges President Buhari
"It is Tompolo that is disturbing the peace of the people of the Niger Delta. So, I am warning him to stop the unnecessary action and stop disturbing this our government because the government is very sincere.
"During the last government, nobody heard of the name Avenger causing problem and causing damages to our oil installations. But today, before the last election, Tompolo vowed and it was all over the media that if Jonathan does not win the election, he will make the incoming government ungovernable. That is what he is doing now. So, nobody should be surprised about what is happening now because it is Tompolo that is doing it."
Meanwhile, Commander Bibi Oduku, the commandant general, Riverine Security revealed the identity of militants bombing oil installations in Delta state under the cover of Niger Delta Avengers (NDA).
According to him, the NDA hails from Gbaramatu Kingdom in Warri Southwest local government area of the state.
Oduku also fingered an ex-militant leader, who he accused of "aiding and abetting criminals in their community in the recent attack on oil and gas installations within and outside the kingdom."
Source: Legit.ng