Tension in Enugu as Fulani herdsmen attack community
- Fulani herdsmen invaded Ukpabi Nimbo community in Uzo-Uwani local government area of Enugu state, killing scores of local residents
- Police public relations officer confirmed the incident, adding that a combined team of police and army have moved to the area
- At the weekend, the herdsmen imported about 500 tribesmen from Nasarawa state to help launch the attack on the community
- Leaders of the Fulani community in Enugu state met with stakeholders from Uzo-Uwani to address the issue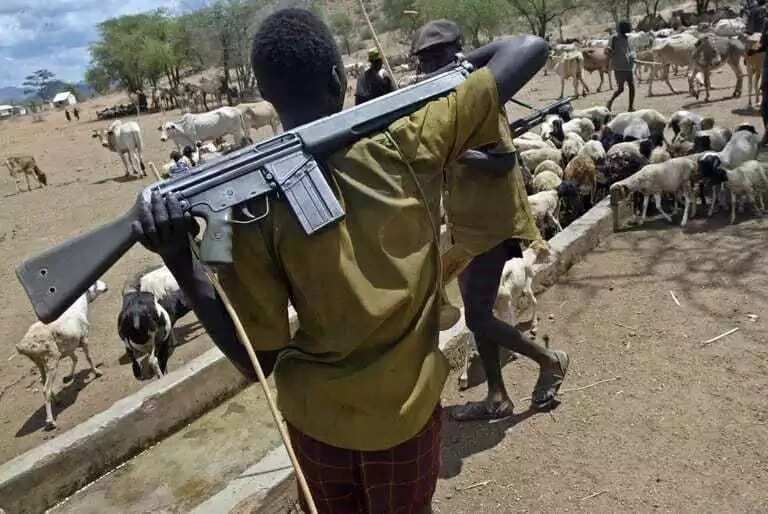 Fulani herdsmen invaded Ukpabi Nimbo community in Uzo-Uwani local government area of Enugu state in the early of hours of today, killing scores of local people.
As a result of the attack, Christ Holy Catholic Church, Odozi-Obodo, at Onu-Eke was burnt, eleven houses were confirmed razed.
Vanguard reports that the natives have fled to neighboring communities of Nkpologu and Uvuru, even as Nkpologu natives fled to Nsukka in fear of attacks.
Confirming the incident, Ebere Amaraizu, the police public relations er, said that a combined team of police and army have moved to the area.
At the weekend, the Fulani herdsmen imported about 500 others from Nasarawa state to help launch the attack on the community.
Reacting to the development, stakeholders from the local government held a meeting where they tried to find solutions to the increased attacks by herdsmen on communities.
In the last six months, over 15 people were kidnapped and several women from the area were raped.
READ ALSO: Supreme Court confirms death sentence of man who murdered Fulani
According to sources, Cornell Onwubuya, the chairman of the Transition Committee in Uzo-Uwani local government area, alerted Governor Ifeanyi Ugwuanyi and the state commissioner of police on the development.
During the emergency meeting in Enugu, Onwubuya also alerted the leaders of the Fulani community in the state and stakeholders from Uzo-Uwani.
According to him, the meeting was convened to address the allegation that herdsmen planned to import about 500 of their tribesmen to enable them invade some communities in the area.
Onwubuya noted that local leaders of the Fulani community also confirmed that there were attempts to bring in mercenaries for the attack on the communities. He added that the Fulani leaders in the state had earlier complained that some of their people were killed within the axis of Ukpabi Nimbo and Abbi communities in the recent past.
READ ALSO: Pandemonium as Fulani herdsmen abduct DELSU worker
Also speaking at the meeting, Alhaji Haldo Saidu Baso, the Enugu state leader of the Fulani community, said that he had lived in the state for over 33 years and would not be alive to witness the type of crises that they were talking about.
Baso resolved to talk to his people in the state not take the laws into their hands.
"We will travel to Nasarawa state to talk to the cattle owners and stakeholders to warn the rustlers in Enugu state to stay away from trouble," he said.
Meanwhile, Lai Mohammed, the minister of information, has said that the government of President Muhammadu Buhari is working silently towards finding a solution to Fulani herdsmen attacks.
He added that Buhari also set up a board of inquiry into the recent attacks while the effects of the silent efforts would soon be felt by Nigerians.
Source: Legit.ng