Nigerian Air Force attacks Boko Haram base
- Nigerian Air Force attacks Boko Haram ammunition depot
- Bombs other hideouts of the insurgents located in Sambisa forest
The Nigerian Air Force (NAF) has carried out air raids on suspected Boko Haram logistics base situated at Allagarno in Borno state.
According to Daily Post, the director of public relations and information of the air force, Group Captain Ayodele Famuyiwa, in a release said the attack on the Boko Haram base was carried out on Friday, March 18, 2016.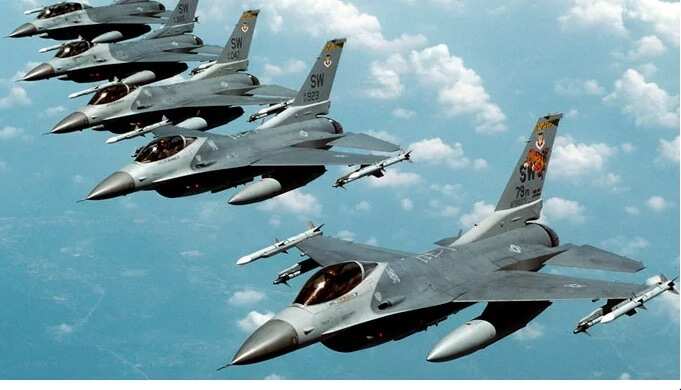 Famuyiwa added that the attack was carried out after careful intelligence, surveillance and reconnaissance (ISR) by the air force unmanned combat aerial vehicle (UCAV).
READ ALSO: Nigerian army kills Boko Haram leader and 18 others 
He said: The mission, which was carried out in support of surface forces in order to further degrade the fighting capacity of the remnants of the insurgents, was successful as can be seen in the video of the Battlefield Damage Assessment (BDA) carried out by the UCAV.
"The target was probably an ammunition depot, a fuel dump or a facility housing other combustible materials. This effort is likely to create certain logistics constraints for the terrorists along the Allagarno axis.
"This is a follow-up to other interdiction missions previously carried out in Sambisa Forest, Kumshe, Iza and other suspected terrorists' hide-outs.
READ ALSO: Boko Haram moves to establish new base – Senator Bwacha
"So far, the NAF has carried out a total of 55 missions comprising 14 ISR, 30 interdiction/combat air support and 11 air logistics support missions in the month of March 2016."
In a related development, the Nigerian Air Force has acquired more aircraft as part of its strategy to boost to the current anti insurgency war in the country.
Chief of air staff, Air Marshal Sadique Abubakar, said this during the commissioning ceremony of staff accommodation in Kano's air force base.
Abubakar who was accompanied by top ranking officers, said the government is determined to reposition the Nigerian Air Force into a highly professional service through capacity building.
Source: Legit.ng