Air force bomb Boko Haram camp in Borno
- Boko Haram fighters have abandoned  their camp in Iza, Borno state following aerial bombardment by the airforce
- Troops flush out insurgents in ground offensive backed by Mi-35 Helicopter gunships
The Nigerian Air Force Alpha Jets have pummeled Boko Haram positions at their camp at Iza, Borno state which made the terrorist scamper into the Sambisa forest.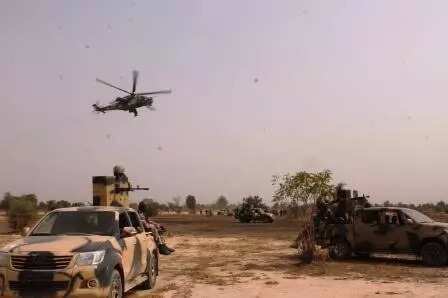 The air attacks were followed by a ground offensive by troops of 121 Task Force Battalion who consolidated on the gains of the air strikes to flush out the remnants of the insurgents and destroyed their camps.
READ ALSO: UN to train 4,000 insurgency victims on vocational skills
The Daily Post, citing a statement by Ayodele Famuyiwa, the air force spokesman, reports that the offensive was supported by the Mi-35 Helicopter gunships which provided close air support for the advancing troops.
Famuyiwa added that a Beechcraft aircraft also supported the operation with intelligence, surveillance and reconnaissance.
"The combined air and land operation against the Boko Haram sect was conducted during the early hours of yesterday – 8 March 2016.
"The fall of Iza and its liberation by own troops further attests to the recent gains recorded by the military in the combined efforts to rid the country of the menace posed by the religious sect," the statement added.
In recent times, Nigerian security forces gave recorded strings of victories against Boko Haram fighters. On Thursday, March 3, troops attacked the spiritual power base of the insurgents at the Alagarno forest, Borno state.
In another raid, soldiers on a clearance operations of the remnants of Boko Haram insurgents at Kumshe in Borno state made startling discoveries of Improvised Explosive Device (IED) making factory, rockets and high claibre ammunitions.
Meanwhile, Geoffrey Onyeama, the minister of Foreign Affairs has clarified media reports quoting President Muhammadu Buhari as disclosing that Nigeria had joined the Islamic coalition against terror under the Kingdom of Saudi Arabia.
READ ALSO: Over 2000 people killed in Taraba by herdsmen - Senator
Speaking on Monday, March 7, Onyeama said Nigeria's membership of the coalition had nothing to do with giving Nigeria an Islamic identity, Daily Trust reports.
He explained that the objective of the coalition was to prove that terrorists were not representing Islam.
Source: Legit.ng