Governor Fayose challenges OBJ, reveals political secrets
- Governor Fayose has spoken on his relationship with Chief Olusegun Obasanjo
- Fayose believes that the PDP made a wrong choice in fielding Goodluck Jonathan as their 2015 candidate
- The governor reveals that he is not interested in ruling Nigeria
Following rumours of deep-rooted rifts between them, Governor Ayodele Fayose has revealed that he holds no personal grudges against former president of Nigeria, Chief Olusegun Obasanjo.
The Ekiti state governor explained that whatsoever friction tends to exist, only stems from having different points of view on diverse issues.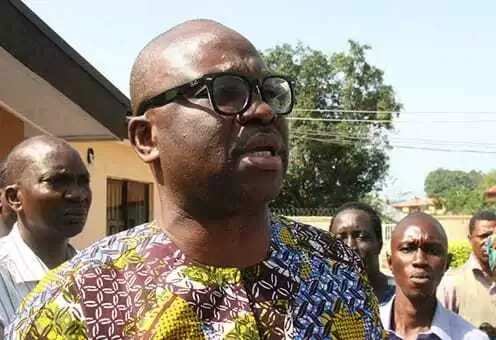 According to Fayose, he only says things as he sees them and that sometimes may not go down well in certain quarters.
In enunciating further the alleged tussle between himself and OBJ, Fayose said he holds nothing against the former General over his reported role in his (Fayose's) 2006 impeachment.
He said: "The military in Nigeria should subject themselves to democratic rules. When Obasanjo was there he was behaving the same way Buhari is behaving today. It was under Obasanjo that the EFCC would lock people up because the president has power to order arrest, because the president appoints the IGP, the DG of SSS and others. He has power of coercion. The fact remains that the constitution allows me the right even in the face of accusation to enjoy my liberty. Obasanjo is not a democrat. Today, former Governor (Bola) Tinubu of Lagos would recall what Obasanjo did. It doesn't matter what our political alignments are today, history cannot be taken away. So my position has not changed and it will never change."
READ ALSO: Biafra Agitation: Group attacks Obasanjo over utterance
According to Premium Times, Fayose further noted that: "When Obasanjo was there for eight years, Buhari didn't go there? Everyday Obasanjo goes to kiss the ground in Aso Rock. Everyday Obasanjo has something to go and tell him there. There are some places elders would have a bit of shame.
"They would know that sometimes we should not go to this place. Even if you look at the pictures taken of his visit you see him bending down. When he was in government he was busy abusing this Buhari. Obasanjo was busy insulting Awolowo. One of the things Obasanjo wants to lay claim to in life is that he is the longest serving Nigerian president. When you add his military rule to his civilian regime, you understand.
"So, Obasanjo doesn't like anybody to excel or exceed his record. That's the truth. Obasanjo, who now seems to be the father of gangsterism or whatever he seems to be today, is the same man that we used to talk about every other day. Today he is there. The most painful aspect of it is for Obasanjo to be coming out and be claiming he is a very honest man. Where did he get the money that was given to the National Assembly that time? Where did he get the money? Each senator and member of the House of Representatives collected N50 million each. How about that $2billion Halliburton money? They jailed some people in America because of Halliburton. Obasanjo knows everything about Halliburton. Let us put Halliburton to trial and see what happens. That is why I told you that this fight must not be selective. If truly we want to fight corruption, let us fight corruption head on. And the fact remains that men will judge, God will judge again."
While entertaining questions from newsmen, Fayose vehemently said that past presidents must be probed, demanding that Obasanjo must declare his assets from before he came in 1999 till his 2007 declaration.
He said: "Who is fooling who? Buhari now declared mud house and herds of cattle. When he is going now he will go and build one house in Daura with salary. That time the mud house will now become ancient mud houses. The cattle will now become limo Mercedes bullet proof. I beg my brother! Those people who are stealing cow, should stop fighting people stealing rats."
In his interview, Fayose also revealed that making Goodluck Ebele Jonathan, the Peoples Democratic Party's flag bearer in the 2016 general elections, was a terrible move by the the PDP.
He said it was a gross political miscalculation. According to him: "The fact is that my former president, I chose my word, my former president, Goodluck Jonathan, tried his best. But if I were him, I would not have contested at all, you understand. Because it is two ways: if he did not contest and the PDP lost out, he will still be an honourable man, and if he had given that opportunity to the north, those who defected from the PDP would not have defected. But that is story.
"Jonathan did his best and I will still continue to support him. You know I was not there when they took the decision about him becoming the flag-bearer, but it doesn't matter. We can't all put our mouth inside the soil. Somebody must remain with somebody. I will remain with Jonathan even if I am the only man standing. A man is not measured by the amount of food you have and the amount of properties you own. Sometimes sickness is good, it reshapes your life. Sometimes poverty is good, it helps your life. Sometimes failure makes you to reorder your life. It is not the end of your life."
The Ekiti state governor, however, was optimistic that the PDP will get stronger, though the party is undergoing a deliberate effort to destabilize the opposition by the APC 
While speaking on the challenges besetting Ekiti state, Fayose who said he had no interest in being the president of Nigeria, noted that his government will not cut down its workforce nor make any reduction in the payment of workers.
"I can't cut anybody's job.  Me, Ayo Fayose, I can't sack any worker. Immediately they started the story of retrenchment, I told them count me out. You see, when you are owing me as a worker, it is different from taking my means of livelihood. When you are owing the worker at the bad times, he will have the hope that when money comes he would be paid. But if you had sacked him, you have killed him, you have taken away his life.
"I won't cut anything. I will continue to dialogue with them. You see, you can't make decisions for the people alone. This governance we are talking about, government is not the only factor. There are other variables. When things are not going the way you expect, you must engage the people," Fayose noted.
Source: Legit.ng