I won't kill Naira – President Buhari
- Buhari won't kill Naira
- Central Bank of Nigeria should resume the sale of foreign exchange to Bureaux de Change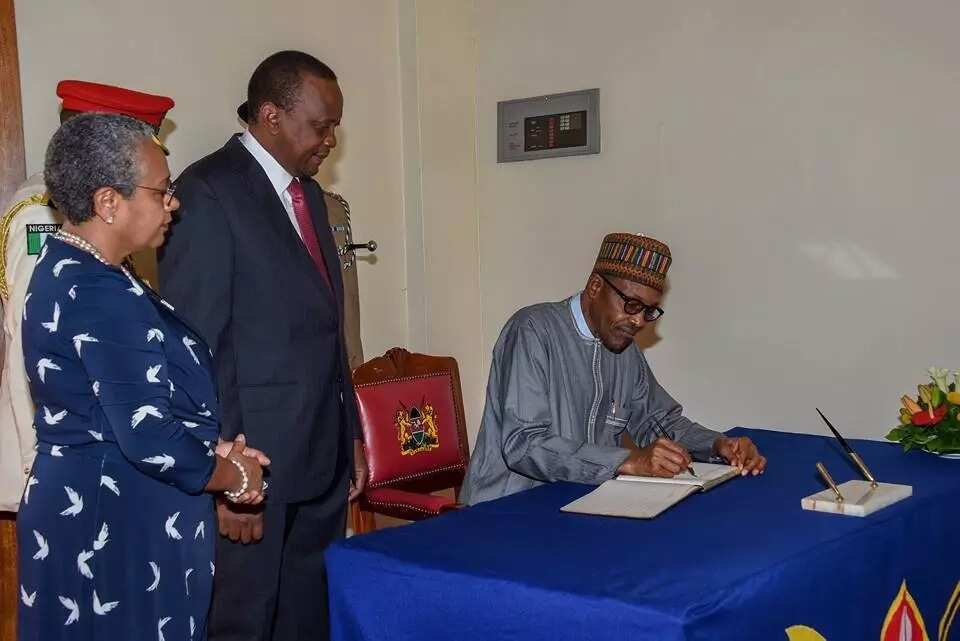 [article_adwert]
President Muhammadu Buhari, who is currently in Nairobi for three-day working visit, has revealed his decision on Naira devaluation.
The president stated that he was yet to be persuaded that Nigeria and its people will receive any noticeable benefit from an official devaluation of the currency.
READ ALSO: Buhari Hints At Possible Naira Devaluation in 2016
Buhari was speaking during an interactive meeting with Nigerians living in Kenya. He maintained that while export-driven economies could receive some advantages from devaluation of Naira, devaluation will only cause further inflation and hardship for the poor and middle classes in Nigeria's import-dependent economy.
The leader of the nation said that had no plan of bringing further hardship on the country's poor who, he said, have suffered too long already.
The president linked devaluing the currency to having it "killed". He added that the supporters of devaluation must work harder to persuade him that ordinary Nigerians will gain anything from it.
Buhari also denied proposals that the Central Bank of Nigeria should resume the sale of foreign exchange to Bureaux de Change (BDCs), adding that the Bureau de Change business had become a fraud and a drain on the economy.
He said: "We had just 74 of the bureaux in 2005, now they have grown to about 2,800."
President Buhari supposed that some bank and government officials used surrogates to run the BDCs and prosper at public expense by obtaining foreign exchange from government at official rates and selling it at much higher rates.
"We will use our foreign exchange for industry, spare parts and the development of needed infrastructure.
READ ALSO: Why I Refused To Devalue Naira - Buhari
"We don't have the dollars to give to the BDCs. Let them go and get it from wherever they can, other than the Central Bank," Buhari told the gathering.
"They just stamped papers and collected our foreign exchange," he added.
The leader of the nation appealed to Nigerians studying abroad to bear with his government as it strives to address the problems they are facing as a result of new foreign exchange measures.
President Buhari left Nigeria for a three-day state visit to Kenya on January 27.
The president attended a memorial service for Kenyan soldiers killed by Al-Shabab with his Kenyan counterpart Uhuru Kenyatta.
The Nigerian leader was invited to European Union next week to address the presidents of country-members.
Source: Legit.ng