The mother of a late Nigerian football legend Rashidi Yekini has cried for help four years after the demise of her son, Legit.ng Sports can exclusively report.
Yekini, who is Nigeria's all-time highest goal scorer died in Ibadan on May 4, 2012, at the age of 48 and was interred the next day in his home town in Irra, Oyun local government in Kwara state.
"I don't really know if he left any money behind, because before he died, he had a problem in which he would go to bank to withdraw money and later burn the money," the late enigma mother, Sikiratu Yekini, said.
READ ALSO: Tax Evasion: Top Barcelona Player Bags One-Year Jail Term
Legit.ng Sports learnt that Sikiratu Yekini who is the mother of Rashidi has been living from hands to mouth since the death of her son. And, we set out on a journey to Ijagbo, a town in Kwara state where the octogenarian lives, and she exclusively revealed her ordeal.
Legit.ng Sports: Are you truly the mother of Rashidi Yekini?
Yes, I am his biological mother, and my son started playing football since when he was in primary three.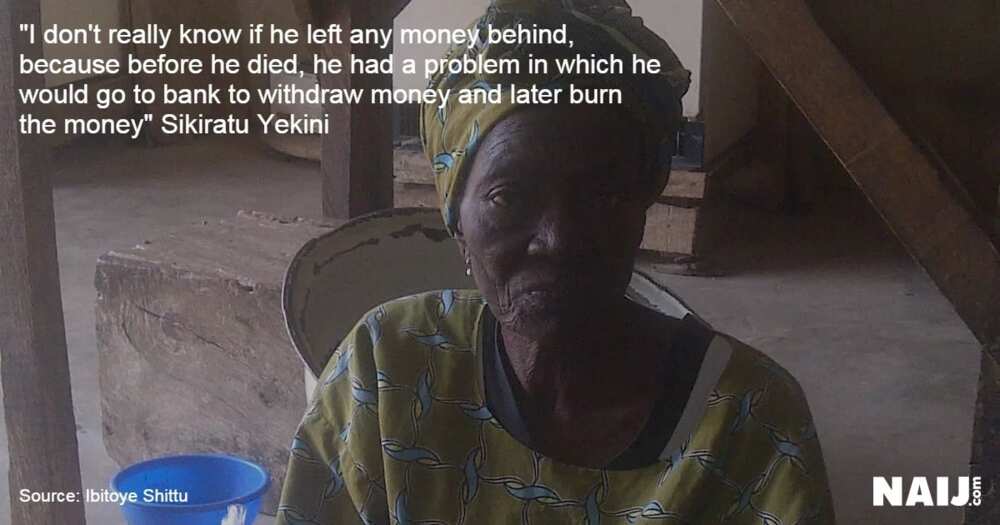 Legit.ng Sports: How have you been coping since the death of your son as we heard he was the bread-winner of your family before he died?
Life has been very difficult for me since the death of my son, because there was nobody to call or go to for help. Rashidi was the glory of the family, and all the family benefited from him when he was alive.
Legit.ng Sports: Did your son left anything behind for the family?
I don't really know if he left any money behind, because before he died, he had a problem in which he would go to bank to withdraw money and later burn the money.
READ ALSO: EXCLUSIVE: How Buhari Rewarded Victorious Sportsmen and Women In Abuja
Legit.ng Sports: What of his lawyer, when last you heard from him?
I have not seen him since the eight-day remembrance prayer of my son, and I pray I see him before I die because he accused me that I killed my son.
Legit.ng Sports: Why did he accused you of killing Rashidi?
He (Jubril Mohammed Olarenwaju) challenged me on why I would take my son to where he would be taken care of, and I asked him then whether he was the one that helped me to give birth to Rashidi and since then, I've not set my eyes on him.
Legit.ng Sports: Where did you take Rashidi to before he died?
We took him to hospital, and we also tried traditional help when the situation got worse at the hospital.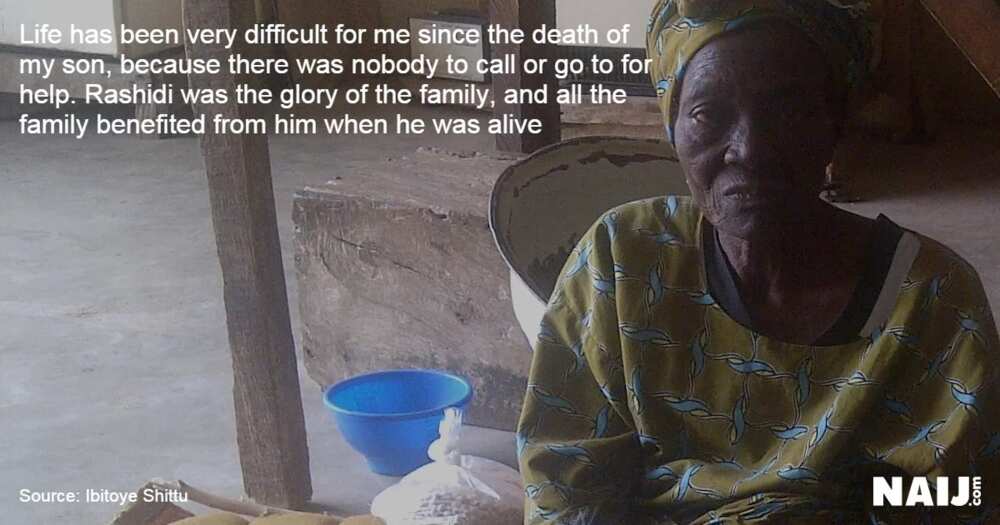 Legit.ng Sports: What about Rashidi's siblings, what are they doing to help you since their elder brother is dead.
My other children are struggling to survive, and it was even during the fight for survival that Rashidi's younger sister died and Akeem who is the immediate younger brother to Yekini is into a labouring work.
Legit.ng Sports: What do you want?
I want Nigeria government to help me most especially Akeem who's the younger brother to Rashidi. My son has served this country, and I want the government and other people to come to our aid because It would not be good for me to die in this situation.
Yekini remains Nigeria's all-time leading scorer with 37 goals and he would ever be remembered for scoring the first ever goal for the Super Eagles at the 1994 World Cup against Bulgaria.
Watch the video:
Meanwhile, Legit.ng Sports reached out to the lawyer of Late Rashidi Yekini, Jubril Mohammed Olarenwaju who denied the accusations by saying he had never accused Rashidi's mother of killing her son.
"I have never accused her of killing her son, and I think someone must have misquoted me because I never said so.
"It is so sad what Rashidi's mother is going through, and I'm glad that all their family knows that their son left nothing behind except the house in Ibadan, and as I'm talking to you, we are planning to lease out the house because Rashidi's second daughter has just been given admission to study English at the University and the money we will get from the house we want to lease out should be able to help," Olarenwaju said.
Yekini played for the National team between 1984 and 1998, he scored 37 goals in 58 appearances.
[article_adwert]