Jonathan Hits Back At Buhari Over BBC Hausa Comments
Former president Goodluck Jonathan has hit back at President Muhammadu Buhari over comments made by the latter on BBC Hausa.
Jonathan said Buhari, during the interview, lambasted his administration, stating that his (Jonathan's) efforts were criminal and in nature and treasonable.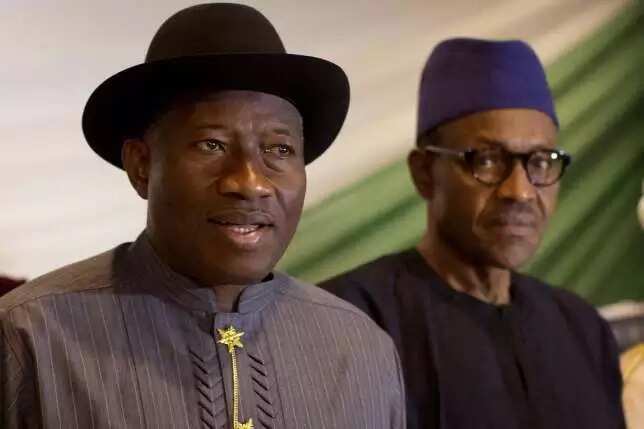 READ ALSO: Arms Deal Probe: Goodluck Jonathan Blasts Prof Sagay
[article_adwert]
But, in his response through the former minister of national planning, Dr Abubakar Suleiman, who sent a text message to The Punch.
"No responsible government would strategise to loose a war. President Jonathan sworn to defend Nigeria sovereignty and territorial integrity and he did everything possible to achieve that height in the fight against the insurgents.
"It is unfair therefore for Mr President to perceive such efforts by his predecessor as criminal and treasonable.
"The President should, in an attempt to build this country, make such pronouncements that would further unite us as a people than that those that would divide us. Posterity will judge everybody," he said.Meanwhile, Senator Musiliu Obanikoro, a former minister of state for defence, is reportedly on the run following reports that the Economic and Financial Crimes Commission (EFCC) may seek to extend its searchlight on the Ekiti and Osun elections which the he oversaw.
Read all Hausa news
Source: Legit.ng