What can be regarded as a preposterous act by a Liverpool fan was recently reported.
[article_adwert]
Following the 4-1 humiliation against Manchester City, an opportunistic Reds fan audaciously altered the stadium's Wikipedia page so as to have Liverpool boss Jurgen Klopp as the official owner of the Merseyside team.
The anonymous Liverpool fan also listed Roberto Firmino, who scored the third of Liverpool's goals, as the ground's operator after his stunning display against Manuel Pellegrini's side, Metro.co.uk reports.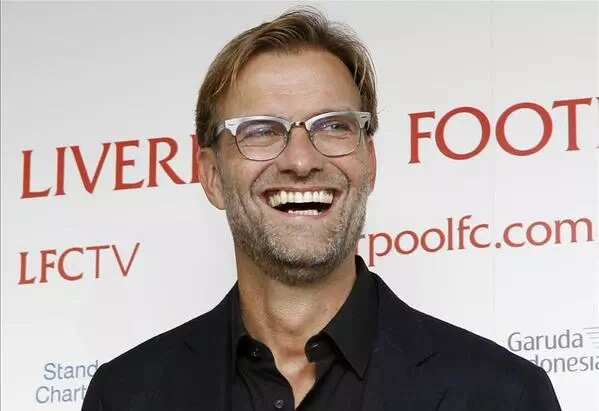 READ ALSO: EPL : English Premiership Match Review
The website read: "As of 22/11/2015, it has been renamed as Liverpool FC U19 Training Ground in honour of the utter humiliation suffered by the Manchester City first team at the hands of Liverpool FC first team."
The strange update was however quickly adjusted and removed but not before a few screenshots were able to be captured.
Below is how Wikipedia was looking this morning.
READ ALSO: Chelsea Reject £35.5m Mourinho Bid, Demand £71m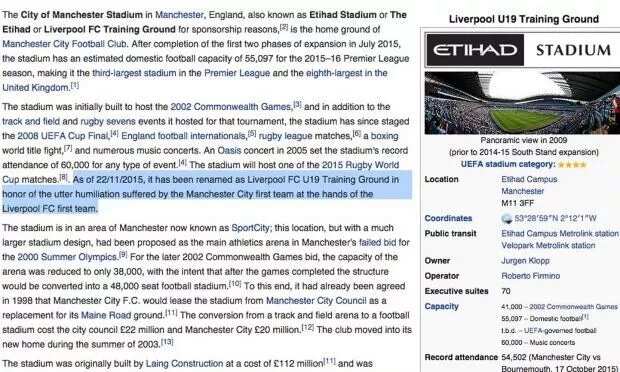 On October 8, Klopp agreed a three-year deal to become Liverpool manager, replacing Brendan Rodgers. His debut was a 0–0 away draw with Tottenham Hotspur on October 17. On October 28, Klopp secured his first win as Liverpool manager against Bournemouth in the League Cup to secure a place in the quarter-finals. His first Premier League win came three days later, a 3–1 away victory against Chelsea. 
After three 1–1 draws in the opening matches of the Europa League, Liverpool defeated Rubin Kazan with 1–0 in Klopp's first win in Europe as a Liverpool manager. His second Liverpool league win came against Manchester City at the Etihad Stadium with Liverpool beating the home side 4–1. It was the hosts worst home defeat in 12 years