The founder and general overseer of the Synagogue Church of All Nations (SCOAN) prophet T.B. Joshua has claimed that he predicted the terrorist attacks on Paris, France.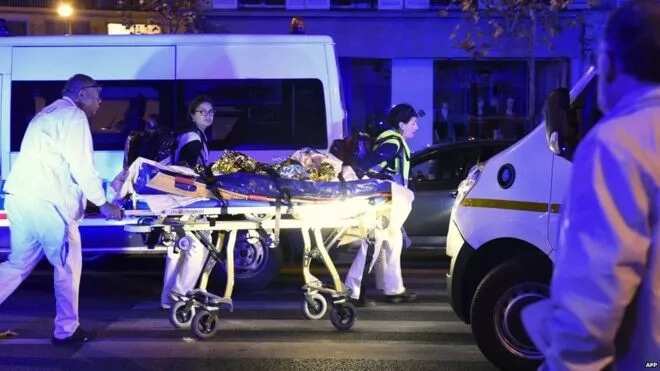 In what seems to be the deadliest terror attacks in France in many decade, at least 128 people were feared killed in Paris on November 13 as a series of deadly attacks was staged across the capital city. Some reports say another 200 were injured, as many as 80 seriously.
President Muhammadu Buhari of Nigeria condemned the onslaught in France, asking world leaders to step up multilateral actions against terrorism.
READ ALSO: At Least 127 Dead In Multiple Terrorist Attacks In Paris
[article_adwert]
Popular Lagos prophet claims that in January 2013, he foresaw about the terror attack that occurred in Paris.
TB Joshua said this in a post on his Facebook page:
"On Sunday 19th January 2013, during a Sunday Live Service at The SCOAN, Prophet T.B. Joshua gave a word of prophecy concerning the nation, France. This is what he said:
"France as a nation, there is a strange thing they have to pray about which is in their country now. There are some strange people; they have strategic places in France. They should pray against suicide bombers or an attack of any kind that will affect many. Take care of your homeland security. This is France, this time."
READ ALSO: These Photos Tell The Gruesome Story Of Paris Mass Murder
"We pray for the families and loved ones of all those affected by this tragedy in the nation of France. May God strengthen them that their hearts may rise and seek the things above that they may be comforted under the present sorrow."
Watch the video below:
It's not the first time that popular cleric claims that he predicted tragedies that had already happened.
On August 31, 2014, TB Joshua foresaw an impending plane crash that happened Egypt in October, 2015.
On June 28, 2013, the man of God predicted the Malaysian Airlines flight from Kuala Lumpur to Beijing which disappeared south of Vietnam with 239 people on board in the early hours of March 8, 2014, Saturday.
The video of the prophecies always appear on the You Tube channel after the tragedies or on the same day they happened.