Nigerians have patiently waited for the appointment of ministers by President Muahammadu Buhari to deliver on the change mantra promised during electioneering and one ministry that needed urgent change is the ministry of communication.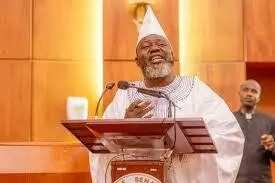 As Adebayo Shittu was sworn in yesterday, November 11, as the new minister the needed change might be in sight.
Assuming office for the first time, Shittu left no one in doubt of his intention for the ministry. He promised that he will turn Information and Communication Technology (ICT) into the next cash cow.
READ ALSO: How Labour Minister Ngige Plans To Create Jobs For Nigerians
[article_adwert]
This is a bold statement considering that the ministry is yet to impact much in the lives of most Nigerians.
A check on the website of the ministry by Legit.ng showed that the site is not regularly updated as much of the information on the front page still carried information on the immediate past administration.
The task before the new minister will be to ensure that the ministry lived up to its name and chart a new path for the development of ICT for the country's prosperity.
The minister has, however, promised to make drastic change in the ministry. According to information on the website of the ministry there are five agencies: Nigerian Communications Commission, National Information Technology Development Agency, Nigerian Postal Service, NIGCOMSAT and Galaxy Backbone.
READ ALSO: 8 Promises Of Transportation Minister Amaechi
Legit.ng brings you the six top promises made by the new minister of communication.
1. "I Will Turn the Ministry Of Communication into a cash cow that will help to revive the economy as oil revenue alone cannot help the country."
2. "I will run an open and inclusive government that will ensure prompt and quality service delivery in the ministry"
3. "Ministry of Communication will replace petroleum as top earner of foreign exchange."
4. "We will mobilize communication technology to boost agriculture produces."
5. "I am bring in income stability and quality service."
6. "I promise that Nigerians will get value for every kobo they spend on telecommunication services."
The Ministry was created to facilitate ICT as a key tool in the transformation agenda for Nigeria in the areas of job creation, economic growth and transparency of governance.