DSS Refuse To Produce Nnamdi Kanu, But He Urges Supporters To Remain Calm
Nnamdi Kanu's lawyer says the Department of State Security Service (DSS) have refused to produce the Radio Biafra director who was arrested on Monday, despite Kanu's team fulfilling the bail conditions.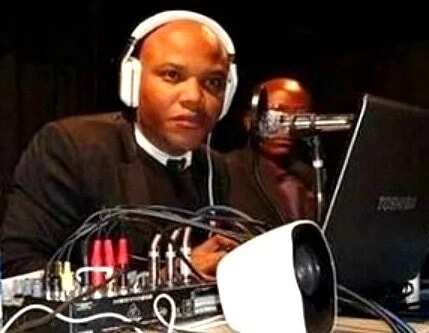 Speaking to Vanguard at his Enugu office, Kanu's lawyer, Egechukwu Obetta, said they have fulfilled the bail conditions and expected the DSS to verify the authenticity of the landed property documents. As of Friday, however, the DSS have not transmitted the verification, which, according to Obetta, does not take more than 24 hours, to the court.
[article_adwert]
"On that same Friday, we brought the situation to the court's attention upon which the court issued Form 36 [FCT] ordering the DSS to produce the prisoner [Kanu]," Obetta said. "The Form 36 was issued by Justice Ahmed Usman Shuaibu dated October 23, ordering DSS to produce the prisoner.
"Upon the issuance of this Form 36, the court ordeal went to execute the order but came back unsuccessful. He was unable to produce the prisoner."
The DSS, nevertheless, did grant Obetta access to Kanu who, according to the lawyer, is hale, hearty and in good spirit. The DSS also granted the detained access to his medical doctor.
"The DSS, instead of obeying court order to remand my client in prison custody, chose to remand him in their detention facility in order to stall Form 36 ordering them to produce my client," Obetta said.
Kanu also passed a message to his followers through Obetta, urging them to remain calm and be law-abiding citizens.
Last Saturday, a statement appeared on the Radio Biafra website detailing the arrest of its director by the DSS upon the latter's return to Nigeria from the United Kingdom. Since then, ordinary Nigerians and prominent opinion-makers have been discussing whether or not President Muhammadu Buhari should release Kanu who is also the director of Biafra Television and the leader of the Indigenous People of Biafra.
Source: Legit.ng