President Muhammadu Buhari on Wednesday, October 21, named Professor Mahmood Yakubu as the National Chairman of the Independent National Electoral Commission.
Yakubu is to take over from the acting chairman of the commission, Amina Zakari.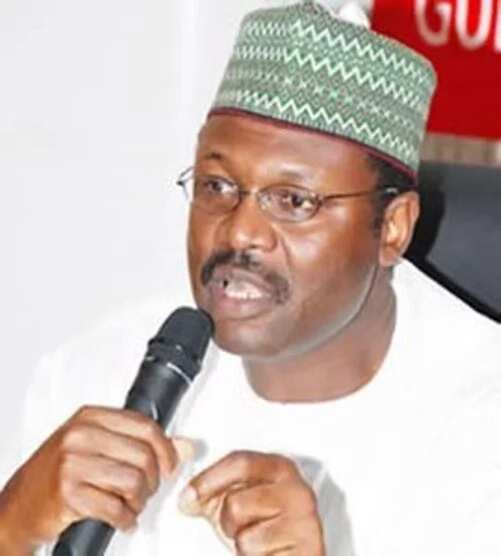 Below are some things you should know about the newly appointed INEC chairman.
1. He was born in Bauchi in 1962.
2. Educational qualification: He had his early education at Kobi primary school from where he proceeded to the Teachers' college, Toro. He studied at the University of Sokoto (now Usmanu Danfodiyo University). Yakubu later gained admission to the prestigious University of Oxford where he bagged a Doctor of Philosophy Degree with specialization in Nigerian History at the age of 29 in 1991.
3. He was a recipient of the Bauchi state government scholarship to study at both the Cambridge and Oxford Universities in England and his outstanding intellectual artistry at Cambridge further earned him the Scholarship of the Cambridge Commonwealth Trust.
4. He was the first person from the North to graduate with a first class honours in History: Yakubu graduated with a first class honours in History from the University of Sokoto, a feat which has remained unrivalled and unbroken till date as the first and only person from the whole of Northern Nigeria to have obtained a first class honours degree in History.
READ ALSO: 6 Things To Know About Winifred Oyo-Ita Ekanem
[article_adwert]
5. He is a professor of political history and international studies.
6. He is an expert in guerrilla warfare, terrorism and counter-terrorism. He also teaches War and Society in Pre Colonial Africa.
7. He was executive secretary of the Tertiary Education Trust Fund: Under Yakubu's leadership of TETFund, a National Book Development Fund that supports one hundred and two(102) journals of professional associations was established. In addition, over five thousand, two hundred (5200) lecturers from tertiary institutions nationwide were sponsored by TETFund for postgraduate studies.
8. He was a member of the very dynamic Oby Ezekwesili Educational Transformation Team which received plaudits from Nigerians for their far reaching recommendations for the turn around of the fortunes of education in Nigeria.
9. Adeyemi College of Education conferred Yakubu with its fellowship award in 2013. He was conferred with the award for educational development and leadership.
READ ALSO: Buhari Appoints New Head Of Service
10. In 2013, Nigerian Institute of Public Relations (NIPR) bestowed honorary Fellowship on him.
11. He was a three time-time winner of the Overseas Research Student (ORS) Award by the London-based Committee of Vice-Chancellors of United Kingdom (UK) Universities.
12. He was also a proud recipient of the competitive Commonwealth Scholarship by the Association of Commonwealth Universities tenable at the University of Oxford.
13. Yakubu was appointed to serve as assistant secretary at the 2014 national conference.