Buhari Holds Secret Talks With Obasanjo
In a bid to calm the tension going on in the ruling party over the ordeal of the Senate president, Bukola Saraki, President Muhammadu Buhari held a secret meeting with former president Olusegun Obasanjo in New York.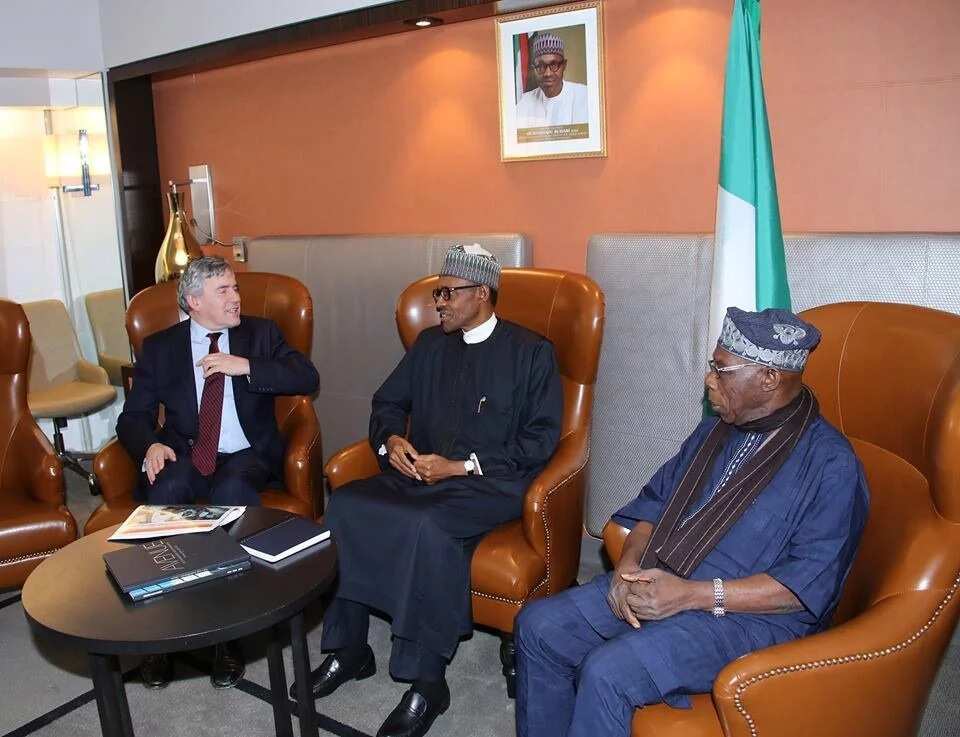 Leadership reports that the closed-door meeting, which was held on Saturday, September 26, at the Millennium Plaza Hotel, lasted for about 45 minutes.
According to sources who were part of the meeting at its early minutes, Obasanjo called the protocol officers of President Buhari to schedule the talks in order to plead for a soft landing for Saraki.
Kayode Fayemi, the former governor of Ekiti state, was also sighted at the door of the room where the meeting took place. However, he did not speak with journalists as he was busy struggling with security men who repeatedly stopped him from gaining entry.
READ ALSO: PHOTOS/VIDEO: Buhari In Closed-Door Meeting With Obasanjo
[article_adwert]
Meanwhile, the source confirmed that Abike Dabiri, the former member of the House of Representatives, has been pencilled down as the next Nigerian Permanent Representative to the United Nations.
Dabiri has rich experience in foreign affairs and diplomatic issues because she was the chairperson of House Committee on Diaspora Affairs.
On his way to his hotel, the former president declined comments on his meeting with Buhari.
Apart from the secret meeting, President Buhari yesterday addressed world leaders at the 70th United Nations Assembly in New York.
In his speech, the president promised that his government would address the problem of capital flight and oil theft which have seriously affected the Nigerian economy. He also restated his commitment to transparency and accountability in the way in which the country's revenues are managed.
Source: Legit.ng