I Know Nothing About Saraki's Ordeals - Buhari
President Muhammadu Buhari has distance himself from the on-going trial of Senate president, Bukola Saraki by the Code of Conduct Bureau, CCB and the Code of Conduct Tribunal, CCT.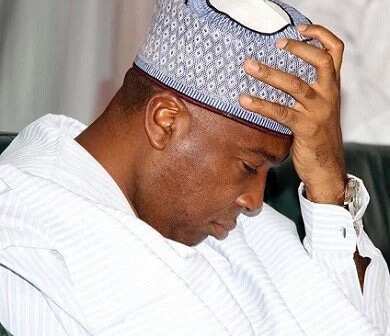 [article_adwert]
Garba Shehu, the Senior Special Assistant to the President in a statement issued on Sunday, September 20, said third parties should not link the president to the case and stressed that the law does not make provision for the "Bureau and the tribunal to take instructions from any quarters."
READ ALSO: Sensational Open Letter: APC Senior Writes To President Buhari, Defends Saraki
"As an independent institution equal to any superior court of record, the tribunal is set up by the constitution to determine the issue of default, false declaration or forgery in assets declaration. This therefore is purely a judicial process and has nothing to do with the presidency.
"If anyone has an axe to grind with what they are doing, they should do it in a judicial manner by challenging those actions in a proper court of law. Let them hire a good team of lawyers to prove their innocence.
"Government has no desire to persecute anybody. The President has vowed to respect the rule of law and this is what he is doing by staying out of this matter. He has said times without number that the war against corruption has no sacred cows.
Shehu said there was no way the president stop the trial or do anything to alter justice.
READ ALSO:Saraki States 10 Reasons For Snubbing Code Of Conduct Tribunal
"It is purely a judicial process, the type of which are routinely dealt with by the CCB and the CCT. There are many cases like this that are going on.
"The President has sworn to an oath to protect the constitution and will not violate that oath."
50 Nigerian senators met in the nation's capital, Abuja, on Saturday, September 19, over the recent ordeal of the senate president, Bukola Saraki.
The emergency meeting, chaired by the Deputy Senate Leader, Bala Ibn Na'Allah, accused a cabal in the presidency of instigating the government institutions against Saraki.
Meanwhile, Saraki, has dismissed reports and insinuations on micro blogging site, Twitter, about the possibility of him decamping from the APC following the removal of the logo of the APC from his verified twitter page.
Source: Legit.ng