Senator Sani Blasts Governor Fayose
Senator Shehu Sani, who represents Kaduna Central senatorial district, has blasted Ayodele Fayose, the governor of Ekiti state, for calling Muhammadu Buhari "president of Northern Nigeria".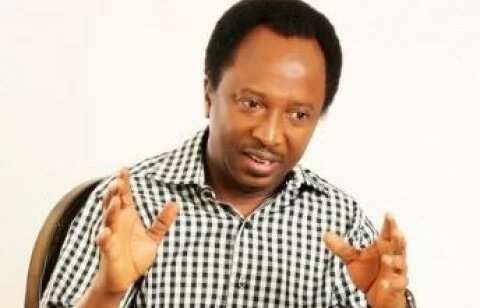 In a statement issued on Monday, August 31, Fayose strongly criticized the appointments made by the president so far.
According to the governor, the steps Buhari has taken since his inauguration are tainted in ethnic and tribal colouration, which is detrimental to the unity of the country.
Speaking to The Cable on Tuesday, September 1, Senator Sani condemned Fayose and "his divisive, inciting, provocative and mischievous tantrums and invective against President Muhammadu Buhari".
''The Ekiti governor is a relic of the old order; he represents the old Nigeria of waste, of hollow ritual of noise and nuisance. Fayose is a man suffering from political depression in the aftermath of the defeat of his patriarch Goodluck Jonathan. He is a hallucinating man of the ancient, yet to come to terms with the realities of a new dawn and new Nigeria.
READ ALSO: Shehu Sani Cautions APC On Plot To Remove Ekweremadu
[article_adwert]
''The Ekiti governor is a man on the loose, ready to use stones, sticks and any object to inflict harm and to be noticed. Fayose failed to stop the election of President Muhammadu Buhari by the use of false, misleading and subversive propaganda laced with lies and deceit and now resorts to firing arrows of hate, smear and distortions," he said.
Continuing his statement, Sani stressed that Fayose lacks morals, character and courteousness.
''The Ekiti governor's utterances are unbecoming of a state governor who should symbolise, exemplify and personify national unity and peace. Fayose's utterances are farts from a rotten roadside beans meal. The constitution of the Federal Republic of Nigeria guarantees all Nigerians the right to freely express their opinion and criticize the operations of Government. The Ekiti governor is simply on a toxic smear campaign against PMB.
''President Muhammadu Buhari is not a 'northern president': He is a Nigerian president out to correct the wrong of the erstwhile sectional president whom the Fayoses of Nigeria supported and collaborated with," he said.
READ ALSO: Drama In Ekiti As Fayose Visits Secretariat To Fish-Out Late Comers (Photos)
The senator called on governors of the All Progressives Congress  to appropriately respond to Fayose and "return him to the cesspit pit, where he rightly belongs".
Meanwhile, the ruling APC has already responded to Fayose's attacks on President Buhari over his lopsided appointments.
The presidency rejected he accusation and advised Nigerians to be cautious of the tricks of Ekiti state governor and members of the Peoples Democratic Party, who want ro regain what they lost by stoking 'ethnic and religious fault lines".
Source: Legit.ng