Here's How Chocolate City Plans To Stay Relevant
Chocolate City Music, which recently underwent changes in its management structure as well as merged with MI's Loopy Records, has announced plans for the future.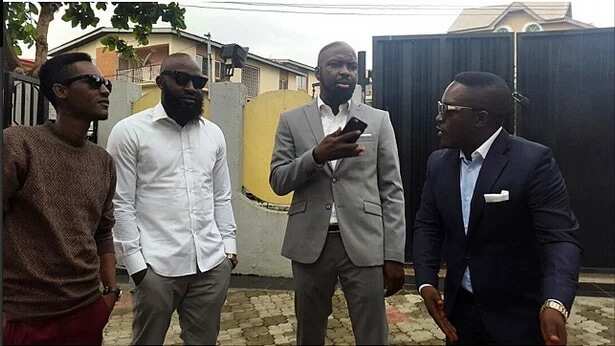 Legit.ng was at a press briefing on Wednesday, August 5, where rapper MI Abaga (the new CEO of Chocolate City) talked about the new structure and the label's plan to throw its doors open to media players.
Under the new structure, MI succeeded Audu Maikori as CEO. Maikori is currently president while Ice Prince takes over MI's previous role of vice-president.
READ ALSO: I Want To Win Grammy Song Of The Year - Ruby Gyang
On his new role, MI said: 'It's not been easy so far, I must say still. The evening I was announced as the new CEO, I had dinner with Audu and his wife and a friend of the family.  We just passed time and felicitated each other basically.
"The next morning at about 8AM I was up and started. Now, I'm not an early bird but when you're in a position as this you have to live up to billing because there's so much work out there to be done. You oversee the finances, the day-to-day running and more, so there's really no free time."
MI also lamented the tough terrain music labels face in Nigeria.
"Labels are dying," he explained.
"You look out and 10 years ago up until today there's no label you can say is fully functional as Chocolate City. You see, as a child, the papers I read are still there today. More people are coming on board the media business even, but record labels aren't so. And truly music labels should be like that." 
He revealed that as plans to maintain Chocolate City's longevity, the label wished to partner with the media.
"The exact reason behind this meet is to have us an avenue where we can forge a stronger relationship with the media sector. Don't get this twisted, we are doing greatly already in terms of publicity and our relationship with every form of media out there today. But then again, we believe it can only get better hence our calling for this. So now you see that with this we can achieve a stronger partnership and synergize more."
SEE ALSO: Koker | 'Do Something' [WATCH]
Under the new Chocolate City, each artiste on the label is a brand and would be nurtured as such, Abaga also mentioned.
"With the Chocolate City and its future plans, every artiste under the label is a brand and will be guarded and nurtured judiciously, because we believe we have a strong partnership," he said. "You can come in to my office and say 'MI this is what I think of this artiste and this is what you guys can do to get things right, or get things working better and all of that."
Chocolate City Music was founded in 2005 by Audu Maikori, Paul Okeugo and Yahaya Maikori.
Source: Legit.ng